If you're in search of a meal from one of Vancouver's most esteemed sushi masters, you might want to find him outside of his acclaimed restaurant.
Masayoshi Baba, the legendary chef and proprietor of his eponymous Vancouver sushi bar restaurant has added a new title to his resume after taking on the role of consulting head sushi chef for The Lobby Lounge & RawBar at the Fairmont Pacific Rim. To kick things off in his new tenure the chef, known best as simply Masayoshi, has created an exceptional omakase (chef's choice) menu that's now on offer.
The Lobby Lounge & RawBar has long been a top draw for its high-quality Ocean Wise-certified sushi program, great cocktails, and elegant - but lively - atmosphere. Now diners can snag a seat at the sushi bar to enjoy the venue's exclusive new offering, which is available both at lunch and dinner - but in limited quantities.
The multi-course experience of dining omakase-style accords RawBar patrons the chance to interact one-on-one with Masayoshi, as each dish is presented in succession.
The menu will change based on the availability of products and seasonality, so if you're able to make repeat visits, you'll likely find something different each time.
While Masayoshi rigorously allows the beautiful, fresh flavours of the fish and seafood shine through, he also knows how to work with exciting accompanying ingredients to delight the palate. For example, at a recent lunch time service, Masayoshi presented an opening course of a beautiful piece of white fish with a mustard sauce - not a typical flavour but a great way to awaken the senses and begin a meal.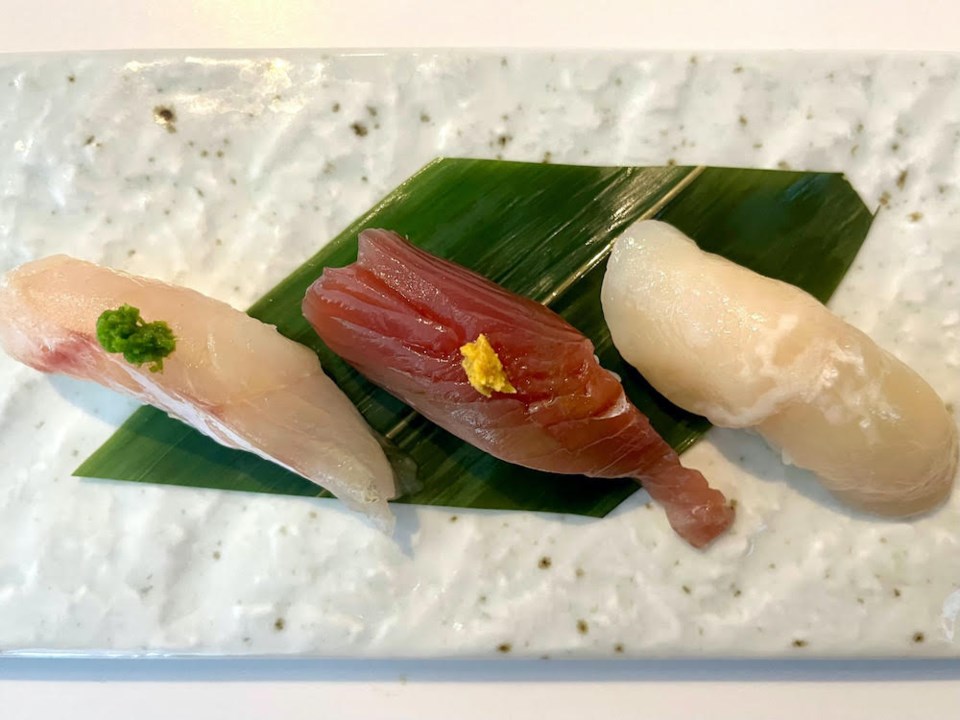 Though some dishes feature a single bite or star central ingredient - like the creamy, briny beautiful bit of uni on rice - some of the courses feature two or three selections of sashimi or nigiri, each one perfectly presented and accented. In fact, the flavours are so pristine there was no need whatsoever to even pour a drop of soy sauce for dipping during the entire omakase lunch.
The omakase experience is capped off with a mildly sweet dessert (in this case a gold-flecked panna cotta) and pairs wonderfully with cocktails from the Lobby Lounge Bar (which at times include limited edition drinks created by visiting bartenders).
"Masayoshi is at the forefront of the city's sushi scene and we're honoured to have the opportunity to learn from him and incorporate his techniques and artistry to provide guests with an exceptional culinary experience at The Lobby Lounge & RawBar," said Jens Moesker, Regional Vice President & General Manager, Fairmont Pacific Rim, in a media release.
With just a few seats available for omakase lunch or dinner, reservations for Masayoshi's special new menu are strongly recommended.
Lunch is priced at $95 per person, dinner at $125 per person. Dinner includes a bottle of sake with your meal to enjoy between courses.