A Vancouver social club with an incredible backstory is about to start a fresh chapter as a neighbourhood pub.
Known to most as the Taurus Club, the Army, Navy & Air Force Veterans Taurus Unit 298 has been a hangout for cops and veterans - but also local artists and visitors - for decades. Now it's set to welcome even more locals in its next chapter as Hero's Welcome.
Located at 23rd and Main, the Taurus social club opened in 1948 after then-VPD officer Roy Slattery, a Royal Canadian Air Force veteran, had an idea to set up a gathering spot for officers discharged from the military after the Second World War.
The required funding to purchase the land and build the club was raised through dues paid by VPD officers. Until recently, the building served as a meeting spot for veterans and police, with the most popular day of the year being Remembrance Day.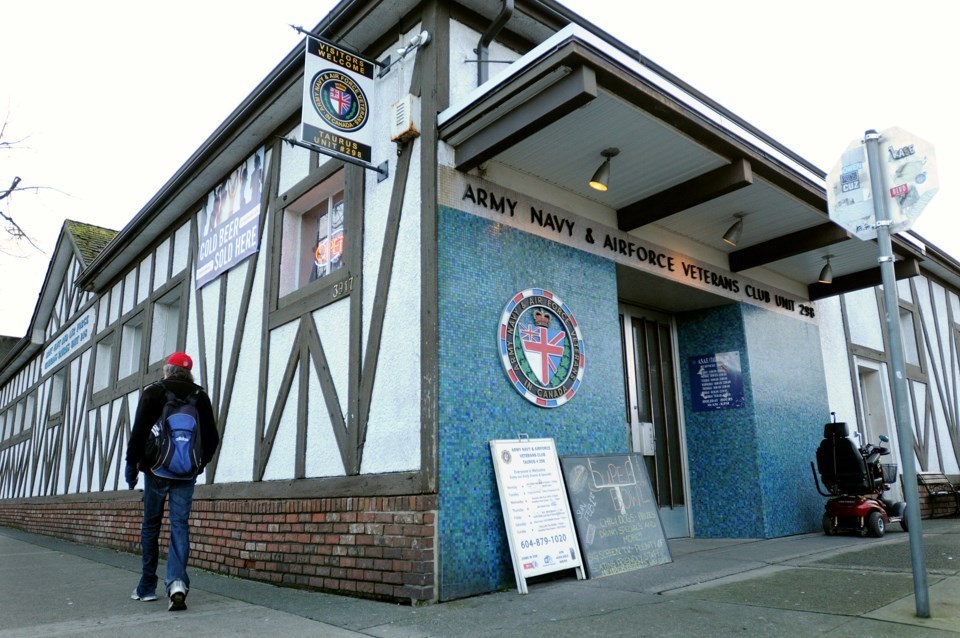 The Taurus Club closed in 2019, but is now in the hands of another kind of set of veterans - ones from Vancouver's restaurant and pub industry.
Now at the helm are Patryk Drozd, and Simon Fallick. Together the two co-own The American Bar while Drozd also co-owns The Boxcar. The Taurus Club's connection to the art scene remains strong; Fallick co-owns the studio and events space The Ellis Building.
Drozd and Fallick are longtime patrons of The Taurus Club themselves, and have been busy of late transforming the venue into Hero's Welcome, with its 150 seats boasting a pub area, games room (pool, pinball, darts, skeeball, and foosball), and a private room for events.
Hero's Welcome aims to usher the club into a new era, while preserving the spirit of the original space by incorporating familiar memorabilia and traditions, such as asking patrons to remove their hats upon entry. In addition, Hero's Welcome will work to raise funds for local veterans' causes and have partnered with Phillips Brewing to donate fifty cents from each sale of their house Hero's Lager.
Speaking of brews, there will be plenty on tap at Hero's Welcome, along with eats like a line of - fittingly - hero sandwiches.

The doors to Hero's Welcome will open officially on Dec. 27, though the new pub may be able to welcome guests during a soft open phase ahead of opening day. To start, Hero's Welcome will operate daily from 4 p.m. to late; expanded hours will likely come into play this spring.
Hero's Welcome is located at 3917 Main St in Vancouver. Follow them on Instagram at @heros.welcome
With files from Mike Howell