You know your first foray into Canada's best wine festival was a success when you manage not to spill red wine on yourself, and make some palate-smart, financially-poor decisions in purchasing some seriously delicious wines. Both myself and wonder-woman Christine McAvoy attended tastings and some of the interesting events on offer, culminating in a great vino veekend!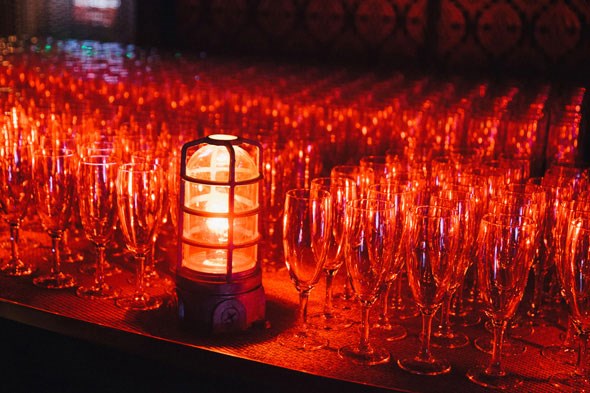 Mood lighting for wine glasses (Photo: Christine McAvoy)
The regional theme for 2014 was France, with a focus on bubbly, so it was fitting that VIA's first two foray's into the festival were at a France Bubbly Party at Ginger 62 on Tuesday, February 25, and a wine seminar called "All About Bubbly" on Thursday, February 27. Christine attended both, enjoying many fine champagnes and sparkling wines and all the things inbetween.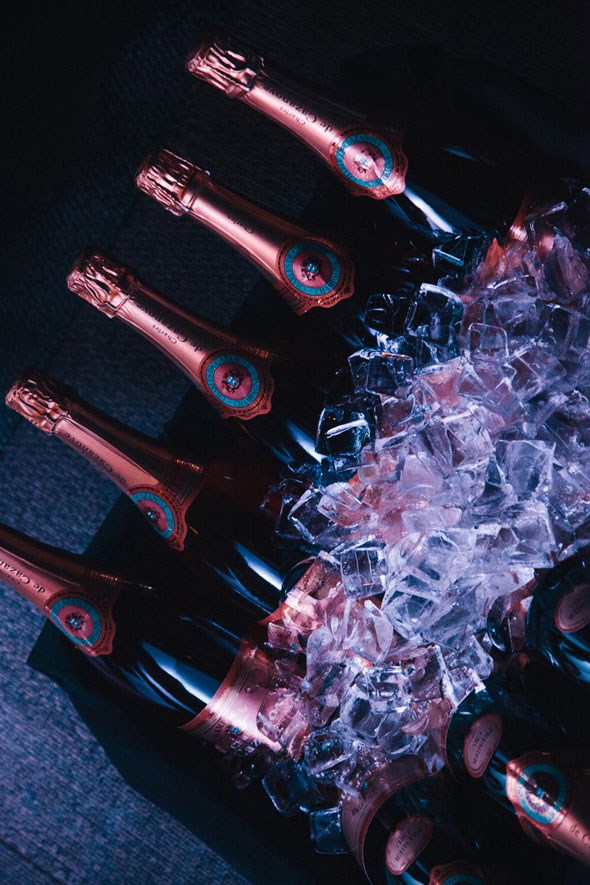 (Photo: Christine McAvoy)
Her biggest discoveries - A sparkling shiraz by Australia's Majella Wines. This was an interesting take on sparkling wine and sold out at the tasting room over the weekend. Definitely a recommended wine to try, even just for how different it is. It also underscored one of the things she learned about bubbly through the seminar: despite what many people think all bubbly does not taste the same. When you actually sit down and compare them there are so many slight, to huge, differences. Get tasting!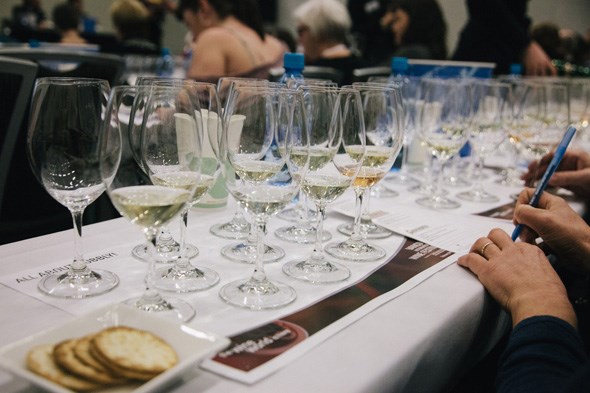 Bubbly tasting board (Photo: Christine McAvoy)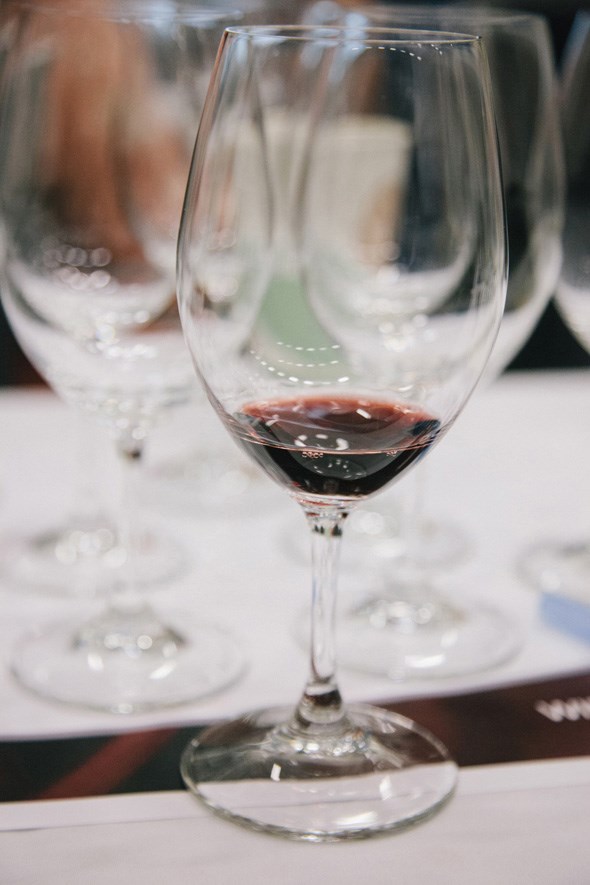 Sparkling shiraz by Australia's Majella Wines (Photo: Christine McAvoy)
After Christine's foray into bubbles, we joined forces for the first night of tasting in the main hall. We hadn't made any plan, so the initial entrance was daunting until we picked up our passports from the Vancouver Sun and started visiting those booths for stamps. After that we wandered where the wind took us.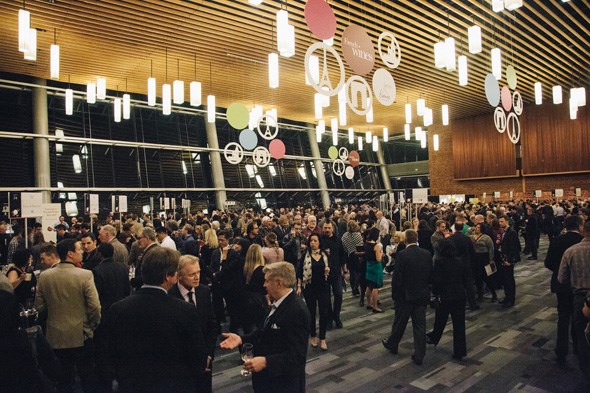 Main tasting hall at Vancouver Convention Centre (Photo: Christine McAvoy)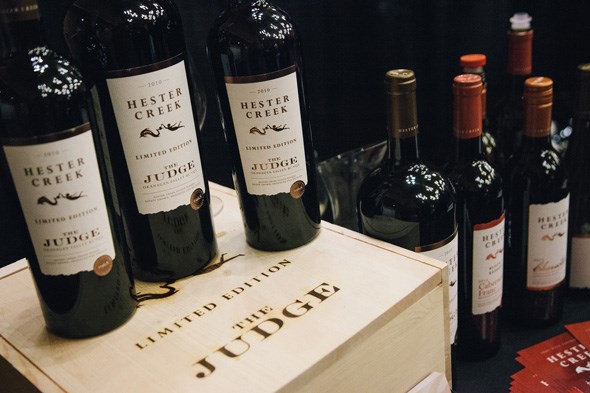 A menacing box for a delicious wine (Photo: Christine McAvoy)
Highlights:
Hester Creek The Judge (I managed to get a bottle of this delicious finisher at the liquor store in the tasting room)
Tinhorn Creek Oldfield Series 2 Bench White 2012 (sweet and peachy, this will make a perfect summer patio sipper)
Mezzacorona Rotari Rose NV (nice and not too sweet, great foamy bubbles)
Champagne Lanson Rose (fresh and light, very tasty)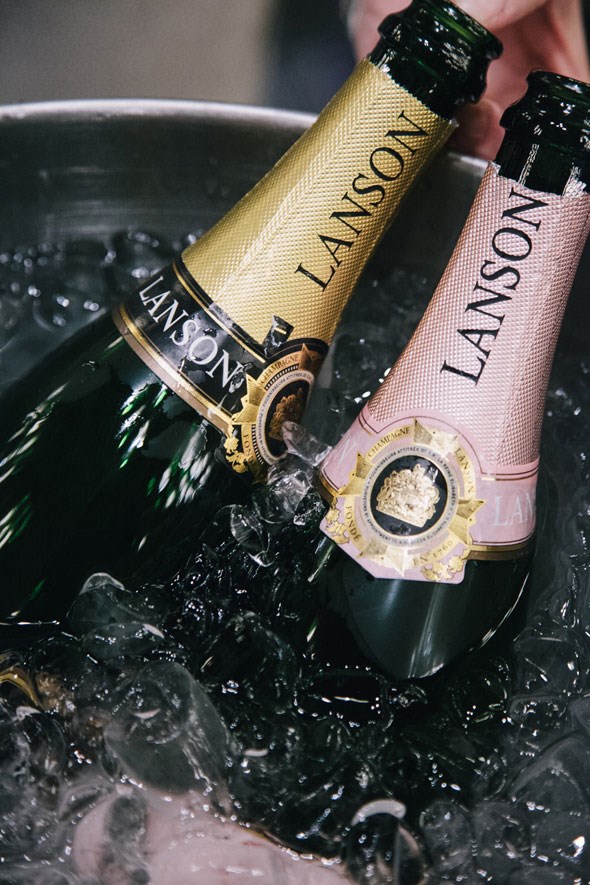 (Photo: Christine McAvoy)
After a strong start on Thursday, I was left to my own devices on Saturday (You may notice a distinct drop in photo quality and quantity at this point!). I started with a lunch tasting called "Mediterranean Mingle", featuring the wines of the Languedoc-Roussillon region in the south of France. There were huge trays of regionally inspired foods, paired with wine. Most of the foods had options for classic pairings and out of the box pairings, which I really enjoyed, and I tried to pick from different sections to spice it up a little.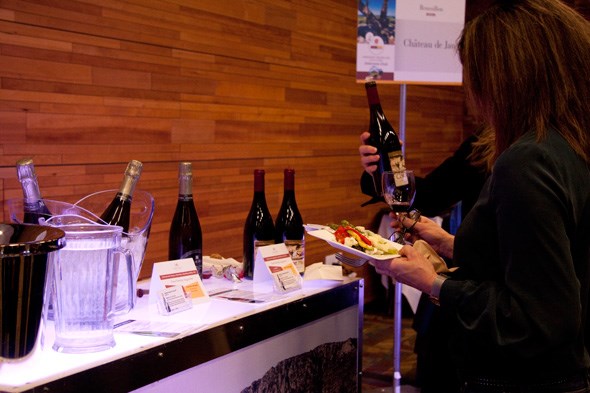 Mediterranean Mingle (Photo: Anne Cottingham)
The food was definitely not the star in most cases. It was frustrating for some of the people I spoke to with allergies that there was no information posted and that none of the serving staff seemed to know the basics of what they were serving. In most cases though, the pairings were great, and it was clear that while many of the wines from the region were young, they were almost all very drinkable. Basically, you can't go wrong with a wine from Languedoc-Roussillon!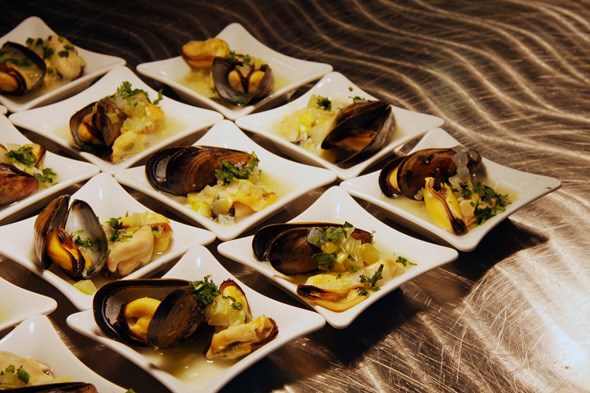 (Photo: Anne Cottingham)
Highlights:
Gerard Bertrand Saint Chinian, Terroir Saint Chinian, Red, 2011 (Had this with a rosemary bread with ratatouille. Lovely and smooth pairing. Wine smells of blackberries)
Les Vignobles de Constance & du Terrassous Rivesaltes Ambre, Terrassous heritage 1974 (A syrupy, maple-y dessert wine. Beautiful marmalade colour)
Domain de Babio Minervois, Red, 2010 (A rich and complex sipper. Would mellow and age nicely)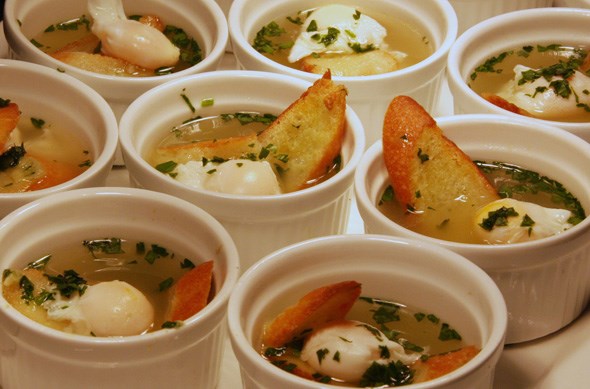 (Photo: Anne Cottingham)
I met some lovely people at the mingle, including a nice couple named Lesley and Ken who had been attending winefest since it's beginnings in Vancouver. I was heading back to the main tasting hall after, so they gave me their recommendations and I went on a tour of their favourites. What a delightful and yummy tour they sent me on!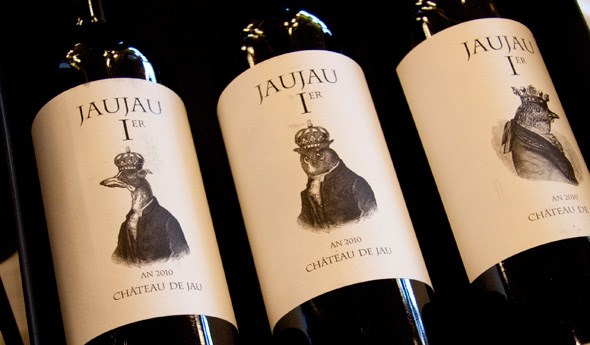 (Photo: Anne Cottingham)
Highlights:
Domain de la Solitude Chateauneuf-du-Pape Cuvee Reserve Secrete 2009 (spicey and warm with a nice mouth feel. $249/bottle - glad I tasted it here, otherwise out of my range!)
Chateau de Jau Jaja de Jau Sauvignon Blanc Cotes de Gascogne 2012 (another good summer sipper. This one $14/bottle - excellent quality at a really low price)
Chateau de Jau Cotes de Roussillon Villages 2009 (herbacious and warm)
By Farr Farrside Pinot 2011 (everyone was stopping at Australia's Inland Trading for this, which was very ripe and acidic - a perfect wine to age for a bit as it will only get better)
Greenock Creek Alice's Block Shiraz 2008 (this is what people should have been coming to Inland Trading for! They accidentally brought an older vintage than intended and were we ever lucky. A perfect, mouth-coating, savoury red wine. This made me love shiraz, which I usually hate. I bought a bottle, against my better financial judgement!)
Flagstone Writer's Block Pinotage and Flagstone Pinotage Reserve (not the most popular South African grape, but they do it well in both their regular Writer's Block offering, and the secret reserve I was told to ask for. Spectacular)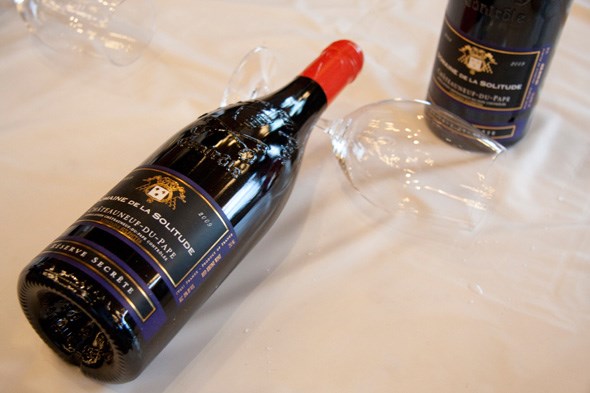 (Photo: Anne Cottingham)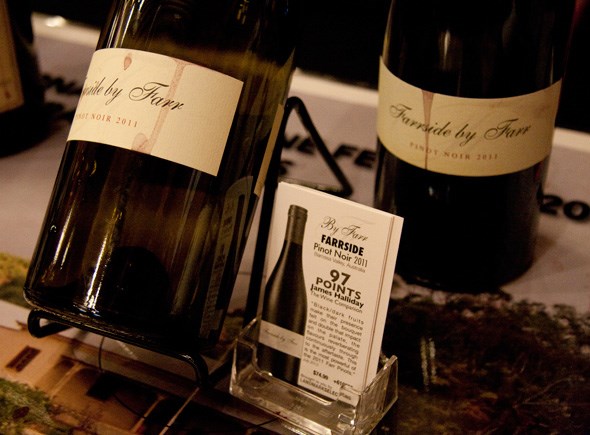 (Photo: Anne Cottingham)
After the most perfect wine tasting experience ever (Thanks Lesley and Ken!!), I headed to my last event, "25 Under $25". This event centered around The Province's "Wine Guy" James Nevison, and his annually published book of the best bets under $25 available at the BC Liquor Store. I received his book for Christmas and so was very interested in his wine fest selections. I ended up meeting a delightful woman named Linda Garson from Culinaire Magazine Calgary, who deftly guided me through the throngs to taste everything. And thank goodness for her expertise and knowledge! She is also really good at the spitting part of wine tasting - I tried and quickly failed to take this up at the beginning of the festival. Next time!
Highlights (apologies, didn't take many notes for this one and just noted my favourites to myself):
Yalumba Bush Vine Grenache 2011
Burrowing Owl Winery Chardonnay 2011
Cono Sur Single Vineyard Carmenere 2011
Ogier Cotes du Rhone Heritages Blanc 2012 (Linda noted this would be a great food wine and go well with a creamy pasta dish like carbonara or seafood)
Pfaffenheim Pinot Gris 2012 (thick, oily and sweet)
Bodegas Castano Hecula 2011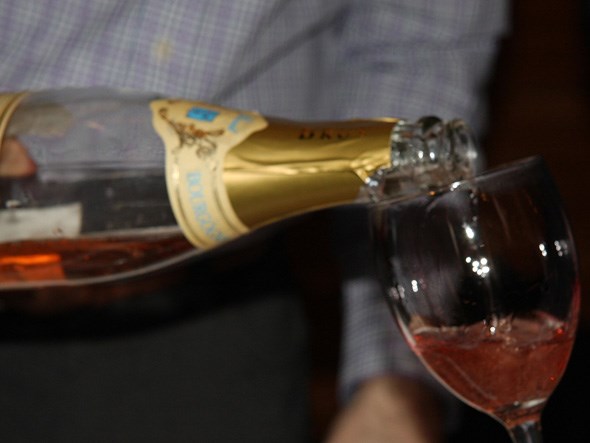 Visual evidence of the end of a long tasting day! (Photo: Anne Cottingham)
And thus concluded my first Vancouver International Wine Festival experience. I may not be a pro at tasting, but I definitely came out of it with more interest in wine and a much better idea of what I liked and didn't like... and also learning that a good wine can turn what you hate into what you like. Next year's feature nation is Australia with a global focus on Syrah - see you there!