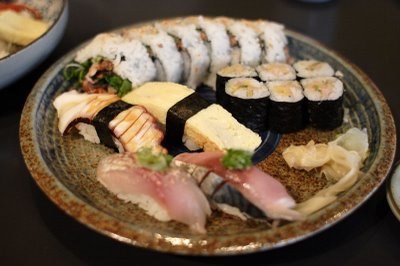 AJISAI
Along with the freshest fish in town, i believe they delivery the most "bang for the buck" in the sushi/sashimi category in Vancouver.
Firstly, for great sushi you need the fresh fish. Ajisai has an inside track to get the freshest of fish delivered straight from Japan to their door step. The best way to order is off the Chef's Recommended Daily Menu that lists their freshly delivered imports. For example, 99% of all sushi joints in Vancouver's octopus served are frozen. The frozen tentacle creatures are usually boiled then frozen, giving them the reddish color and makes them a tough chew. If you're lucky you'll find "Japanese Tako - Octopus" on the Daily Fresh Menu. Order it! Try it! Trust! These fresh imported octopus have a totally different texture and are truer to the real Japanese sushi experience. Also look for fish like Tsubasu, Shima Aji, Aji, Japanese Mackerel, Kanpachi. These are all fish flown straight from the motherland and are not very often found here at other sushi spots.
After you got the fresh fish locked, great sushi is all in the rice. Sushi rice isn't just about cooking up some rice and throwing a splash of vinegar on there. It's a recipe of the right ingredients and with the right amount, all prepared the right way. preparing sushi rice is not so simple but more like a ritual. And these fellas have it dialed. Like all things Wabi Sabi, it's about balance. Ajisai sushi is the right cut of fish on the right size of rice.
On this particular visit we got a few pieces from the Daily Fresh Menu, Japanese Tako, Japanese Saba, Aji and Tamago. We also tried out a couple pieces of Uni Ika. Interesting new combo and also aesthetically fresh. For rolls we ordered the Toro Taku (my personal favorite), BC roll, and the deadly Triple Salmon roll. We went all out and ordered the Deluxe Chirashi Don which is the best of it's kind. The sushi rice is mixed with Takuwan (pickled radish), Shitake, and ginger. On top of that lay sashimi cut pieces of the chef's recommended assortment of seafood.
We left Ajisai with our stomachs completely satisfied and had us talking about their food for the rest of the day.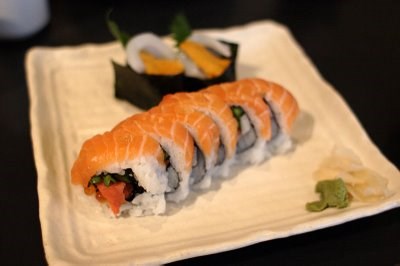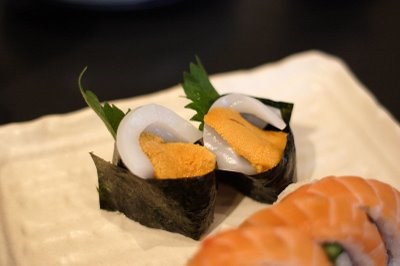 2081 42nd Avenue West
604-266-1428