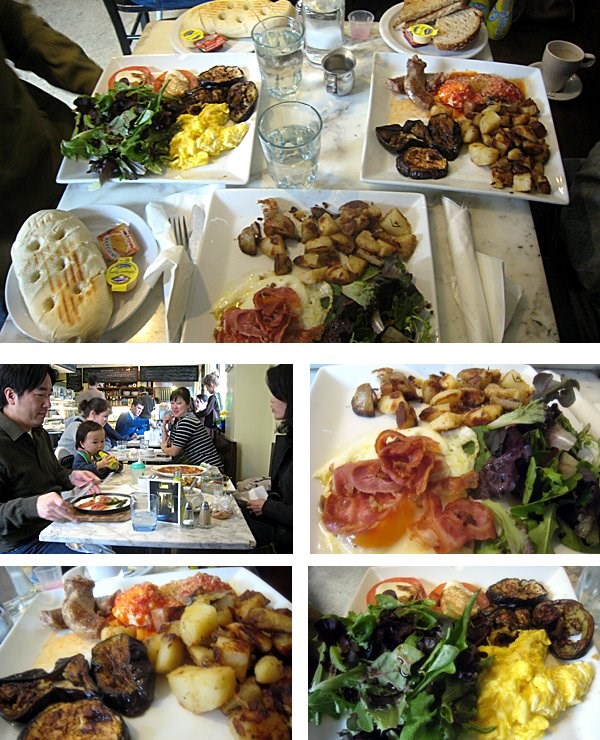 Epicurean (as defined by their menu) - A devoted follower of Epicurus, the Greek Philosopher (341-270 BC) whose goal was the perfection of human joy through the cultivation of refined life overflowing with human pleasures of both body and spirit.
Epicurean is a small, little mom and pop restaurant located just west of Burrard Street in my favorite part of Kits (it is too bad that it is only consists of one block). You can tell by the picture that the space is small but it is clearly a popular place on the weekend. I had to take a picture of the cute Japanese baby at the table in front of us.
The three of us all ordered breakfast items. Collectively, were ordered the Classico ($8.00 - eggs sunny side up, Pancetta, potatoes, baby greens and bread), Earthy breakfast ($9.95 - eggs poached in simmering Amatriciana sauce, topped with pork sausage, eggplant, potatoes and bread) and the Colazione romana ($8.00 - scrambled eggs served with bocconcino, tomato and eggplant, greens and bread). You can look at their menu on the website.
The breakfast was fantastic. Eggs perfectly runny, potatoes nice and crispy, salad fresh and clean and the pancetta was salty as it should be. I had a sample of the eggplant and it was also very tasty. The clear highlight of the meal was the toasted ciabatta bread (a highlight because it was that good and not because the rest of the meal was average). The bread was warm, and so fresh tasting. I absolutely loved the bread.
Overall, I had a great meal. Good service, good food in a nice cute neighbourhood (note I have heard the service has fallen off a bit but on Saturday the service was very attentive). Try that bread!!!!
Epicurean Caffe Bistro
1898 West 1st Ave
Vancouver BC
Thanks to Jon Coleman (Fashion Writer for VIA) for putting me onto this spot.