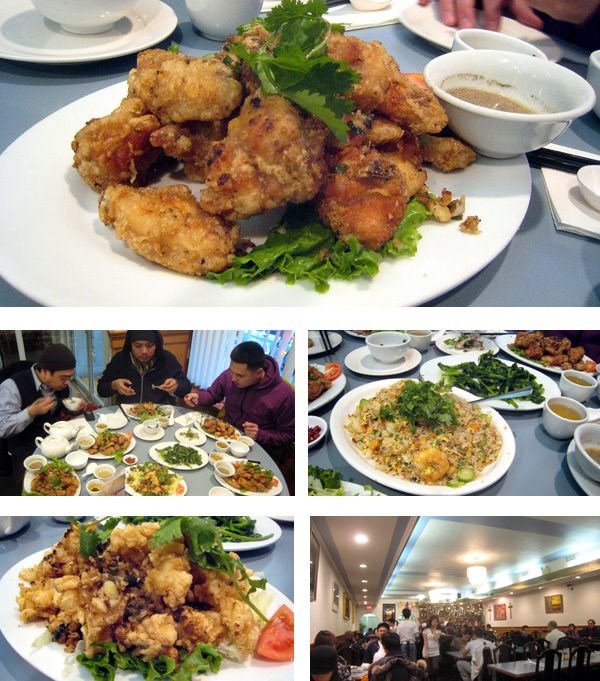 Phnom Phenh
I first visited Phnom Phenh about five years ago after reading a review from some fashion magazine editor in NY. I was confused on how she knew about this spot,and I didn't and I had no idea that Georgia Street continued in Chinatown.
This weekend I was hosting some friends from Toronto and they really wanted to have the chicken wings and squid at Phnom Phenh. We ordered like gluttons. The six of us collectively ordered five large plates of the deep fried chicken wings ($11.50 each large order), one plate of the squid in the same batter ($13.50), an order of dow me yu (Chinese green vegetable), and shrimp fried rice. The batter of the two deep fried items are incredible. The two dishes come topped with fried garlic pieces and scallions and served with a lemon,and pepper dipping sauce. You do get a lot of wing tips in the chicken plate, but I don't mind eating those joints as well. I am a bigger fan of the squid but everyone else liked the chicken better. The shrimp fried rice tasted great and is an ideal and flavourful complement to the deep fried dishes. Ordering some vegetables would not hurt as well (gai lan, tong choi or dow me yu) .
Phnom Phenh sits on Vancouver Slop's favorite list and the lists of famous cooking personalities such as Julia Child and Anthony Bourdain. If you haven't gone here, you must put this place on your to-do list.