Families across Vancouver are getting ready to greet the Lunar New Year, or Chinese New Year as it's often called, and that means welcoming in the Year of the Tiger with traditional dishes and treats.
Foods enjoyed to mark the start of the Lunar New Year are steeped in tradition and meaning. Many of the dishes or ingredients are focused on bringing the eater good health or fortune in the new year ahead. A dish like a whole cooked fish, served with the head and tail on but eaten from the middle only, is said to bring prosperity and good luck to the family in the new year, while spring rolls are not only golden fried goodness but also symbolic of the wealth - the gold bars - you'd like to have in your life in the months ahead.
In Vancouver, there are plenty of incredible restaurants marking the transition to the Lunar New Year with special dinners, dishes, and take-out options. We've rounded up a few noteworthy offerings for 2022 that will make your Year of the Tiger begin on a delicious note. From heat-and-serve feasts to fundraising treat sets to bundles of special condiments to festive cocktails, check out what there is to eat and drink in Vancouver this Lunar New Year.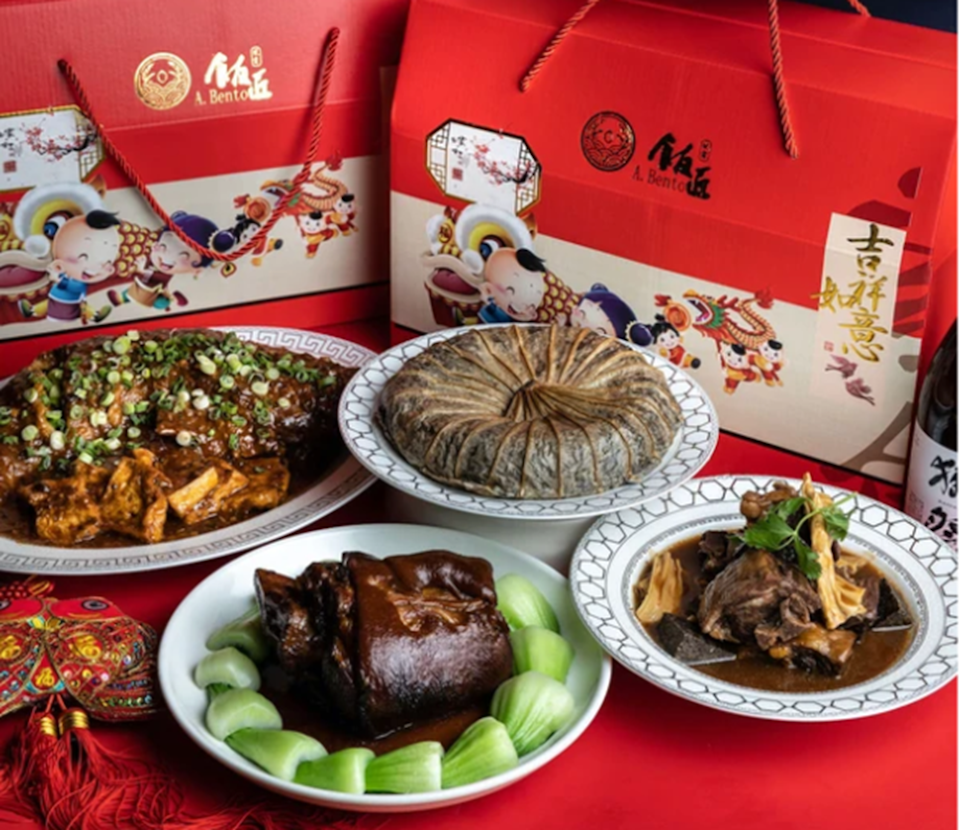 Broadway's Taiwanese gem A. Bento has everything you need for an epic Lunar New Year feast at home, ready to heat and serve. The restaurant has a "Tiger Gift Box" set of vacuum-packed frozen dishes that can go right from the stove top piping hot to your table. Feeding four to six people, the $128 set includes lamb stew, sesame chicken sticky rice wrapped in a lotus leaf, braised pork knuckle in a soy-garlic sauce, and a spicy bean paste whole braised fish. Order ahead and pick up at the restaurant (or request delivery) between now and Feb. 6 while supplies last. Gift boxes are a tradition for Lunar New Year, and A. Bento is ready to heat up the Year of the Tiger with their Tiger Gift Box (B) of their housemade sauces. The set of four is $68 and includes: House made XO Sauce; House made Pineapple Spicy Sauce; House made Spicy Sauce; and House made Garlic Sauce. Order online.
From Jan. 28 to Feb. 6, guests can join in and celebrate the Year of the Tiger in Heritage Asian Eatery's signature style with a gourmet Lunar New Year Feast for four, available for take-out or dine-in at its Broadway location (382 West Broadway). The meal includes four Cured Chinese Ham and Prawn Dumplings; four Chive Pockets; four Sticky Rice Buns; Gai Lan; four Prawn Spring Rolls; eight Classic Pork and Napa Cabbage Dumplings; 10 Chicken Wings with Truffle Salt; Biang Biang Noodles with XO Dressing; and an auspicious dessert of Nian Gao. The set is priced at $118. Dine-in reservations and take-out orders are encouraged by calling the restaurant at 604-559-6058.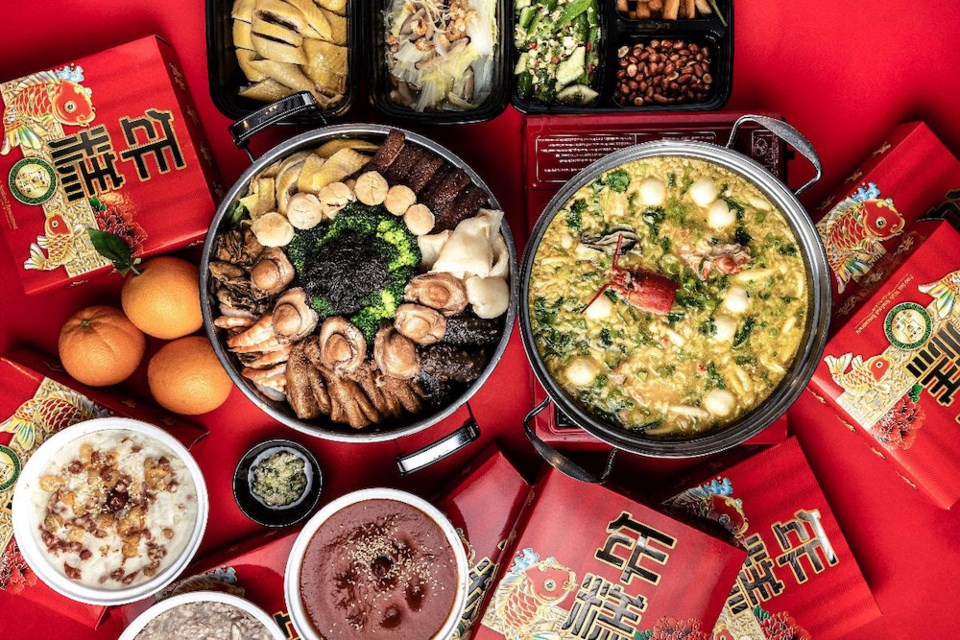 Sun Sui Wah is keeping the spirit of festivity and renewal with their lunar new year take-home meal specials to ring in the Year of the Tiger. For take-home, Chef Man has created a Lao Fan dinner set, premium Poon Choi course, and house made rice cake gift sets.

The Lao Fan dinner set includes a deluxe seafood soup; a side of their famous cold chicken; a side of braised vegetables; and a cold appetizer dish. The literal translation for Lao Fan is "scoop out rice" - a direct description of the main feature of this set. Similar to hot pot, the soup is meant to be reheat followed by the addition of the ingredients starting with the white rice. Once items are all mixed in and served, garnish with the deep-fried rice for extra crunch and texture. The Lao Fan Dinner Set feeds a family of three to four at $118 and is based on availability from Feb. 1 until mid-February.
Sun Sui Wah is also offering Poon Choi, a multi-layered dish that can be traced back to the late Song dynasty - over 700 years ago. Poon Choi translates to "basin cuisine," as it was originally served in wooden basins. Nowadays, this large dish is layered in a deep dish with ingredients prepared and cooked separately - typically requiring days of preparation - and is meant for special occasions and festivals. Served family-style, Sun Sui Wah's version of the Poon Choi includes sixteen premium ingredients layered on top including abalone, sea cucumber, fish maw, dried oysters, dried scallop, and black moss. Available from Jan. 30 to Feb. 15 the Poon Choi serves for four at $238 or six at $368 - and customers can keep the "poon" (in this case, pot).

Chinese New Year is also known for glutinous rice cakes, and Chef Man has created three versions to take home or for gifting: radish rice cake at $18.80, taro rice cake at $18.80, or sweet rice cake at $16.80.

For families looking to dine-in, Sun Sui Wah is also offering two specialty dim sum offerings along with Chinese New Year dinner set menus starting at $188 for two which features their renowned roast squab, stewed bird's nest soup with dried scallops and fresh crabmeat, braised Australian abalone, and lobster sticky rice.
Open for dine-in and take-out, Sun Sui Wah is open daily until 9pm. Make a reservation and/or pre-order your sets 48-hours in advance online or call 604-872-8822.
Potluck Hawker is offering a take-out only eight-course feast, available Jan. 31 and Feb. 1 only. The menu features a variety of Malaysian, Singaporean, and Chinese dishes, all drawn from co-owner and chef Justin Cheung's heritage. The eight lucky courses begin with a traditional "Prosperity Toss," and include traditional ingredients and dishes like Hot & Sour Coconut Mushroom Soup; Nonya Chap Chye; Truffled Soy Sauce Chicken; Whole Pompano Laab; Salted Egg Yolk Prawns with Golden Cereal; 8 Treasures Fried Rice; and Kuih Lapis. Potluck's Year of the Tiger Feast is $200 (plus tax and gratuity) and serves four to five people. It is currently available for pre-order via Tock or on its website for pick-up on Jan. 31 and Feb 1i n limited quantities.
Main Street's modern Chinese restaurant Old Bird is celebrating Lunar New Year and it second anniversary with a series of giveaways and special promos. Though they haven't shared the details yet, Old Bird says they will be offering Lunar New Year features exclusively in the restaurant from Feb 2 to 6. Follow @oldbirdrestaurant on Instagram for more info.
Pre-order and pick up Fanny Bay's special Hot Pot Seafood Pack from their market. This includes one pound of manila clams, one piece of geoduck (approx. 1lb), 16 ounces of oyster meat, half a pound of scallops, and half a pound of prawns, all ready to cook up in your Lunar New Year Hot Pot for $88.88.
The posh Chinese restaurant in downtown Vancouver has officially re-opened, and they are at work finalizing this year's Lunar New Year menu, we're told. Get a jump on what will likely be some pretty serious feasting and nab a dinner reservation at this buzzy hot spot, and follow @mott32van on Instagram to get the latest info on what they have in store for the Year of the Tiger.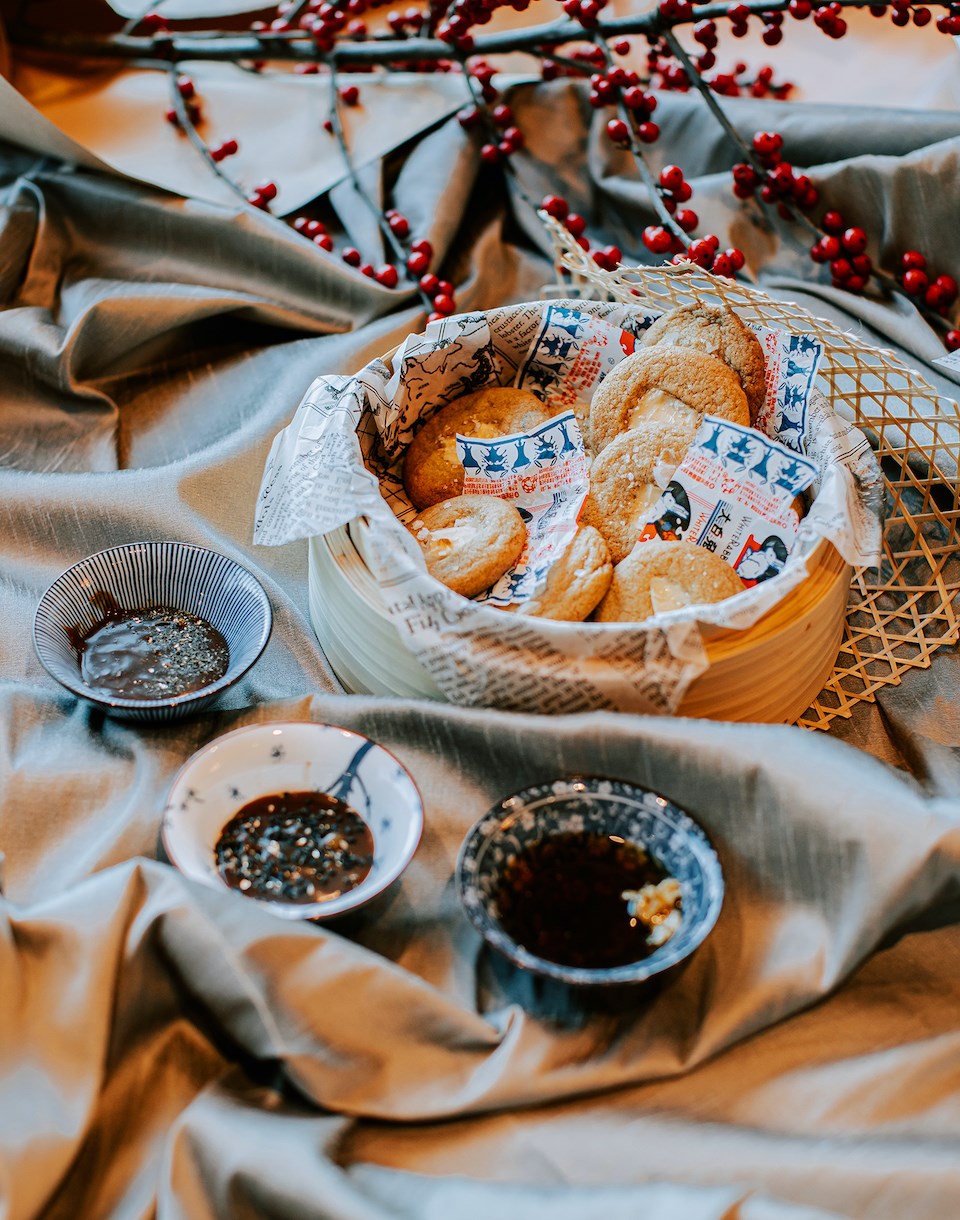 Pre-order these two specially curated 2022 Gift of Fortune gift sets and help support St. Paul's Foundation's annual Feast of Fortune fundraising campaign in partnership with the Chinese Restaurant Awards.There is a premium tea gift set by Lam Kie Yuen Tea Co. Ltd. and the other showcases the award-winning White Rabbit Cookies from Vancouver's Kouign Café. Both with limited quantities, these gourmet gifts are the tasteful way to kick-start the Year of the Tiger. More info, including pick-up locations and set details, plus ordering options, are available online.
This year, Jamie Tung, owner and head pastry chef of Buttermere Patisserie, has developed her own modern take on the traditional Lunar New Year candy box.
The Tiger Gift Box includes four unique items for the modern household: Snowflake Crisps, a chewy and fruity nougat candy made with freeze dried berries, nuts, and RITZ cookies; Koi, beautiful koi-shaped hard candy in flavours of champagne, strawberry, and, exclusive to Butteremere, lychee; Black Sesame Brittle, a crunchy sesame brittle similar to peanut candy but made with black and white sesame, almonds, and goji berries; and Pork Floss Rice Krispy, a savoury puffed wheat cracker made with pork floss and seaweed. Tung has also created a Year of the Tiger cake, a lemon poppyseed sponge cake with an Osmanthus orange confit, Cointreau anglaise, and jasmine mousse adorned with a chocolate model of a cartoon tiger holding a golden coin. Priced at $68 and $70 respectively, the Tiger Gift Box is available for pre-order now online for pick up or delivery Jan. 26 to Feb. 6 while the Year of the Tiger cake is available from Jan. 29 to Feb. 2.
In collaboration with Buttermere, Shangri-La Vancouver is selling a collection of three handcrafted treats for Chinese New Year with exclusive flavours: Matcha Snowflake Crisp, Koi Fish Candy and YuanYuan ManMan. Available for pick up/delivery from Jan 26 to Feb 15. Please order 48 hours in advance. The luxury downtown hotel also is selling a special Lunar New Year Candy Collection featuring Freeze dried treats; Creamy White Bunnies, Strawberry Chews and Original Rainbow Candy. Order online.
West Vancouver's beloved treat spot has a Lunar New Year "show piece" available. The Tiger is available on Feb. 1 and it is $45. The Tiger is filled with Temper's famous caramel salty chocolate balls.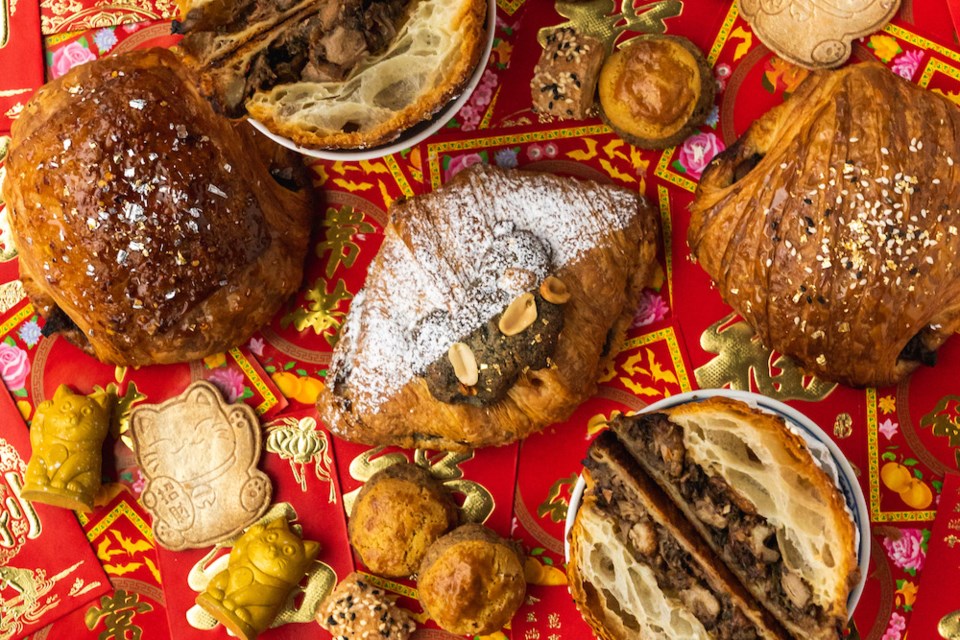 Leap into the Year of the Tiger with Beaucoup Bakery's exclusive Lucky Meow 88 Collection. The sweet and savoury line-up sees the return of Beaucoup Bakery's famous Peking Duck Croissant collaboration with Chinatown BBQ, as well as a new version using locally-crafted Holy Duck Chili Oil. Guests can also add cookies, a Peanut Sesame Mochi Croissant, and custom chili oil to their orders. You can order the entire Lucky Meow 88 Collection online via Beaucoup's website for pick-up at the shop between Jan. 30 and Feb. 1. The Classic Peking Duck Croissant and Holy Peking Duck Croissant will also be available on a first-come, first-served basis at Chinatown BBQ (130 E Pender St) from Jan. 28 to 30, 2022. Part proceeds benefit the Vancouver Chinatown Foundation.
Chef Tommy has created a delicious food feature as well as a cocktail to celebrate Lunar New Year. These two features are available from Feb. 1 through 10 at the downtown restaurant. The Angry Crab ($88) is one-and-a-half Dungeness crabs tossed in a custom spicy blend of ginger and chilies as the base, served on top of a bed of veggies. The dish serves three to four people as a main course and is only available for dine-in.
This year, the special Lunar New Year flavour will be Roasted Oolong. The gelato shop curated this flavour and thought that it would be a fitting choice, as Oolong tea was the first of its kind to be named "tribute tea" during the 10th century. It is a sacred tea people shared with each other as a symbol of honour.
A few more late additions:
Lunar New Year Cocktails