"It looked like Mars."
That's how Damian Johnston describes his community of Scotch Creek, B.C., after a massive wildfire destroyed his and several of his neighbours' homes.
The Bush Creek East wildfire, burning about 60 kilometres northeast of Kamloops, had grown to more than 41,000 hectares by the afternoon of Tuesday, Aug. 22.
Four days earlier, Johnston was ordered to evacuate his property on Squilax Anglemont Road, among about 3,500 properties forced to evacuate the Shuswap region. He fled in his truck, later sleeping in it for two nights.
"You could see it was just creeping down the hill," he recalls as he was driving out of town. "It was just starting up, just starting to get really bad when I got out. So I think I got out just at the right time or the nick of time."
Johnston sought safety at Eagle Bay, where he stayed with his sister. He was only able to returned home to see the damage to his property on Monday.
"It was pretty quiet and eerie," he says.
At least 20 homes, library damaged or destroyed
During a press conference on Tuesday afternoon, staff with Columbia Shuswap Regional District could not confirm the numbers of houses damaged in the fire. Emergency Operations Centre director Derek Sutherland says they are hoping to have the number confirmed soon.
"We've engaged with Canada Task Force 1, which is a heavy urban search and rescue unit doing a rapid damage assessment in the area," he says.
The task force started work on Tuesday and will be working over the coming days to determine what the structural loss is in the area.
"Right now we don't have a strong sense of what that is because of the situation in those areas, there is still active firefighting..." says Sutherland.
But when Johnston returned to Scotch Creek, he counted at least 20 properties damaged or destroyed.
"I walked through and saw one, two, three, four… houses across the street, all of the trailer park except one, so that's another 12 homes right there," he says. "And around the corner, my friend Charlie's place burnt."
Johnston said the local library and coffee shop were destroyed too.
Questions over planned ignitions
When Johnston left his home, he thought he'd be able to return, and now questions the timing of a planned ignition by BC Wildfire Service.
BC Wildfire Service information officer Forrest Towers says planned ignitions are tracked and planned thoroughly. He notes that 24 hours after the planned ignition a cold front that swept across the province deteriorated wildfire conditions.
"It started to impact the Bush Creek East wildfire in a very aggressive way. Winds were coming down Adams Lake, 50 to 70 [kilometres per hour] gusting more than that, and as they were coming down Adams Lake, they were curling around at the end of the lake," he says. "We had a really big impact on the Bush Creek East wildfire."
Towers explains this fire started to put up a "large column" and "intense heat."
Towers said the wildfire burned south, overran a fire camp and jumped both the Adam's River and Highway 1.
That's when two wildfires merged, including one that had no planned ignitions on it.
"The Bush Creek East wildfire overran the area and became a 41,000-hectare wildfire," says Towers.
He added the wildfire grew to have columns of smoke that were thousands of feet into the atmosphere.
"The planned ignition did not cause any amount of this fire joining together. It was not the cause of the configuration of those two fires, and it did not cause any impacts to structures," says Towers.
Instead, he says it stopped the fire from spreading further.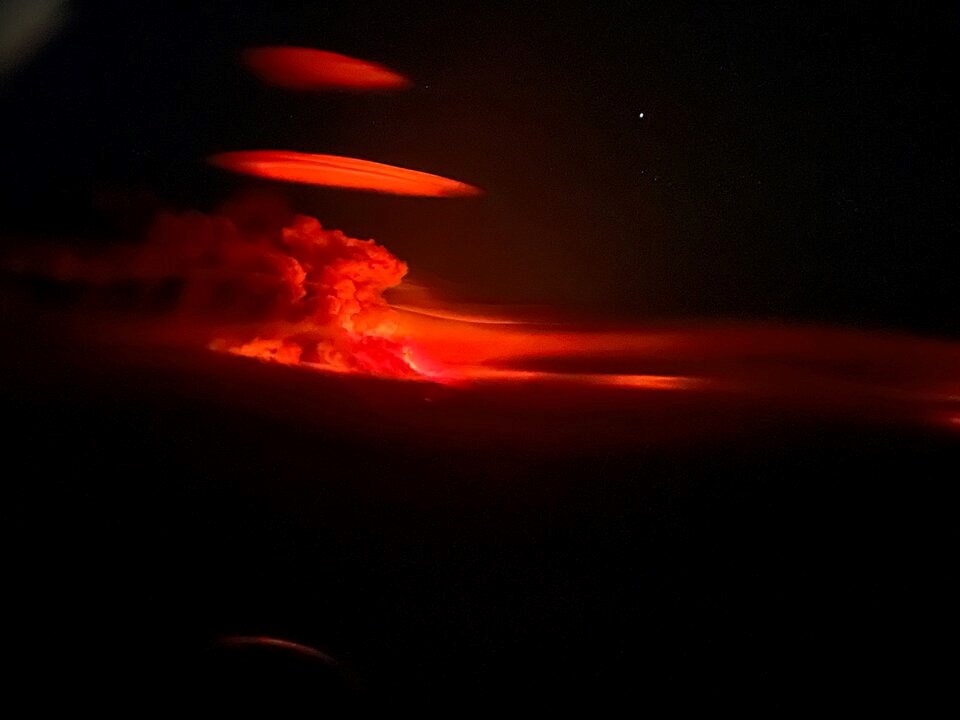 'A force of nature'
Towers noted he is aware of the significant and devastating impact on properties on Squilax Anglemont Road.
"It is due to an out-of-control wildfire event that probably rivals any fire event that humans have witnessed in B.C. in a wildland fire setting," he says.
As the Bush Creek East wildfire moved 20 kilometres south, it grew to 41,000 hectares from 7,000 hectares in just under 12 hours.
"That is that is a force of nature, similar to a tornado, similar to an earthquake or a tsunami," he says. "All those sorts of natural disasters that humans don't even attempt to do anything about because there is nothing a human can do to stop that."
Towers says the safest thing to do was to get people to safety.
"We had an explosive event that happened in a matter of 12 hours that no human or amount of humans could have done," he says. "There was a significant chance that humans would have died."
'Can't let it get you down'
Johnston has called Scotch Creek home for 15 years and is at a loss for words when he explains how he is feeling.
"I'm sure things will present themselves as we go along… I don't really know," he says.
He says the reality has not sunk in yet that his house is gone.
"I didn't seem to really be so upset the first couple of days but I am a little more upset now," he says. "But... you can't let it get you down."
His daughter has set up a fundraiser for him to rebuild after the devastating loss.
"He loves that area, " says Brandee Leigh Skye. "I envisioned my dad being there for the rest of his life and I'm pretty sure that's what he had planned."
"All of his buddies are there and a lot of those buddies have lost their homes as well."
The family is now trying to figure out their next steps.
"The stress of the money and not having the insurance and losing everything and having to start from scratch… has been a bit stressful," she says.
Johnston says he thought he was going to be able to return home and get clothing, photographs and his son's paintings.
But now he's left with just the clothing on his back.