For 80 years Vancouver has had a small, albeit easy-to-spot, naval base.
HMCS Discovery, named after Capt. George Vancouver's ship, sits on Deadman's Island, a small piece of land now connected to Stanely Park by a narrow causeway (though it was an island). For much of its history it's been a useful location for the navy, and continues to have an active roll as it's used as a training facility and home for local sea cadet corps.
While that all may be familiar, here are a few things you (probably) didn't know about it.
1. Its full name is His Majesty's Canadian Ship Discovery
What's odd about that is the island is not a ship. It's arguably not even an island.
However, there's a tradition amongst some navies of land bases getting ships' names and becoming 'stone frigates,' including Canada. Notably, there's a dormitory in Kingston called HMCS Stone Frigate.
Also, its name changes, depending on the monarch, so it started off as 'His' and then was 'Her' until the Queen passed away last year. With King Charles III in charge, it's now 'His' again.
2. It has European battle honours
Because of how naming conventions in the British Commonwealth work, HMCS Discovery has two battle honours, one from the Battle of Portland in 1653 (an island in England, not the city in Oregon) and one from the 1801 Battle of Copenhagen.
In both cases a ship called the HMS Discovery participated, and because HMCS Discovery was commissioned in the 1940s, the tradition of the time means it was part of the shared list of battle honours. That changed in the 1960s and Canadian ships now can only claim battle honours from previous Canadian ships.
A rebus is a sort puzzle that illustrates a word. In this case, the HMCS Discovery badge is a capital Y underneath a yellow circle.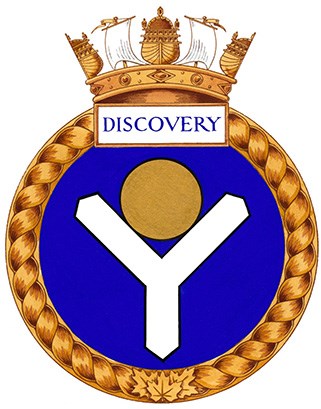 Written another way, it's a 'disc over Y.'
4. It played a big role in security during the 2010 Olympics
Vancouver's Winter Olympics in 2010 was a big deal for the city, and with the games came huge security concerns.
As one of the biggest events ever to happen on Canadian soil, it makes sense that security for the 2010 Winter Olympics and Paralympics was the biggest peacetime domestic operation to date. That means military involvement, and HMCS Discovery was used to run the naval arm of that operation.
5. It's supposedly haunted
Long before the navy moved onto Deadman's Island it was a tree burial ground for local First Nations. When settlers arrived, they decided to use it for the same purpose.
It may be that history that's led to ghost stories coming from the island. Ghosts of Vancouver has collected several stories from the 1990s about the hauntings, often connected to furniture being moved around.