West Vancouver is famously one of the wealthiest communities in one of the wealthiest regions of one of the wealthiest countries in the world.
But before there were multimillion-dollar mansions everywhere, there was nothing but forest between mountains and sea. Back then, John Lawson – known as the father of West Vancouver – was looking to grow the community, which was incorporated in March of 1912.
That year, this 16-page real estate pamphlet was published. Titled 'A Suburb in the Making' it was written by an R. P. Matheson (with the compliments of Lawson), the 110-year-old advertisement espouses the "future prosperity of West Vancouver."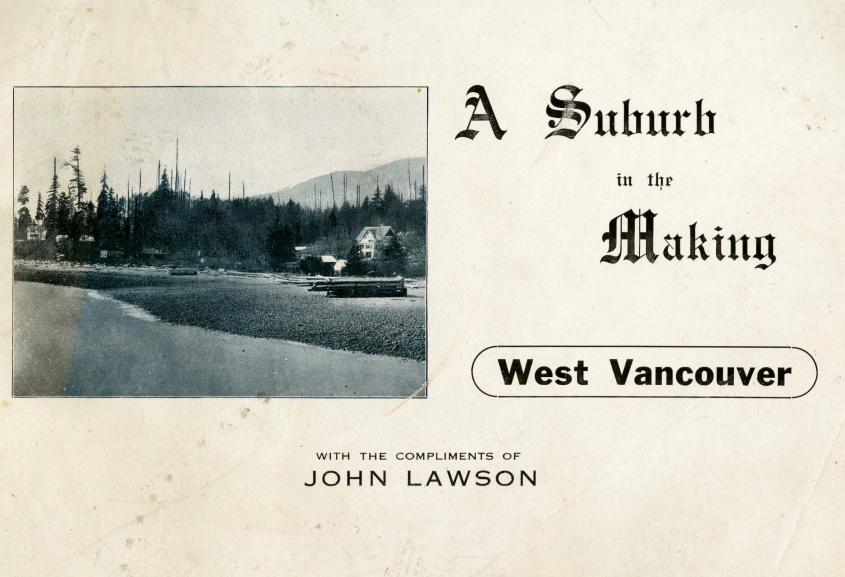 While the land was mostly forested at the time, Matheson writes about how great it will be to live in West Vancouver, and how it'll pay dividends in the long run.
"The best lots in this suburb will advance in value with the growth of a prosperous population," he notes, going on to dunk on areas east and south of Vancouver as being of limited value due to how much renters will be able to afford.
He also looks to North Vancouver, which West Vancouver had just split off from, as a driver for housing prices.
"Industry and commerce are building another city on the north shore," Matheson writes. "It is evident to the most careless observer that the citizens will build their home on that portion of the north shore that is outside the harbor, and likely to remain free from the smoke and dirt that accompany an industrial invasion."
The bravery of the first visitors to West Vancouver is also noted in a very descriptive paragraph.
"Two years ago the settlers in our district were regarded as pioneers who scorned wealth and bore privation cheerfully for love of beauty," he writes. "Summer visitors to our shore felt that they had left luxury behind, and set themselves to prove that they could endure the hardships of the wilderness with the fortitude of their forefathers.
"The links with civilization were broken; there were no telephones, no postmen, and no railway trains. The water that they drank came from a stream in the forest; the strangers who met them on the road wished them good-day," Matheson continues. "Everything was primitive and barbarous.
"They returned to the city exultant; and, after the fashion of explorers, told strange tales of adventures to entertain their friends."
The pamphlet goes on to describe how everyone was certain Hollyburn would one day be a fashionable summer resort, but that in 1910 it was only the most adventurous who had gone to West Vancouver in the winter in "conscious bravery.'
"If city people imagined that we had risked our lives we did not relieve them of their timidity and ignorance; we smiled patronizingly, and went upon our way with our heads in the air," Matheson writes.
He goes on to note how some regret the growth of West Vancouver, as it's growing and becoming more civilized. One of the perks he notes is that a streetcar takes 40 minutes to get people to downtown Vancouver from some neighbourhoods, but from West Vancouver, it's a 20- or 30-minute ferry ride.
However, distance from the hustle and bustle of the big city is also framed as a positive.
"Business worries do not follow through the Narrows; and if they did, they would surely suffer from neglect. How can a man remember business when he is afraid that he has forgotten one of the things that his wife ordered from town?" asks Matheson.
The brochure, in general, is a look back at a style of marketing that's no longer seen, with references to pre-historic man consulting wizards, "kind-hearted man" wouldn't want to drink medicine if it included children's blood and a wife convincing her husband to go look at West Vancouver properties because the city is loud.
"In a few months, when the new house is ready, he finds that he is her comrade in a series of adventures that are delightfully reminiscent of their honeymoon," Matheson says of the fictional couple.
As if the photos and language aren't marks of the pamphlet's age, there's also how to contact Lawson, who has water frontage, acreage and lots to sell (unfortunately prices aren't given). Readers are told to phone Lawson, via long-distance, in Hollyburn. No number is given, as it predates the common usage of phone numbers.