The good thing about Twitter is that it gives many people a chance to offer many different viewpoints.
The bad thing about Twitter is that it gives many people a chance to offer many different viewpoints.
Somewhere in the middle, however, there is the odd space for weighted observation, critique and even praise.
Enter Bryn Davidson, co-owner of Lanefab Design. Davidson's firm designs and builds houses, duplexes and laneway homes across Vancouver, including the city's first laneway home after council approved those housing types in 2009.
Davidson has given TEDx talks on housing, is a frequent contributor in local media and his Twitter account is akin to a running tab on development and housing policies – both good and bad – across Metro Vancouver.
With this in mind, along with the city's ongoing Make Home strategy and goal to add 4,000 more new laneway houses by 2028, Vancouver Is Awesome asked for Davidson's views on all things laneway.
But first, some quick facts.
Laneway houses are permitted and exist in almost all lower-density neighbourhoods across the city. There are about 4,500 of them today.
Laneway houses are only permitted in conjunction with a house (or house with secondary rental suite) and cannot be strata-titled or separately owned from the main house. In other words, you can't purchase a laneway house on its own. They can be a rental suite, for family use and can be permitted in addition to a secondary suite in the main house.
According to a 2018 city staff report, laneway homes take less than 1.5 years to develop and cost less than $300,000.
A 2018 city survey received feedback from 308 property owners and 304 occupants.
The household income for 64 per cent of those occupants sat between $40,000 to under $100,000.
Almost 50 per cent of occupants were living in those homes alongside a partner, followed by 28 per cent who were living alone.
The vast majority of those living in laneway homes – 60 per cent – were between the ages of 19 and 49.
About 40 per cent of those surveyed paid between $1,500 and $2,000 for rent, followed by 25 per cent reporting their rents between $1,000 to $1,500.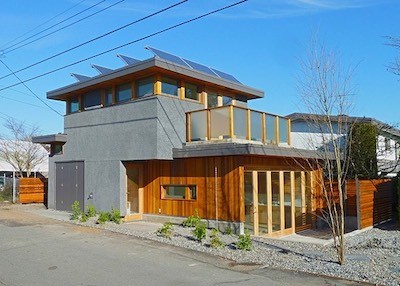 V.I.A.: Where does Lanefab build the majority of its laneway homes in the city?
Bryn Davidson: One of the amazing things about the laneway house program was that it really was distributed on the east side, west side, north, south – all different neighbourhoods. In more recent years there's been a more decided shift to the east. That's coming as property values get so high that the ownership of that land shifts from being based on income to being based on wealth – people who are less interested in mortgage helpers and more interested in garages for their fancy cars.
Who is your clientele in terms of age and income?
Roughly one-third is for rental units or your typical mortgage helper. Another third has been for the family that's typically a young couple who's living in the basement suite and is looking at the option of getting a condo versus building on their parents' property. The last third is the downsizing Baby Boomer: someone who is contemplating selling and buying a townhouse, but they like their neighbourhood. If they move into the laneway house maybe they can travel or rent out the main house to their kids.
What kind of financial advice do you give to people contemplating going the laneway house route?
You've got to be able to buy a whole property and this is one of the fundamental flaws of our current system. We've set the barrier to entry really high. You can go out and buy one condo and that can somehow be related to income. But with a laneway house you have to own basically a triplex property – the house, secondary suite and laneway house. That's why it becomes really compelling for families who already own the land because they can build something without paying anything for the land. You can't do that anywhere else in Vancouver.
People living in West Side neighbourhoods have been, shall we say, adverse to change in their area for quite some time. What's your experience getting laneway homes into those neighbourhoods?
I always talk about the distinction between working on the West Side versus working on the East Side. Don't get me wrong, I have a lot of super awesome West Side clients, it's just that their neighbours often are more likely to be a huge pain. The level of entitlement is off the charts. I used to say that when we started digging on the East Side the neighbours would come out to chat with us about the new family that was moving in and what they were going to do. On the West Side when you'd start digging, they'd come out threatening to sue you and calling the inspectors.
If you were given the ability to change anything at City Hall with respect to laneway homes, what would you do?
Number one is getting rid of the separate development permit process for any single-lot residential project. No more neighbour notification or having to do material boards or all this other crap. If we do that, we can cut eight months out of the project right away without changing anything. It's an easy win. The second bit is we need housing options throughout the city that are actually more accessible to the typical person. That means allowing stratification or subdivision of big lots. Right now, we have big chunks of the city where you can't subdivide below 60 feet, which is just insane. We need to focus on priorities: life safety, climate change, accessibility. Beyond that, stop trying to micromanage the aesthetics.
Which North American jurisdiction holds the gold standard for laneway homes, whether it be around government regulation, price or other factors?
Vancouver and the City of North Vancouver are up there. Most of the other cities are worse. But the gold standard is California, where they've adopted a state-wide law allowing accessory dwellings in every municipality across the entire state. When they did that, if you look at the permitting in Los Angeles, it went from something like 200 in a year to 1,500 in a year. There was this massive, exponential jump once the state overrode the local zoning. When you look at it state-wide, it's become one of the most important housing policies in the entire state of California, which has as many people as all of Canada.
- This interview has been edited and condensed.