Cherry Blossoms get all the love this time of year but there are other flowers blooming in Vancouver right now. As a little distraction from Vancouver's chaotic weather let's take a look at these harbingers of spring.
According to the City of Vancouver's VanDusen Botanical Garden bloom calendar, these are the flowers in season in April and May which give us a good indication of the flowers we could expect to see in gardens and lining city streets.
Blooms in April
Magnolias
My personal favourite tree is often overlooked in favour of the fluffier, showier cherry blossoms but magnolias are spectacular and there are a surprising amount around Vancouver, especially in Kits and around UBC. The trees have evergreen and deciduous varieties with over 200 species around the world but Vancouver is only hospitable to about half of those. The hardier evergreens are the ones most likely to be spotted on your afternoon walk with petals of pink, purple, white, and yellow being the most common colours.
Rhododendrons
These underestimated shrubs can be found in most residential gardens in Vancouver varying in size from three feet to 20 feet. They don't look like much for a big chunk of the year but as soon as spring hits the buds open revealing fuchsia, carmine, lavender, blush, peach, lemon, or white blossoms stark against the waxy green leaves.
Pacific dogwood
Pacific dogwood is a small tree or shrub that grows up to 15 meters tall, usually in the shade of Douglas firs or western hemlocks. Their white flowers with a cluster in the centre bloom in spring and again in fall. It also bears a dark red berry that is edible but extremely bitter, it's more of a food for wildlife than foraging. You can find Pacific Dogwood all along the south coast and on Vancouver Island.
Camellias
There are both winter and spring blooming camellias with the former blooming between September and January and the latter season picking up where the other left off. Most spring camellias are Japanese camellias which bloom first or hybrids that are the result of a cross between camellia japonica and camellia saluenensis. The hybrids are the most cold-hardy and can tolerate low light conditions while still vigorously producing blooms.
Spring-flowering bulbs
Assorted spring-flowering bulbs have been pushing their tenacious heads up through the dirt for a few weeks now, although we do worry they have been bashed about by the various weather systems we've been facing. These perennial and semi-perennial bulbs include tulips, daffodils, calla lilies, hyacinths, amaryllis, ranunculus, and gladiolus, irises, crocuses, freesias, and snowdrops–basically everything you'd expect to find in your mothers spring garden. They can also be found on boulevards, and roundabouts, really anywhere there is public green space because they are very much a set it and forget it flower.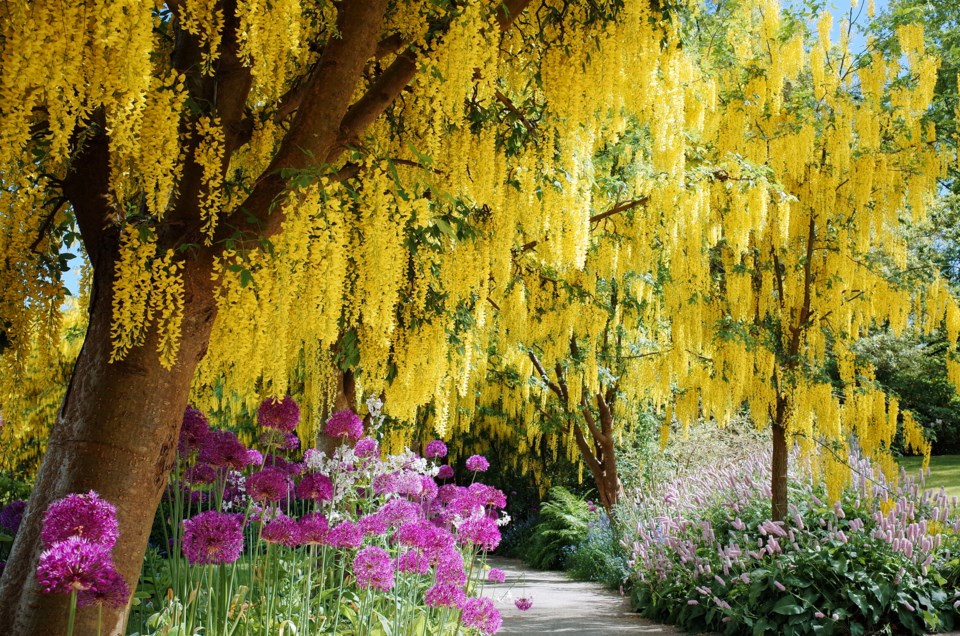 Blooms in May
Trillium
This dainty white star-shaped flower with a yellow eye is backed by soft forest green leaves that remain year-round. The great white trillium (also known as the western trillium) grows in modest-sized shrubs reaching about eight inches tall at maturity and blooms in early to mid-spring with the petals taking on a pink hue as they fade.
Laburnum
Also known as a golden chain tree, Laburnum are small accent trees that make a big statement when they bloom. The cascading yellow flowers resemble wisteria from afar and the petals are pea-like up close. They can be difficult to grow but are easy to maintain. VanDusen Garden has a walk of Laburnum trees but other than that I'm not sure where to find them. There is a Laburnum street in Vancouver but the jury's still out on if they actually grow there.
Poppies
The red poppy may be the most recognizable and well-known but May in Vancouver is the season for all kinds of coloured poppies. My favourites are a beautiful shade of peachy pink called Little Dancing Girl but orange, yellow, purple and blue poppies can grow in Vancouver too. Many of them may not even look like poppies to the untrained eye because they don't have the black eyes in the centre. Poppies don't have a lot of longevity because of their delicate petals and one heavy rainfall will destroy them so enjoy them while you can.
Roses
Late May is the very start of the rose season. Rose gardens will see their first blooms that will continue into June and hopefully symbolize warmer temperatures and more consistently sunny days.