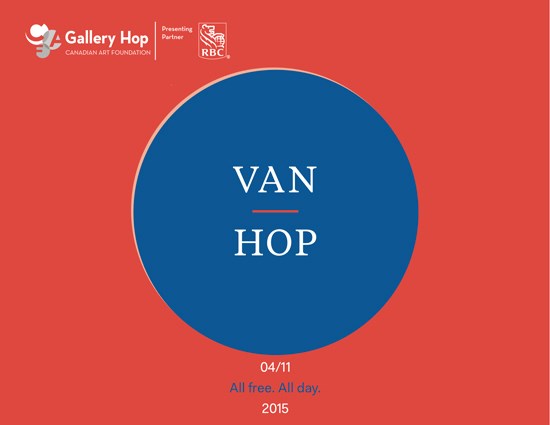 Gallery Hop Vancouver: Saturday, April 11, 2015
Art. Talks. Tours.
Join us for a day of art, talks and tours at the Canadian Art Foundation's Gallery Hop Vancouver, presented in partnership with RBC.
Panel Discussion: Making Opportunity
11:30 a.m.–1:00 p.m.
Contemporary Art Gallery, 555 Nelson Street
With important cultural infrastructure projects underway, or recently completed, it is time to take a look at what kinds of new opportunities these projects will bring to the Vancouver art scene. Join Canadian Art editor Richard Rhodes as he kicks off the Gallery Hop with a panel that looks into the future that Vancouver is building for itself.
Talks and Tours
1:30–5:00 p.m.
Various locations in Vancouver
Enjoy guided tours of many galleries and institutions in Vancouver. At each stop, an art expert will share a talk on the exhibition on view. Visit canadianart.ca/vancouverhop for a list of all the galleries on the Hop, tour guides and meeting spots.
Wrap Party
5:30–7:30 p.m.
Equinox Gallery, 525 Great Northern Way
Finish your Gallery Hop at the Canadian Art wrap party, being held at Equinox Gallery. Marten Elder's "Perceptual Renderings" and a group show called "Pictured Windows" will be on view. Richard Rhodes, editor of Canadian Art, and David Balzer, associate editor and author of Curationism: How Curating Took Over the Art World and Everything Else, will introduce the Spring 2015 issue of the magazine, and subscriptions will be available at a special Hop rate.
Learn more and register for this event at canadianart.ca/vancouverhop.