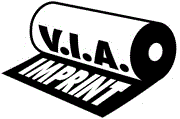 Hi there, Vancouver. I'm very excited to be here, writing things to you.
In addition to sharing tidbits of awesome I find around town, I'm going to be continuing the Imprint column that launched about a year ago.
With Imprint, I'll write about all manner of awesome things to do with publishing or printed matter in Vancouver. Local authors and poets, books about Vancouver, books that take place in Vancouver, books written by Vancouverites, local book store events, library events, literary events, readings, zines, workshops, poetry, comic books, graphic novels, magazines, movies and TV shows based on books related to Vancouver – if it's printed (or once was printed) and it's awesome and it's related to Vancouver, I want to know about it so I can share it with everyone.
So please share your knowledge! You (or your publicist friend or your pal who always has her nose in a book) can reach me at imprint@vancouverisawesome.com. Thanks, in advance, for your help!