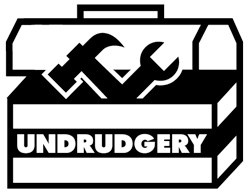 Vancouver is arguably the most beautiful and expensive city in the world to live in. For most, the goal is simply to live IN it. We all have to work, and work hard to keep up with Our Lady of VanCity, but there are a select few who know the score. Why not live in the world's most liveable city and hold down one of the raddest jobs she has to offer? We all know somebody who goes to work smiling. What are these jobs and how do people get them? More importantly, are they as awesome as they sound...
VOL.4 HIGHLIGHTS: Secret supper clubs, winning and subliminal boobs.
---
Andy Dixon (@andydixonart)
Artist | Musician | Record Label Founder
Years in the industry: 20
---
You know the guy who does that addictive Secret Mommy stuff you heard at the Biltmore a few weeks ago? How bout the owner of Ache Records, the experimental record label that boasts Death From Above and Hot Hot Heat releases, whose displays you've seen in Scratch Records, Zulu Records, Red Cat Records, Audiophile, Zoo Zhop and Dandelion Emporium. Do you remember staring at the designs for Said the Whale and thinking, 'Oh that's by the same guy whose art I saw on Main St. last night?' (Obviously)
If I didn't already know the well dressed gentleman waiting for me at the bar in Nuba, this week's Undrudgery might not have existed. I would have never made the connection between the prolific Vancouver artist, musician, designer, illustrator and businessman if I hadn't seen him in action myself. Andy Dixon. Now you know.
I sat down with Dixon and some 1516 to find out how all this happened.
When did you start down this path?
It's not that easy to trace back in those terms. I've been playing music since I was 12 in bands and stuff but that didn't make any money until we started touring, and then it was just enough money to pay for that tour. But then I had to go back to high school so I didn't really have to worry about it.
What was the band?
d.b.s. – kind of a kid punk band. When the band started gaining in popularity, one of the things we had to deal with was album art, t-shirts….I was the most artistically inclined. I was that quintessential kid that just drew all day and made comic books and shit so I was elected to do that and I started to really like that process of coming up with a visual representation of someone's music.
As the band got more popular the album art got noticed, and then I had other bands wanting the artist that did that to do theirs, and I got hired so it kind of spread from there. I managed to weasel my way into doing design from then. I had already learned about the processes. I knew what silk screening was, how to make a website, offset printing, separating colours…because I had to, somebody in the band had to set up the files the right way. I'm not saying I never had a job. While in high school and just out, I worked at record stores, I worked as a courier, so I had the odd job but I always had a hard time with the idea of satisfying somebody's vision instead of my own. I've worked for really great people that I respect and admire but I still found it hard to motivate myself to go the extra mile for their company because I'm so concerned about the things I want to be doing. It's hard to describe.
How involved in music are you still?
The commercial art that I do is mostly in the music industry. It's where my contacts are. Album art, posters. I do that for a lot of bands around the world.
What's the furthest away your posters have been contracted?
Japan. It's cool, I find that the trend in my life is not doing as much for the music industry, maybe because the music industry is changing itself and there's not as high budgets for third party artwork?
So it's launching a whole new generation of yous who do it themselves?
[laughs] Exactly! I guess I can't complain about it when you put it that way.
What do you love about being an artist?
It's a cliché but I love that I'm doing what I love to do. To be able to get up each day and check my list of things to do and just create things is the dream.
Career highlight?
The thing I have the most stock in emotionally is the fine art stuff. The role of an artist rather than a commercial artist is that I can't afford to put my complete soul into every single person's album cover. It's essentially a job and my job is to make it look good. But when I'm dealing with fine art I do what I want and there's something more satisfying about that.
In design though, something I noticed got me a lot of attention and respect was an album cover for the Blood Brothers. They broke up a while ago but at the time they were a huge band and we were on tour with them. I did their website and stuff and with every band that gets to that size, you have hundreds of  young teenagers looking up to that band and recording and they want the same guy. I got a lot of work from that. That was a good moment.
I also did a lot of work for Insound - the biggest independent music store online. They're a really great connection.
Everything you do, maybe the one client that you thought 'That would be that,' is involved in something you've never heard of and suddenly you have all these new clients. You never know.
As far as music, if my career was a graph it would shoot up and be a slow incline from there. My most popular musical output was when I was 15 and punk exploded. Green Day was huge and we were in a punk band and it was like 'Oh look they're cute! Little teenagers playing music like that.' We got swept up in it – videos on MuchMusic and interviews and stuff.
What's your favourite musical project?
Everyone would answer the most current. Secret Mommy and Caving I'm really happy with. Although a band I was in called Winning…
You were in Winning before Charlie Sheen was in winning?
Ya. Ya, I know. The Sun contacted me about doing and interview with Winning because of the name. I was like 'We broke up a while ago and there was no way you've heard our music because you wouldn't be talking to me.' It was a real feat because as an artist in any way, my job is to evoke an emotional response. The worst feedback is 'Ehh, it was ok.' So as long as I'm making them feel something.
That band was hated so much I got threatened to have the shit kicked out of me. The hatred for that band manifested into physical violence, which is awesome! Our second album Could We Believe In Magic is still easily my favourite musical output I've ever made.
Is it still available?
Oh yeah. You can download it from Ache Records or you can get the album from Scratch or Zulu or any good local record store.
Where can people see your artwork?
I was represented by Grace Gallery but that actually just closed down and now I'm in transition. So online! [Dixon is launching a new website that represents all his various projects on Nov 8th]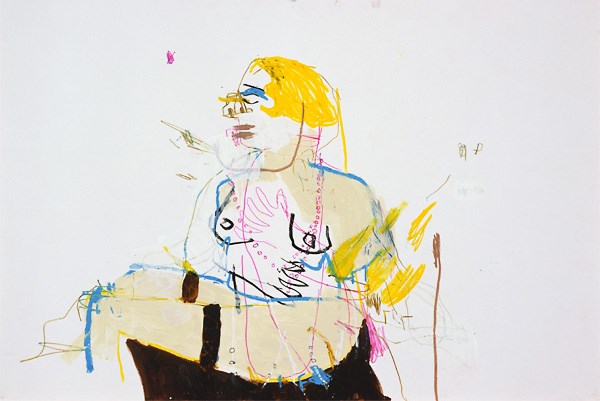 What do you think of Red Gate closing?
It's a shame. There's so many great underground venues that go under. I've been in the city for a long time, this is certainly not the first of these sorts of closures. The Emergency Room is a good example. Way back in the day the South Wall and the Nappy Dugout – all these all ages shows, we're talking like 1993. Sadly, when you've been in the experimental music scene for 15 years, these sorts of things are just a part of being on fringe culture. You have to accept that we're frowned on amongst other people in the city, but that is our choice and we have to roll with it.
When Red Gate closes, and it's a beautiful space don't get me wrong, but there will be something new. It will motivate people to do something new and that's exciting. It's about the people supporting the people. That's the cool thing about the punk scene or DIY scene, it's always changing hands.
It's almost microgenerational. You can consider the people two years younger than you the next generation that's going to do something. It's fun to watch, there's something beautiful about the cycles.
Why Vancouver?
Well, I was born here (North Van). But that said, it's not just out of habit. I have traveled and toured the world except South America, Africa and Australia. The more of the world I see, I see value in every city I've been to but there's something really special about Vancouver. It will always be my home. I might leave for moments, years whatever but I don't know what it is. Vancouver has a rap for being a bit lazy, west coast, easy-going but I love it, probably cause I was born here and I am too [laughs]
I don't think you're lazy, you seem to have a lot on the go.
That's just cause I don't have anything better to do.
We certainly don't upsell what we're doing [rolls eyes]
It doesn't have the self-promotional hype that other cities have. Granted for what I do it's actually an important trait to learn and I wouldn't mind going somewhere to learn the art of the hustle but there's something really precious about the idea that this city is modest.
Who do you look up to?
I do multiple things so I look to different people. What Andy Warhol did for the art world I look up to that a lot, Basquiat and just New York in the 80s pretty much. The thing I like the most about New York, for somebody from a smaller city on the west coast, you'd think you'd feel out of place but it's really welcoming. I think because such a high percentage of New York is not from New York themselves and they're all kind of you. They are all happy to embrace you. I'm thinking about going there for a while pretty soon. I think it's important.
What's going on right now in the Vancouver fringe world that you'd suggest looking into?
I think any gallery that has managed to stay afloat at such a terrible time in our economy deserves a light shined on them. Catalog Gallery, Baron Gallery, VIVO, etc.
Speaking of, Speakerbruiser Rob is doing awesome stuff around here these days: He's running the Catalog gallery, he's doing some great design, and he's throwing good parties called Yours Truly at W2.
My friend Ryan owns this place on Main and Hastings, a tiny little bookstore and coffee shop. That little block where so much good stuff is happening between Hastings and Cordova? There's that place Zoo Zhop, an indie record store, and they do this great thing were you live there and part of your rent is to work a day a week at the record store.
I also think that what the Waldorf is doing for this city's culture is really inspiring.
One of a Few, the clothing store in Gastown sells limited edition local designers. There's all sorts of shit going down in the city. I wouldn't suggest anything more specific except to sniff it out. There's secret supper clubs and local coffee shops. Just don't go to Starbucks next time.
What do you think about the resurgence in the popularity of vinyl?
I've been running a label for a long time. I started the label in 1998 and things were good [in music] In the hardcore scene, the punk scene you could put out a record and essentially sell it based on the idea that it was a record but things have changed a lot. Records are maybe outselling CDs by now and that's awesome, but they're not outselling what records used to sell ten years ago so it's dangerous to call it a vinyl revival. That was in 1998 and it's plummeting. Scratch Records, my distributor is having a really hard time staying in business. It's not booming.
Where is it heading?
If I knew, I'd be a better CEO. The only thing I can do is what I know. I don't think there will ever be a day where men and women don't have walls or don't want to put a painting up.
Describe the day to day of being an artist. People glamorize it but I'm sure it has its moments.
It's really, really hard. There's an anxiety that exists amongst everyone I've ever met that's self employed. I attempted to get a day job at a design firm. And I got it. It was… good, because I learned a lot, but I hated every second of it. My point is, when I was working for this place and sitting in front of a computer and wanted to do something for a few moments like check my facebook – I'm on company time, getting paid and there is a subconscious realization where you know that it's ok to check your email for a second.
Whereas when you're self employed, every single thing you do, if it's not working towards the job that's making you money, you're not making any money. If someone calls you like 'Hey, wanna go get lunch?' It's like 'Yeah ok, you're on your lunch break, getting paid, I'm not making anything.' Being self employed and not knowing how much money you'll make tomorrow or the next day, that's the challenge. And to do it gracefully. You can't just do whatever for money. I'm not an artistic prostitute.
It's hard for a creative person to be a CEO of their own company. Creative people are not naturally business savvy. I'm trying my best to learn more about that stuff even though it doesn't interest me at all. It's important because without it I'm going to die [laughs]
Favourite….
Venue: Here, the Waldorf. I love the parties they throw downstairs. I got married here. I have serious emotional stock here. I work here [his studio is upstairs], I actually work the front desk sometimes. I love being here late at night, coming down to dance and have a drink and then heading back up to work some more. I love the idea that in the 40s and 50s this place was a fringe culture literary hangout and it was way outside of the boundaries of the city. I like being grounded to history when I work, for some reason it makes me feel more validated as an artist to be considered part of time instead of...
Drink: Red Wine. From Southern Italy – Sicily.
Charity: Amnesty.
Medium: something hands on that I can manipulate with my hands so drawing or painting.
Neighbourhood: Mount Pleasant, where I live. Every time I say the name I get calm [laughs]
Parallel life career?
Movie Director. Like David Lynch, I'd  make really surreal dark films.
If your music could be the soundtrack for a movie that's been made….
That's a good question. A Wes Anderson movie for sure. Royal Tenenbaums.
Typical day?
I don't really have one, my time is very nebulous, task at hand. I have to keep a very close eye on it because I'm working on multiple things all the time. There'll be deadlines, from commercial art like a restaurant that needs a menu designed that day, but sometimes I wake up without a client to please that day  so I'll come down here and paint or I'll work on a new track or remix. It comes full circle back to why I love what I do, the ability to follow my gut with my time. There's nothing worse than being forced to do something you aren't feeling at the time, even if it's something you normally like to do. I really feel content about the idea of you know, 'I'm not gonna do that right now, I'm going to work on this instead.'
Why are you so spread out online?
There was an intent to compartmentalize what I do. I thought maybe putting commercial art beside gallery art might devalue gallery art. Oh I'm this guy that's a graphic designer that will totally make your album art, I'm not the guy selling those paintings over there. But that's a form of censorship that I can't put any energy into. Surely there's some kind of value to revealing everything. This is what I do.
You mentioned Warhol – he had fine art greatness next to moments of epic selling out. When he did that collaboration with Basquiat people ripped him a new one.
I know! And that work aged so well. That's like the best shit on the planet but people hated it. It's insane. They didn't sell a single piece that opening.
I guess I just thought…There's something so precious about a painting, if it's by a guy that also made a Yaris ad, there might be something…
I used to drive a Yaris.
Haha I actually made a Yaris ad. That wasn't a shot. But there might be some question of what is the painting trying to say.
Best career advice?
"If the niggas hate then let 'em hate and watch the money pile up " - 50 Cent
How do you unwind?
I'll fill up a to-go container of wine and go for a really long walk.
What's next?
Although I really like the idea of being able to do whatever I want under the umbrella of an artist, there's a certain chaos to that that's getting a little tiresome so I'm trying to focus a bit more on what makes me the happiest. Up until now I've never thought about what I want to do or dreamt about where I want to be right now. I'm not living it yet. It's close. For so long I've been doing whatever fell into my lap but it has been a very long time since I stopped for a second and created a mile marker. What am I working towards? I'm trying to get a handle on what my dream lifestyle might be.
We finished our beers and headed to the second floor, where some of the old hotel rooms have been converted to studio spaces for artists and he works evenings away over canvas. In the corner, his recent bargain find of vintage Playboys that he says he uses as a source of inspiration. As he walked me to the door, something on the wall of the studio caught his eye. "Holy shit, does that say BOOBS?" We looked at the faint graffiti and sure enough, someone had written boobs before the space was painted, and turned the O's into anatomically correct replicas. Appropriate.
I mentioned how cool it was to be able to come into these spaces and see firsthand how people work for the series and he responded with a story about his Very Rec music project. Dixon was amazed when he approached pools and gyms to record ambient noise for the tracks, how generous people were when he told them it was for an album. For example, a local leisure centre stayed open an hour after close so that he could perfectly record the sound of a single splash. He thought it was incredible how people welcomed him into their world for the sake of art when really, he was just doing his thing too. I think when these people allowed him access to produce art on their behalf, it simply allowed them to see the beauty in their day to day as well.