A massive $109-million social housing-detox facility approved more than four years ago for a large swath of land in East Vancouver that politicians and harm reduction advocates say is badly needed to address the city's homelessness and overdose crises will not open until 2026.
The new completion date and anticipated cost of the project, which is slated for a block-long piece of city-owned property at East First Avenue and Clark Drive, was noted in documents released by the NDP government two weeks ago as part of its budget 2023 announcement.
The project, which involves BC Housing, Vancouver Coastal Health and the City of Vancouver, was approved by the previous city council in February 2019 and believed at the time to be the biggest development of its kind in the province.
City and provincial government documents show the project was originally priced at $81.8 million in May 2018 and is now anticipated to cost $109 million when its doors open sometime in 2026.
Coun. Adriane Carr, who supported the proposal in what was a unanimous vote of council, said she believed the project, which features 97 rental housing units, a 51-bed detox centre and a 20-bed transition space for clients, would have been in development or close to being finished.
"That's a long time to wait for a badly needed facility, both in terms of addiction and treatment, as well as housing," said Carr, noting the complex will also include an Indigenous healing and wellness centre. "The delay is super frustrating."
Building bylaw change
Both the City of Vancouver and BC Housing said in emailed statements to Glacier Media that the delay is connected to changes that occurred to the city's building bylaw. The pandemic nor financing was cited as additional reasons for delay.
"The original application was submitted for a building design based on regulations in the 2014 Vancouver Building Bylaw (VBBL)," the city said.
"Due to delays, the application could not be approved under the 2014 VBBL, and the applicant was asked to align with the 2019 VBBL, which includes improvements intended to advance the safety, livability and sustainability of buildings."
The statement continued: "We feel it's important that our most vulnerable citizens are afforded the same underlying quality of housing as everyone else, and asked the applicant to comply with fire, seismic and energy requirements of the newer VBBL."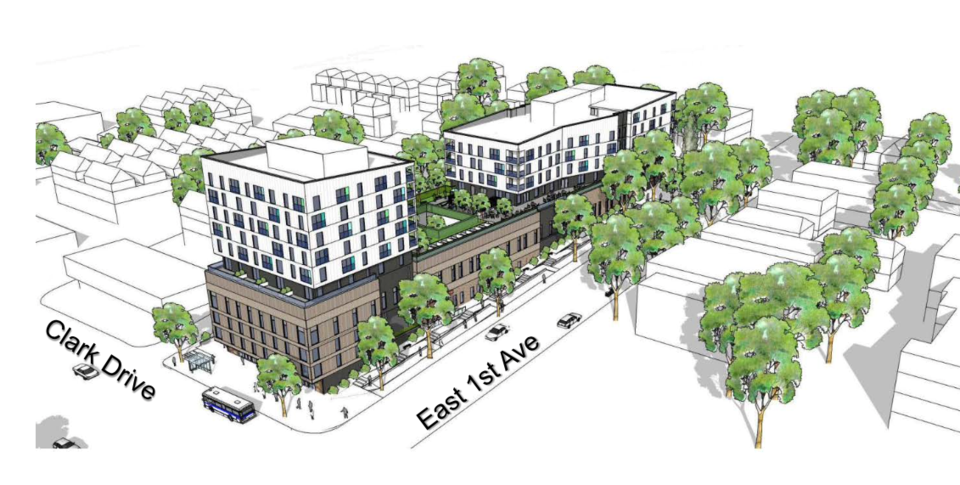 Housing minister Ravi Kahlon
Housing Minister Ravi Kahlon provided a similar but more brief answer to Surrey-South Liberal MLA Elenore Sturko in an exchange last week in the B.C. legislature.
"The city made some changes to their bylaws, which required further changes to the project," Kahlon told Sturko. "That work is happening right now with the City of Vancouver to make sure that we can adjust the project to fit within the laws that they've changed. We expect construction to start this fall."
The explanation from Kahlon and the city are not good enough for Sturko, a former RCMP officer who is the Liberals' shadow minister to the Ministry of Mental Health and Addictions.
Sturko said there appears to be no urgency in getting the facility built and she questions why the NDP government wouldn't speed up the process with the city, considering the immediate need for housing and detox services in Vancouver.
She pointed out that David Eby was the province's housing minister before he became premier.
"He was someone who would have known the challenges of getting a project like this going, and his complete lack of ability to do so is an issue," said Sturko, who acknowledged "there are problems" with the city's permit process, too.
"It's a shared responsibility, but I would hope that premier Eby will sit down with the city administration to finally sort this out."
Mayor Ken Sim and his ABC Vancouver party campaigned last fall on breaking the permit logjam at city hall and avoiding unnecessary delays for projects. Sim has often pointed publicly to council making an urgent in-camera decision in November to allow 90 units of temporary modular housing to be built on two city sites.
Sim said council made the decision after hearing from Eby's office about the immediate need to place the units on city-owned lots near Main Street and Terminal Avenue, and adjacent to the Olympic Village Canada Line Station.
"When all levels of government have an objective, and you work collaboratively together, and you put politics aside, amazing things can happen quickly," Sim told Glacier Media in December 2022 in a year-end interview.
The modular housing, which is supposed to go to people living in shelters, is expected to be moved onto both sites before the end of the month.
Glacier Media sent emails last Friday to Sim's communications director and the seven ABC councillors to ask whether they would push to speed up construction of the facility at East First Avenue and Clark Drive.
As of Tuesday, none had responded to the email.
'Stop passing the buck'
Guy Felicella, a harm reduction and recovery advocate who works as a peer clinical advisor for the BC Centre on Substance Use, said politicians should understand the urgency of getting the project built.
Felicella said a more seamless process from the day the rezoning application is applied for to when it's approved and given the green light to put shovels in the ground has to be a top priority of governments.
He pointed to the 2010 Winter Olympics and Paralympics and noted how projects in Vancouver and throughout the region were built fast to meet a deadline. That same push should be applied to projects that will benefit vulnerable people, he said.
"It seems to me that things that are going to bring an economic boost to the province or to cities are getting built rather fast," said Felicella, who spoke to Glacier Media at the same time news was breaking Monday about firefighters finding the body of woman in a tent on East Hastings Street, where homelessness and drug addiction persist.
BC Coroners Service statistics show 562 peopled died in Vancouver of a drug overdose in 2022. More than 2,000 people were recorded as homeless in March 2020 and that number is expected to have increased since that count; results will be made public in the fall of last week's homeless count.
"These [politicians] have to all pull together and stop passing the buck," he said, describing the delayed project as a potential "game-changer" in supporting people and giving them the ability to move forward with their lives. "Whether it's building permits or this or that, just stop talking about it and get it done."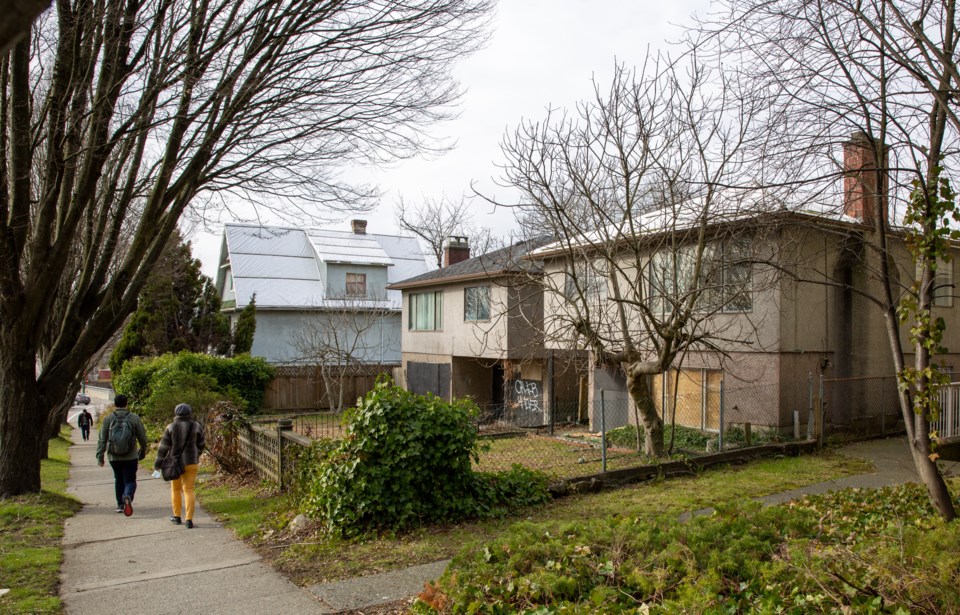 Teaching, research and learning hub
The detox centre included in the project would be a direct replacement for the existing Vancouver Detox Centre, which includes a sobering centre. It's been operating nearby at 377 East Second Ave. for more than 30 years.
Vancouver Coastal Health has wanted to replace it for many years because the health authority says it's undersized for the growing demand in the city for withdrawal and substance-use programs.
The detox, or withdrawal management centre, will also serve as an academic teaching, research and learning hub.
At the time of the project's approval in 2019, BC Housing said it would rent about 50 per cent of the housing units to households below the province's Housing Income Limits (HIL) levels, with the remaining rented at Canada Mortgage and Housing Corporation (CMHC) private rental market rates for Vancouver.
HILs rates in 2019 meant a household earning $41,500 would pay $930 a month for a studio. A household with an income of $43,500 would pay $1,080 for a one-bedroom, while a household earning $58,000 would pay $1,300.
The CMHC private rental market rate in 2019 for a one-bedroom was $1,730 for the neighbourhood, and $2,500 for a two-bedroom.
Back in 2019, the site was occupied — and still is — by three single-family homes, one duplex containing two homes and a three-storey apartment building with 13 units, totalling 18 units.
Residents were to be provided a tenant relocation plan and offered right of first refusal for the new housing, if they met eligibility requirements. The property stretches from Clark Drive up East First Avenue to McLean Drive.
With files from Naoibh O'Connor