Supporters of an anti-vaccine mandate convoy scheduled to drive into Vancouver this weekend have been asked to serve members of the media a document aimed at silencing reporting on the coronavirus (COVID-19) pandemic.
That document is provided by Action4Canada, a far-right-wing website that endorses several conspiracy theories and peddles misinformation about COVID-19 and vaccines. The seven-page fill-in-the-blank form advertises itself as an "official and personal notice of liability," essentially a warning of imminent legal action against whoever it is given to. The document accuses Canadian media of breaking a myriad of different laws, guidelines and ethics codes, including, but not limited to, crimes against humanity.

With the weight of the impressive-sounding legalese behind it, organizers of the "Stand United 'The Media is the Virus' Convoy/CTV Rally" are encouraging supporters to serve the document this Saturday as protesters gather at CTV's Vancouver newsroom on Robson Street.
Kyla Lee, a criminal defence lawyer with Acumen Law, took a look at this document and found it doesn't exactly hold water.
'Cannot have any legal force or effect'
Lee first took issue with the notice's "pleadings" which allege violations of international law, civil law, regulatory policies and criminal law.
"There are different forums where each of these would be prosecuted and investigated," Lee explained. "This cannot have any legal force or effect, as there is no court that would have the jurisdiction to decide all the issues alleged in this document."
Lee also called the document's citations "nonsensical" as many come from fake news websites, misstate science, or are from fake science websites.
"The document is clearly defective since the allegations that are made in it are not reasonably capable of being proven," Lee wrote. "Serving this on members of the media is absurd, given that many of the violations alleged therein have nothing to do with the media."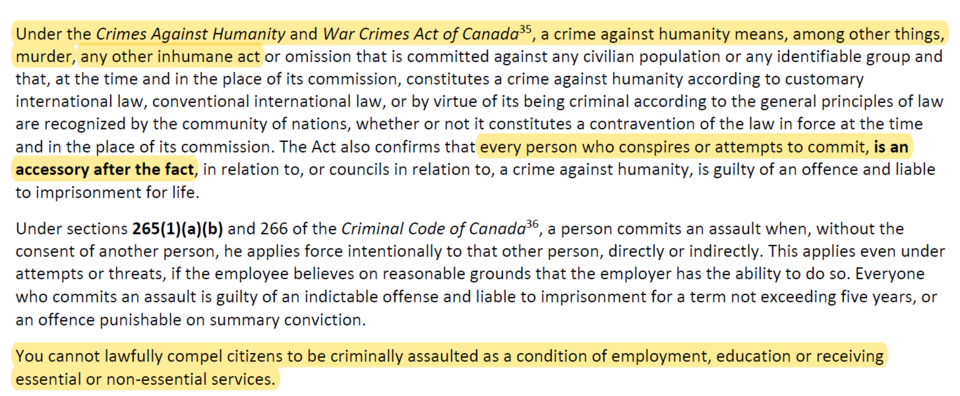 Entirely contradictory
Lee explained that the media are not responsible for vaccine mandates, scientific accuracy or reliability of testing, or for discrimination.
The document attempts to make the case that media coverage during the COVID-19 pandemic is discrimination under hate speech laws. It doesn't work that way according to Lee.
"They do not apply just because media reports on the actions of protesters and airs people who condemn those actions," Lee wrote. "Indeed, the document itself is contradictory in that it argues that media has a duty to report all sides, but also that they should not be reporting any "side" of the vaccine/mandate/science that does not conform to the worldview of the protesters."
What should a recipient of a notice do?
"If I were a member of the media and I received this, I would do one of two things: shred it, or frame it for posterity and laughs," Lee wrote explaining the notice is at best a cease and desist letter.
"Those letters have no legal effect other than to say 'if you don't stop what you're doing, I might sue you. But also I might not," Lee wrote, concluding "Any such lawsuit would almost undoubtedly be struck as vexatious and an abuse of process."
To sum up, Lee described the document and the power it carries in just five words: "What a bunch of garbage!"
Lee has debunked pseudo-legal arguments and bogus liability notices for V.I.A. before like when last year Kitsilano's Corduroy restaurant attempted to bar entry to health officials when the restaurant refused to follow coronavirus (COVID-19) restrictions.