Local police, businesses, and drivers are bracing for another trucker convoy demonstration to make its way across the Lower Mainland and to the Canada-U.S. border this weekend.
Action4Canada has cancelled its "Global News Rally" on Saturday (Feb. 19) to hold another demonstration at the border.
While it is unclear exactly when the demonstration will commence or if it will follow the Feb. 12 route, the Global News rally organizer James Davison wrote in a Facebook post that the group was pivoting its plan. Now, they will head to the Canada-U.S. border.
"The convoy is still a go but we are going to 176th," he wrote, adding that "all hands must be on deck."
On Feb. 12 a group of anti-vaccine mandate protesters headed to a Surrey border crossing. The protesters schedule had them depart Chilliwack at 10 a.m. between the Tim Hortons and Kal Tire at the Lickman Exit. Following this, the convoy merged onto the Trans Canada Highway heading west and then took Exit 53 to Highway 15. Participants then headed southbound and then drive to 8th Avenue and 176 Street which leads to the Pacific Highway border crossing.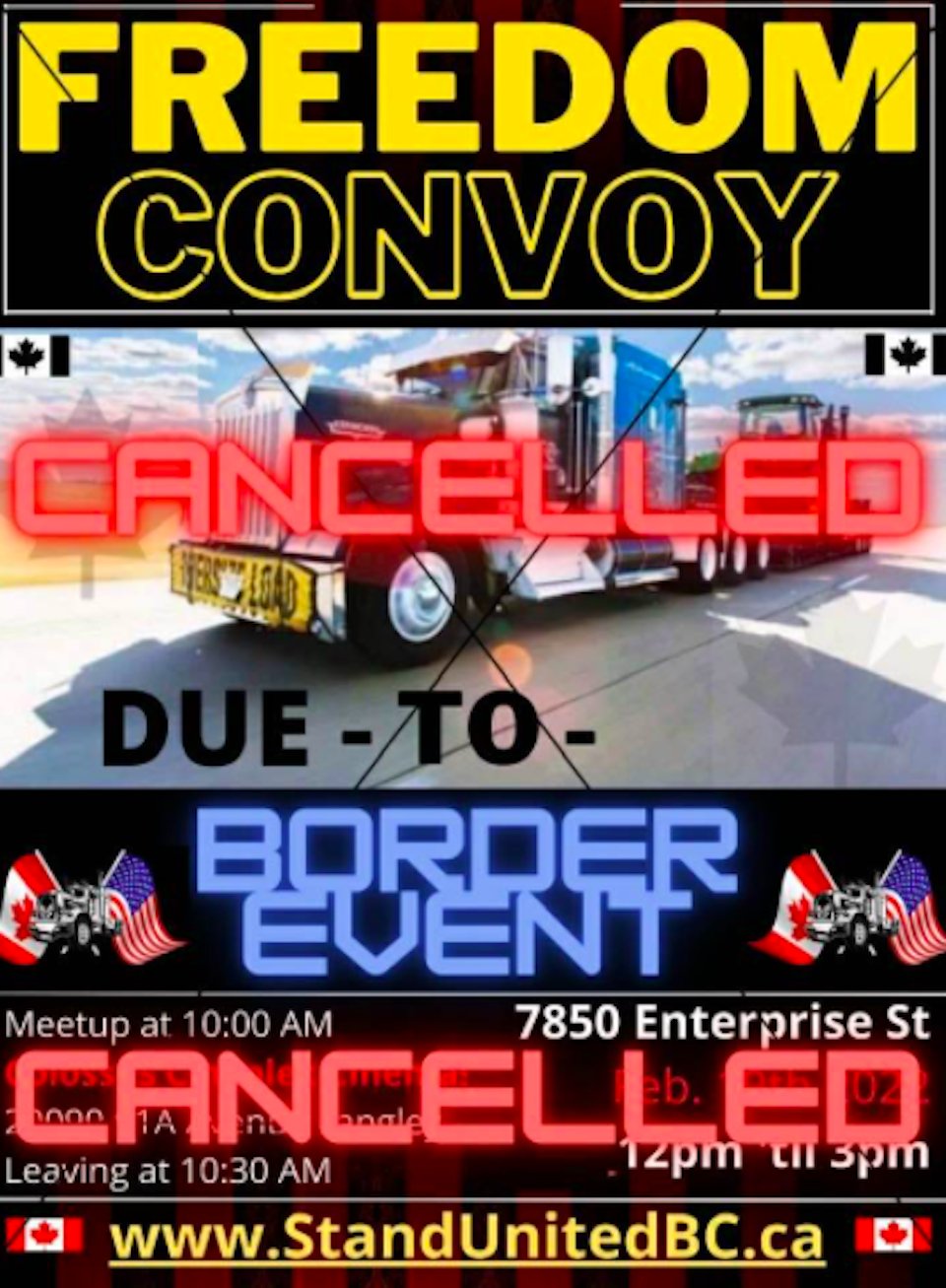 Surrey RCMP spokesperson Cnst. Sarbjit K. Sangha told Vancouver Is Awesome in a phone interview that police are monitoring the situation but aren't releasing specific details about their plans.
"We've been planning since the start of last week," she explained. "At this point, we have checkpoints in place. We have contingencies and we are monitoring the situation on an ongoing basis."
Police are checking all commercial vehicles that are going through the area daily and not just when protests are scheduled, added Sangha.
On Feb. 12, a couple of vehicles went through the barricades and 16 people were arrested over two days for mischief and intimidation, she said.
A previous "freedom" convoy demonstration on Feb. 5 in downtown Vancouver was the scene of multiple clashes between anti-vaccine mandate trucker protesters and counter-protesters, with photos and video on social media showing a variety of conflicts.
The Vancouver Police Department was on the ground throughout the Feb. 5 protest, and ended up arresting five people in relation to incidents on the scene, but kept from issuing tickets related to any bylaw offences, like the city's noise bylaw, which would cover the use of vehicle horns.
U.S. Senator Ted Cruz had some choice words for Vancouver Mayor Kennedy Stewart about a statement the mayor made in advance of the demonstration.
- With files from Brendan Kergin