The Vancouver Police Department has seen a significant drop in the number of people interested in a career in policing and it is a trend that the Victoria Police Department is also experiencing.
Officers and department staff interviewed in Vancouver and Victoria point to an uptick in assaults against officers, defund police movements and working the front lines during a pandemic as likely reasons for the decrease.
The cost of housing for a person considering a policing career is also a factor in a province that has seen huge spikes in real estate, with Vancouver and Victoria at the epicentre of the stratospheric prices.
The number of applicants in Vancouver totalled 266 last year, a drop from 473 in 2017.
Totals for 2018 were 291 and 234 in 2019, according to data provided by the Vancouver Police Union, whose president Ralph Kaisers is concerned about the decrease in potential new recruits.
"It's a very stressful job, and I think some younger people who are starting out in their lives and looking at different careers are thinking they're going to go do something else," said Kaisers, despite a constable's annual salary reaching $111,000 after four years on the job.
"Plus they're not going to have to face all the scrutiny, the accountability and the demonizing of the profession by some."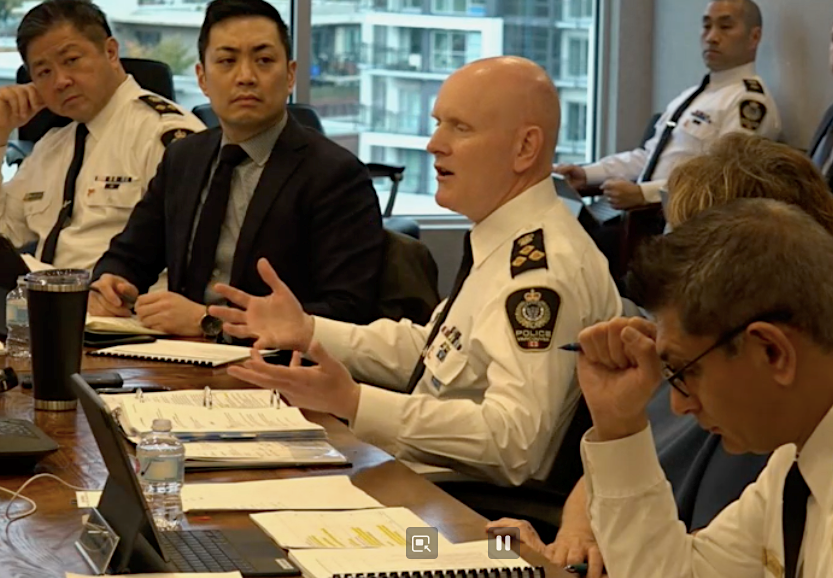 At a Vancouver Police Board meeting in October, Chief Adam Palmer presented a report that confirmed applications were at "an all-time low," noting the decrease in applicants was a North American trend.
"This trend was impacted by COVID, the defund the police movement and social disorder following the murder of George Floyd in the United States," the report said. "Retention is also a risk with the new Surrey Police Service actively recruiting and the RCMP recently receiving wage parity. Shortages in staffing levels result in increased workloads, overtime, burnout and sick leave."
Palmer told the board he was concerned about the morale and health and well-being of officers, with assaults on cops up 51 per cent over the past five years.
"The confluence of everything going on, with the pandemic, with workload, with the tenor of some of the public opinion around policing, it's a very tough time to be a police officer," he said, noting he also expects more officers than normal to retire in the new year because of pension changes. "So that will be another challenge to us."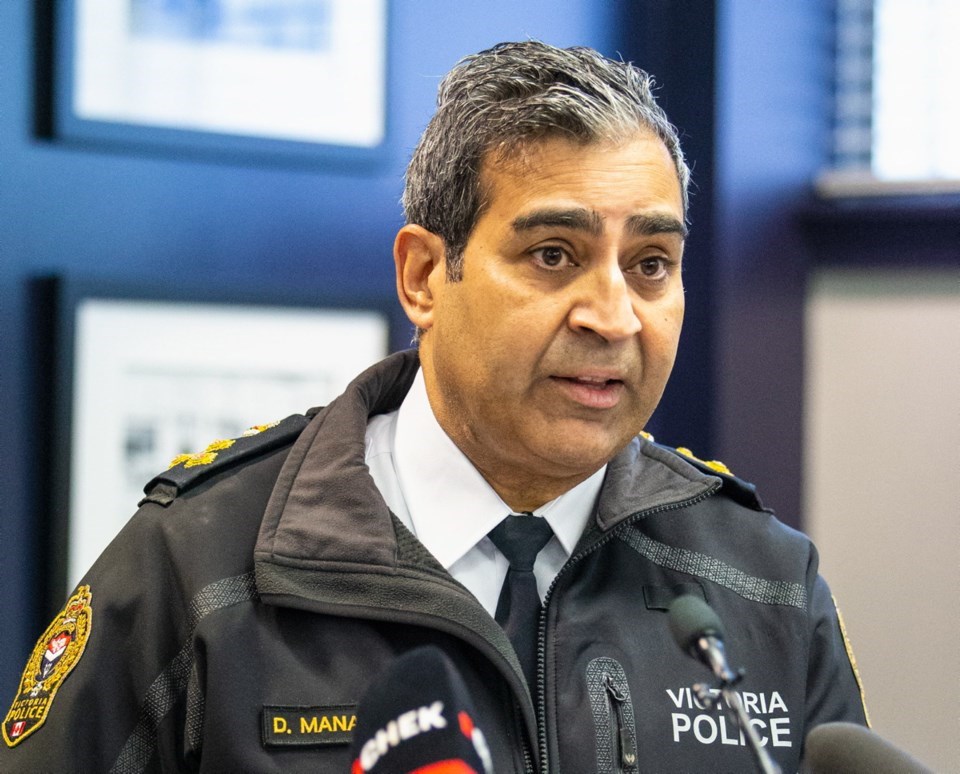 In Victoria, Police Chief Del Manak said his department doesn't keep statistics on the number of applicants year over year, but knows the interest to become a police officer has dropped "significantly."
"Years ago, we had hundreds of applicants and I know, anecdotally, that the numbers are significantly reduced," he said.
"That is problematic because we always want to have a large pool to choose from, so we can pick the best of the best. Even those that are applying, we're finding they're lacking some life experience and volunteer work in areas like social service agencies and whatnot that we want to see people engage in."
The department's authorized strength is 249 officers but close to 40 are off sick, injured or on maternity leave. Some officers also recently retired. Altogether, it's created what Manak described as a staffing crisis.
$20,000 for experienced cops
The reduced ranks forced Manak and his senior staff to make the unusual step in November of offering a one-time $20,000 incentive to any experienced officers working in other forces to join the department.
"We have significant vacancies and gaps on our front lines that we want to fill as quickly as possible because we're at a stage now where we want to pull out all stops and get officers deployed," he said, noting the campaign has been effective, with more than 50 enquiries in nine days.
Manak believes Canada's police chiefs need to launch a national campaign to attract potential recruits, noting one-time incentives for experienced officers is not sustainable and could only lead to bidding wars among departments.
He pointed to the campaign of the Canadian military, with its slick television commercials, as an example of a successful marketing approach to attract people to a career in uniform.
"Back in the day, there was a lot of stigma and a negative kind of context attached to the Canadian Armed Forces," Manak said. "Now, all of a sudden, you're proud to serve your country."
'Not false rhetoric'
Both Kaisers and Matt Waterman, a spokesman for the Victoria City Police Union, say the negative narrative advanced by some city councillors on both Vancouver and Victoria councils about police budgets and misconceptions about line of work doesn't help bring interest to the job.
"We believe recruiting and retention has become more of an issue the past few years and that the political narrative of defunding or abolishing the police needs to be countered with realistic information, not false rhetoric," Waterman said in an email.
"Too many people use the simplistic verbiage that police shouldn't be involved with mental health or addictions. My answer is that police are the last stop for this and much more. And until such time as other viable options can be created, the police need to be involved. We are at the table and bring lots of experience with us."
Manak, who had a drink poured on him in September while attending a memorial march for an Indigenous woman shot by officers in New Brunswick last year, said the reality is that most citizens support the work of the police.
It's the "vocal minority," he said, that are putting police in a bad light, although he acknowledged officers "are human beings, and human beings aren't perfect."
"Do we get it perfect every time? No, we don't," he said. "And if it's egregious enough, we fire officers. No officer wants to work next to somebody who they don't trust and who they know doesn't have the best interest of their policing profession at the forefront."
Glacier Media contacted the RCMP's headquarters in B.C. to understand whether the national force was also experiencing a drop in applicants. Questions were referred to national headquarters in Ottawa, which responded in an email with Canada-wide statistics.
From April 2021 to Dec. 7, the RCMP received 6,281 applications over the nine-month period. For the entire previous fiscal year, the national force received 11,800 applications.
"While COVID-19 can be attributed to some of this decline in applicants, research is required to provide evidence-based information to determine the full extent as to why the application numbers have declined," the RCMP said.
"We cannot speculate on the reasons people may or may not choose a career in policing, however, we continue to review and adjust our strategies and tactics to improve our ability to remain competitive without compromising the quality of our police officers."
At the same time, the RCMP said, it is "re-vamping" its recruitment process to ensure that it is modern, inclusive and barrier-free. This includes undertaking a review of "attributes and characteristics needed for modern policing, and using screening measures to detect racist, sexist and discriminatory beliefs."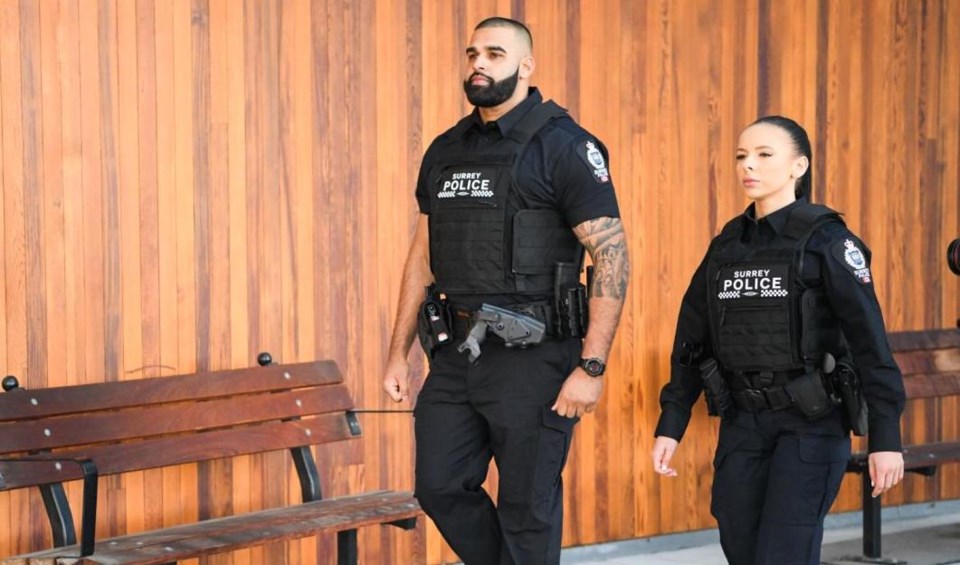 In Surrey, which is transitioning from the RCMP to the new Surrey Police Service (SPS), no new recruits have been hired yet. The department's focus has been on hiring experienced officers, including more than 20 from Vancouver.
The SPS has 26 positions available at the Justice Institute of B.C. for new recruits in 2022. The interest for those 26 spots is high, with the department receiving about 450 applications in the space of four months, according to Ian MacDonald, the media liaison for the force.
But MacDonald cautioned that those 450 applicants could have also applied to other departments in B.C. and across the country, with Surrey not their first choice. He likened the process to a high school graduate applying to several universities.
"For all we know, that same 450 applied to most municipal agencies in the Lower Mainland," he said, adding that once departments choose their new recruits, those interested in a job in Surrey will likely decline from the 450. "I always used to tell people that if they had an interest in law enforcement to apply everywhere."
The SPS expects to have up to 850 officers deployed in the next two to three years, said MacDonald, with close to 150 experienced officers already on the job.
'Excellent job'
While he agreed that defund police movements and assaults on officers, along with the challenges of policing during a pandemic, are likely factors in some young people's uninterest in policing, MacDonald also pointed to housing costs as a factor, particularly those living in other provinces.
"You wouldn't want somebody that's moving from small-town Alberta to Surrey with any delusions that they're going to be able to just do a straight trade of house for house or accommodation for accommodation," he said.
MacDonald retired recently from the Abbotsford Police Department. He grew up in Surrey and lives in Surrey, where he agreed to join the new force as media liaison because of the opportunity to be involved in the building of a new department.
"I've had a 22-year career in policing," he said. "I still think it's an excellent job, but it's an excellent job for the right person."
@Howellings