First off, he is not your average police dog.
He doesn't chase bad guys.
He doesn't sniff out drugs, or explosives.
What Zen the 70-pound mix of Labrador and golden retriever does is unique to policing in B.C.: he provides comfort to Vancouver police officers involved in a traumatic event and those who continue to live with the toll of being a witness to tragedy.
Homicides, suicides and serious traffic accidents are common in the city.
Veteran constables Andrea Sherry and Jordan Lennox can attest to the indelible impact such distressing events have on an officer's well-being. Sherry has worked in the sex crimes and child abuse unit. Lennox spent time on an emergency response team and in the gang-crime squad.
Both now work in patrol and were sitting in the media room at the police department's Cambie Street precinct. Zen was at their feet as they spoke on a recent Thursday morning.
"Just having him there automatically relaxes you after a traumatic event," said Sherry, noting Zen's presence drops her blood pressure. "Everybody can sort of relax for a second and breathe and say hello to the dog. It takes the edge off having to then talk about something that's been a terrible thing happening in patrol."
Lennox offered similar insight into Zen's effect on him and his colleagues, acknowledging that officers by nature can be more protective of their thoughts and unwilling to share their feelings about a rough day on the job.
"Having the dog there is that mood changer, that conduit, that little introduction to start bringing us down and preparing us as police officers to then get into the nuts and bolts of discussing the trauma itself," Lennox said.
It is an understood requirement of the job for officers to attend what is called a critical incident stress management debriefing or "defusing" after a traumatic event. Officers will learn coping skills, have access to mental health professionals, a peer-support group and an athletic coordinator.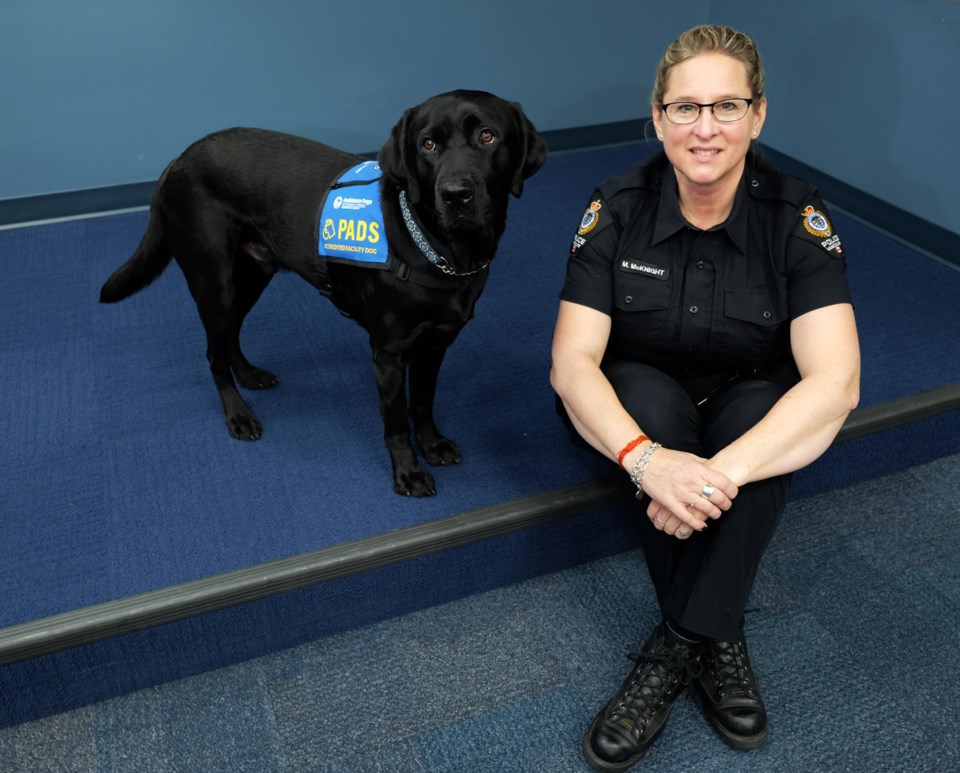 That's where Zen and his handler, Const. Michele McKnight, are most present.
McKnight is the coordinator of the debriefings and works out of the department's employee wellness unit, where she is trained to help colleagues manage what may be strong emotional reactions to an event.
The veteran officer became Zen's handler after the Pacific Assistance Dogs Society (PADS) donated the three-year-old dog to the department in July. PADS trained Zen to exhibit calmness and be present for officers to pet or play with, or rest at their feet.
He's a regular at the debriefings, but McKnight also makes rounds with Zen of the various units in the department's two main buildings on Cambie and Graveley streets. The pair will occasionally show up at a courthouse to be with officers before they testify in a case.
Zen's arrival to the department this summer was two years in the making, with McKnight first writing a report on the need for such a dog. Funds were secured from the Vancouver Police Foundation for Zen's food and health care. A car was also provided.
Trio of Labradors
McKnight doesn't know of another dog in a B.C. police department that provides the mental health support that Zen does for officers.
But Zen isn't the only Labrador at the VPD, with his buddy Lucca having joined the department in 2016 as an "intervention dog;" his job is to be a calm influence on distraught victims and witnesses of crime and tragedy.
Sadie, another yellow Labrador, is attached to the Internet child exploitation unit.
All three are having an impact, with Lennox sharing a story about Lucca's presence at the aftermath of a fatal shooting in south Vancouver, where young people were at the scene. The calming effect Lucca had on bystanders was powerful, he said.
"They started to open up and started to talk very specifically about their trauma and their concerns, and they were doing it while interacting with the dog," said Lennox, who owns a Rottweiler puppy and six Yorkies.
"I don't know that that would have happened so readily, if the dog hadn't been there. I was able to parachute in afterwards, get on my knees with the dog and the children and they talked to me about what happened."
McKnight shared a story of the impact Zen had on an officer, who was called to a suicide of a young person. During a debriefing, the officer remarked on how comforting it was to have Zen in the room.
"He said it allowed him to be more emotional," she said, as Zen lay at her feet. "He had a tear in his eye as he talked about one of the suicides he was dealing with and just how traumatic it was, and how sad it was because it was a youth, and how it really impacted him."
Although some officers are allergic to dogs and others aren't dog people, McKnight said many officers will actively seek out Zen during the work day.
"I've had far more deeper conversations about mental health one-on-one with people who are struggling and in a mental health situation than I had before I got him," she said. "Now maybe it's because I've been around longer and people recognize me, but officers are seeking him out. He's raised our employee wellness profile significantly."
Added McKnight: "Quite honestly, if I had a penny for every time somebody says, 'Oh my gosh, look at how calm he is,' I'd be a rich woman."
Double homicide
McKnight has been a police officer for 23 years. She has worked in patrol and the domestic violence unit.
Her last post before moving to the wellness unit two years ago was in homicide, where she was the file coordinator of a double murder on Broadway, where an innocent 15-year-old boy was shot while riding in a car with his parents.
McKnight burned out from the workload and emotional toll of the job. She took some time off to take a trip to Jordan, where she did volunteer work for Habitat for Humanity and toured the country.
But she almost died there, she said, after getting caught in a flash flood.
Upon return, she spoke to a psychologist about her experiences on and off the job and discussed what her next posting would be in the department. She had a choice between the missing persons team and the wellness unit. She was cautioned about the heavy toll the wellness unit could have on her.
"Hands down, it is the right position for me," she said. "I'm so glad I did it. I did a lot of personal therapy to figure out my trauma and to get it out of my body. So now I have first-hand experience, and I'm more than willing to share that with my colleagues."
She acknowledged she has the added privilege of taking Zen home with her at the end of the day. McKnight was set to retire next year, but will stay on the job for at least five more years because of the satisfaction she gets from working with Zen.
In that time, she expects the department to bring on another dog to replace Zen, who was raised and initially trained to be an assistance dog for someone with a physical disability, or who is deaf or hard-of-hearing.
Zen represented his name very well during this reporter's visit to the VPD's Cambie Street precinct, where he interacted with officers and posed for photographs. Mostly though, he was sacked out on the carpet.
"The tension in the room is notably lower when Zen is present, and that tells me he's done his job, which is why we got him," said McKnight, who praised the work done by PADS to raise and train Zen. "This is the end result of their work right here."
@Howellings