B.C. Housing Minister Ravi Kahlon did his best Tuesday to quell fears from municipal politicians concerned about the negative effect the planned upzoning of single-family neighbourhoods across the province could have on their communities.
Kahlon spoke to mayors at a Union of BC Municipalities housing summit held in Vancouver the day after he and Premier David Eby unveiled the government's housing strategy, which includes introducing legislation that will allow up to four units on a single-family lot.
"These changes that we're proposing don't mean that it'll be only single-dwelling homes that are built in those communities — it means that there's going to be options available," Kahlon told reporters after participating in a panel discussion that included mayors from Surrey, Vancouver, Burnaby, Richmond, Kelowna, Victoria and a councillor from Squamish.
Added Kahlon: "In some communities, you'll still see single-family homes being built. If people can afford them, and they want them, that will happen. But in some communities, you will see multi-family units being more accessible to younger families."
The minister explained to the mayors that working-class neighbourhoods are changing and people moving into those areas have the financial means to buy a single-family home.
The limited choices of buying a single-family home or moving into a highrise have to be broadened, he said, to allow for townhomes, duplexes and other types of more affordable housing in traditional neighbourhoods.
He pointed out that B.C. would not be the first jurisdiction to take this approach, noting New Zealand increased density and was able to "protect the character" of communities. He also cited similar successful approaches in Singapore and the United States.
"We're learning from those jurisdictions, but we're also having an important conversation with local governments around what should the heights be, what should the setbacks be, what kind of parking do we need?" Kahlon told reporters.
"Because we know all those things are important to make sure that this is successful. We're doing that conversation now. And this fall, within five months, we're going to have legislation."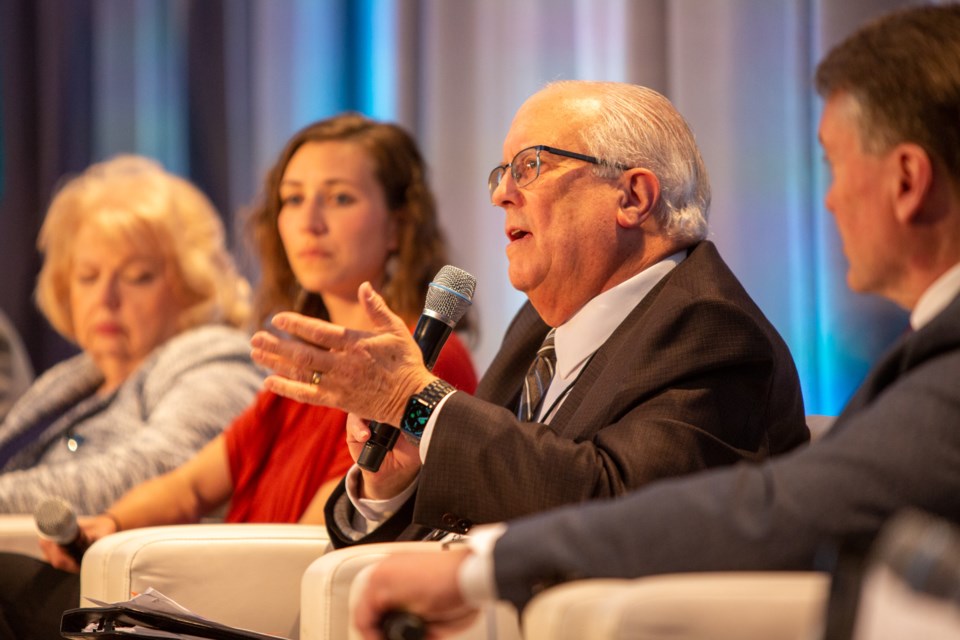 'Character of neighbourhoods'
Many of the cities represented on the panel have already proceeded with plans to allow more types of housing in neighbourhoods, including Vancouver and Richmond. But what concerns Richmond Mayor Malcolm Brodie is what more people living in communities will mean for infrastructure.
"What happens if you don't have the infrastructure in place — are you still going to allow fourplexes everywhere?" Brodie said during the panel discussion. "What about the traffic studies that you normally do every time…how is that going to work?"
Brodie continued on his point, saying the number of police officers, firefighters, schools and hospitals should also be considerations when allowing more density to a city. Adding more density would likely mean cutting down more trees, too, he said.
"To me, if you're going to have a fourplex on any property, you're going to cut down every tree that's on there," he said. "What about the character of the neighbourhoods and the character of your city? And what about the disparity in the lot sizes, shapes and forms?"
No hospital in Coquitlam
Coquitlam Mayor Richard Stewart, who attended the summit but didn't participate in the panel, said his community has been building housing as fast as it can, with SkyTrain and transit hubs the focus of the construction.
New towers and townhouses are evident from North Road to Burke Mountain.
Stewart, too, has concerns about how allowing more density in his city can be done without more amenities, noting Coquitlam is the largest community in the province without a hospital.
"We really hope that the province will respect the capacity that municipalities have and the municipal planning that we're putting in to making sure that the new population goes in the right places — so that they will have less impact on congestion sorts of issues," Stewart said.
"The province isn't building schools as fast as we're building housing in our neighborhoods, and that puts more pressure on us as municipal governments to try to get these solutions resolved."
Vancouver 'in a unique situation'
Vancouver Coun. Lisa Dominato said her city was ahead, in many ways, of the province when it comes to legislation that allows for different types of housing and more of it in single-family neighbourhoods.
Over the past decade, Vancouver has completed various neighbourhood plans for areas such as the West End and Marpole, while approving the broader Broadway and Vancouver plans, which call for more townhomes, rowhouses, co-ops and duplexes in neighbourhoods.
"We're already driving in that direction, and we've been engaging the public around the missing middle housing discussion," Dominato said. "So I think there may be a little bit less anxiety in Vancouver because we've been talking about this as part of the Vancouver Plan."
Added Dominato: "Vancouver finds itself in a unique situation in that it has had a 10-year housing strategy for some time that has been driving some of this change. But for some of the other municipalities, this is a change. So I think it's going to be a balancing act between the provincial and municipal roles."
The B.C. government's housing plan also calls for legislation to be introduced to make secondary suites allowed in every community in the province.
Other components of the plan include a "flipping tax" to discourage short-term speculation, offering loans to homeowners to build and rent secondary suites below market rents, provide an annual income-tested tax credit of up to $400 per year for renters and strengthening enforcement of short-term rentals.