Tylor Lovell woke up in a warm bed Friday, was able to use his own washroom and didn't have to worry about being beat up or have his personal belongings stolen.
Lovell, 30, is among more than 200 people who moved out of Vancouver's Oppenheimer Park homeless camp in the past couple weeks.
He now lives at a downtown hotel with his father, who was also homeless and now lives in an adjoining room. The pair has been told they can stay for three to six months.
"Now I can actually lay down and not have to worry about my shit getting stolen, or someone trying to come and beat me up," said Lovell, noting he was recovering from a concussion after being beaten in Oppenheimer by a man wearing brass knuckles.
The day Glacier Media spoke to Lovell was the same day the B.C. government's housing arm — B.C. Housing — circulated a written memo to people living in the park about the need to vacate the grounds by 6 p.m.
"If people don't leave the park voluntarily, police may be called upon to enforce the evacuation order," said the memo obtained by Glacier Media while visiting the park Friday.
Two weeks ago, the B.C. government unveiled a plan to move close to 700 homeless people from camps in Vancouver and Victoria into hotels, motels and community centres.
The plan was activated by a ministerial order under the Emergency Program Act that set tomorrow (May 9) as the deadline to clear Oppenheimer and Victoria's Pandora Avenue and Topaz Park.
The order still stands for Oppenheimer but the government announced Friday that it extended the deadline to May 20 for the Victoria encampments to close.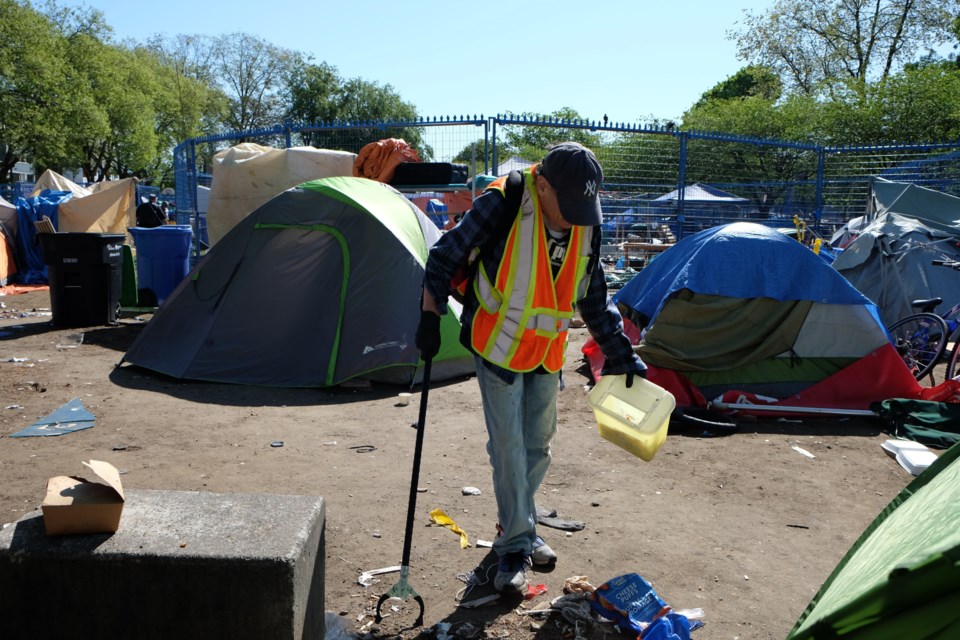 All campers at Oppenheimer were offered housing, as of Friday, said Shane Simpson, Minister of Social Development and Poverty Reduction, at a news conference Friday afternoon.
"We're still hopeful that people will take that offer this afternoon, but we've been very, very clear with people that the park is going to close and that staying there is not an alternative or an option," Simpson said.
As of Thursday, more than 300 people between the Vancouver and Victoria encampments had moved into housing, with more than 200 leaving Oppenheimer. Simpson has promised all of those relocated will not have to return to living outside.
"I want to be clear, that as in Oppenheimer, no one will be asked to leave these encampments without being offered suitable temporary housing options," he said. "We're also developing plans for longer term permanent housing solutions for people — housing solutions that have ongoing supports."
Added Simpson: "When we return to a new normal after COVID-19, we want to make sure that the new normal doesn't mean people are forced back to the street, and back to homelessness."
The government's public safety order was activated to protect the two cities' most vulnerable from contracting COVID-19, the virus that has infected more than 2,200 British Columbians and killed 126.
Over the past two weeks, a team comprised of various government ministries, outreach workers, public health workers and non-profit housing providers have worked to find housing for campers.
The government said it secured nearly 700 hotel and community centre spaces in Vancouver — including Coal Harbour and Roundhouse — and more than 300 in Victoria.
All spaces are monitored by non-profits, which provide 24-7 support for residents, including access to health care and medication-assisted drug treatment, if needed.
Two meals a day are provided.
Government hasn't released a detail cost of the massive relocation project, but people who moved inside such as Lovell use $375 per month of their social assistance cheque towards the accommodations.
Lovell said he was living in Oppenheimer for about two months, while his father resided in a shelter. Lovell, who grew up in Vancouver, also stayed in the park at other times in his life.
Having access to fresh water and a washroom are big additions for him, he said, and helped him stabilize and think about what comes next as he waits for word on permanent housing.
"I've done murals around the cities, and I'd like to start doing that again," he said, noting he's completed paintings for the Urban Native Youth Association and other youth organizations. "If I had my way, I'd be doing that stuff again."
Right now, he said, he's worried about his father, having had to call paramedics Thursday after his father experienced what was likely a stroke.
"He's back now [from hospital], but I'm just kind of sad and stuff," he said, before talking about his own challenges of someone with disabilities, including fibromyalgia.
Dozens of tents, piles of garbage and people remained at Oppenheimer Friday morning, although large trucks parked at spots around the perimeter were being loaded with people's belongings.
Fencing was erected throughout the park to stop new campers from moving in. Outreach teams were to work with everyone in the park who accepted offers of accommodation until 6 p.m. today, the memo said.
Members of the Musqueam, Squamish and Tsleil-Waututh nations were to lead a closing ceremony of the park at 9 a.m. Saturday.
@Howellings