Vancouver council will likely get an earful Tuesday night from opponents and supporters of a staff proposal to allow six-storey rental buildings along many of the city's arterial routes and permit four-storey rental apartments on side streets in single-family neighbourhoods.
The proposed additions to the city's existing "secure rental policy" also call for scrapping the rezoning and corresponding public hearing process for six-storey rental projects in select commercial zones or shopping areas from Hastings-Sunrise to Dunbar.
The motivation behind that move is to entice developers already allowed to build four-storey condo buildings along commercial arterials — without going to a public hearing — to consider adding two storeys to a project and build a rental complex with commercial tenants on the ground floor.
City staff have linked the overall policy direction to fighting climate change.
"The more opportunities we have for people to live in apartments and to have their daily lives where they don't need to get in a vehicle for most of their trips, the less emissions," said Paula Huber, a senior city planner, in an interview last week.
The proposed changes would not apply to previously approved community planning areas such as the Cambie corridor, Marpole, Grandview-Woodland or areas currently undergoing planning processes like the Broadway corridor.
The goal, as told by Huber and other staff driving the proposals, is to create up to 4,000 new market and below-market rental units over the 10 next years — and potentially more, if incentives from senior governments can be secured by builders.
Increasing the speed from proposal stage to completion of a building is a key driver in the reason for the approach, with anticipated development permit processing times reduced by six months to one year, depending on the track a builder chooses.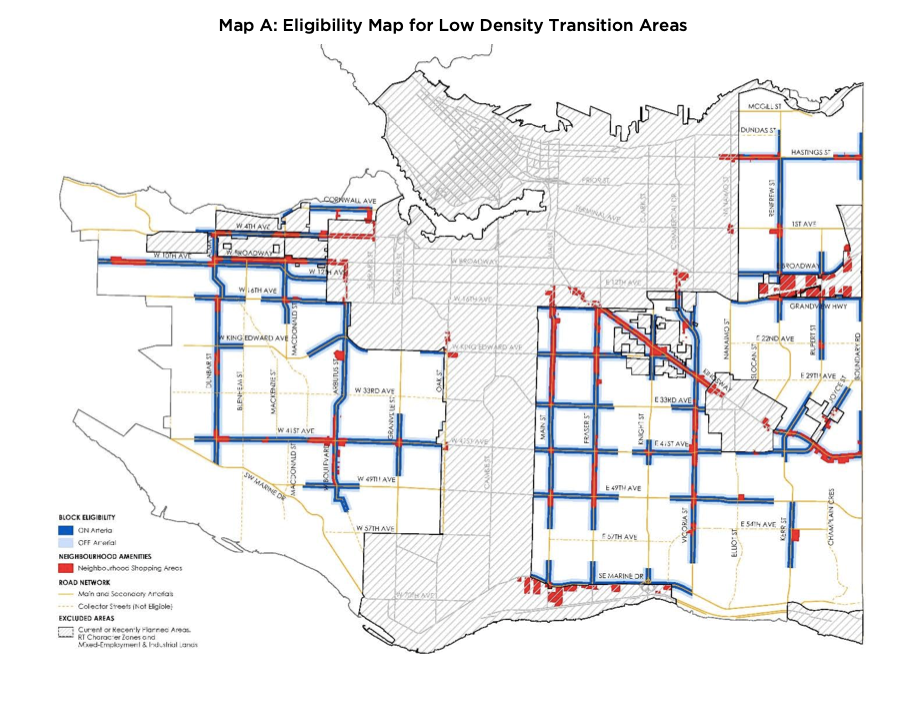 Staff's concept is not new in that Vancouver has a history of residents living in rental apartments on arterial routes and side streets in neighbourhoods such as Kitsilano and the West End.
The changes requested by staff look to update the community-building model of the 1960s and 70s and spread it across town, particularly near shopping areas and transit, Huber said.
"We have many, many blocks in great neighbourhoods that have a mix of housing types and scales," she said. "They're generally the old inner city neighbourhoods that were located along transit and close to shops. So that's kind of what we're trying to recreate here is an opportunity to create more complete connected neighbourhoods in the outlying neighbourhoods."
Added Huber: "This is not a wild change from our normal approach to planning."
One of those outlying neighbourhoods is on West 12th Avenue, where Tyman Stewart has lived for 22 years in a 1925 Craftsman-style house near Kitsilano high school. He wants to remain in his heritage C-designated house for the rest of his life, he said.
But Stewart is concerned that realtors could look to secure an assembly of neighbouring houses to sell to a developer and build a six-storey rental housing complex on his street. He said neighbours on both sides of his property have talked about selling their homes.
Stewart, the president of a talent agency, is so concerned about what zoning changes could mean for his neighbourhood that he and at least eight other residents hired lawyer Peter Gall, who sent mayor and council a letter last week.
The main message of the letter is for council to delay Tuesday's hearing until more consultation of the zoning changes can be articulated to residents, many of whom remain unaware of the public hearing.
"In light of the far-reaching and complex nature of the changes proposed, the city must engage in a consultative process that enables residents to fully understand the proposed changes and how they will affect them, and then provide a fair opportunity to all residents to provide their input on them," said Gall in the Oct. 28 letter shared with Glacier Media.
Stewart emphasized his request for a delay and need for more details shouldn't be perceived as a not-in-my-backyard push from him and other residents to keep rental housing out of the neighbourhood.
He would prefer council take the approach it did last week regarding city staff's conceptual development plan for False Creek South. After hearing from 142 people, council agreed to commit to a comprehensive planning process on the lands before size and shape of development occurs.
"We're not saying 'don't do this,' we're saying work with the communities and let's find ways that don't destroy the communities that exist," said Stewart, standing in his front yard next to a massive beech tree.
"I don't care where you live. Let's come up with better solutions than clearcutting homes and all the greenery. Just don't paint every neighbourhood with the same brush, but instead see what fits where."
Stewart suggested laneway homes — which he is interested in building in his backyard — provide a more gentle form of density than a four or six-storey building. He previously rented out his basement, he said, in order to afford his home.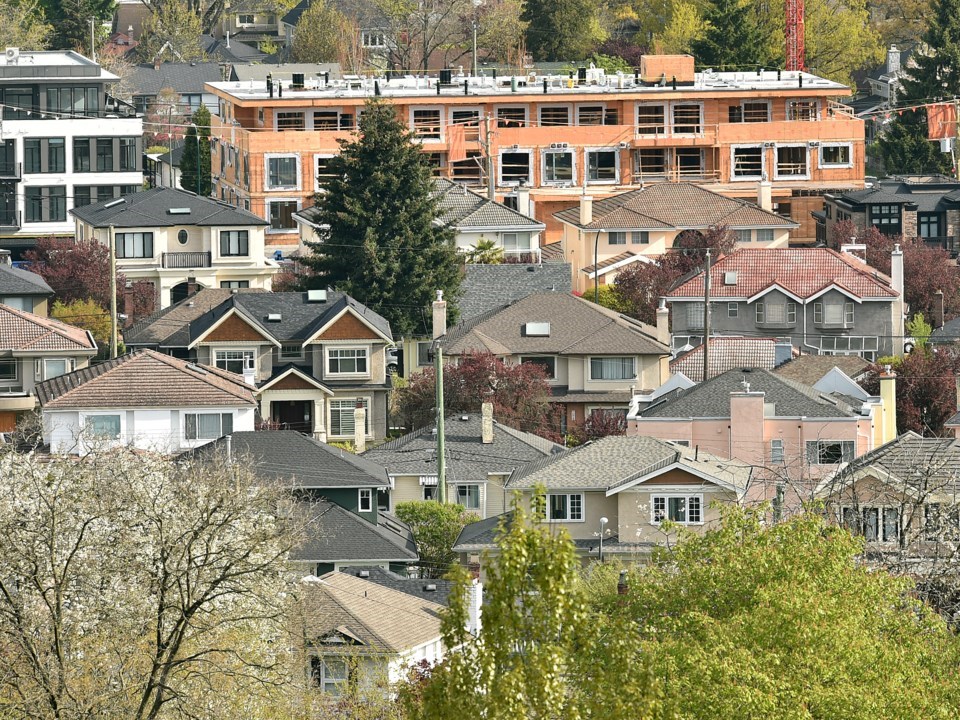 Options for sites on arterials include a range of apartment and mixed-use building types in the four to six-storey range. A sixth-storey would only be permitted for social housing or projects that include a below-market rental component.
The building types proposed are similar to those previously approved along arterial streets via recent community plans, examples of which can be found along the Cambie corridor and in Grandview-Woodland.
Side streets one block from arterials could see the construction of four-storey apartments, townhouses and smaller multiplex options on single lots. Staff say the size of land assemblies would be limited so that change in a neighbourhood is incremental and fits within existing low-scale building context.
'Sleep a little bit better'
Danny Oleksiuk, who helped found Abundant Housing in 2016 to push for more rental housing in Vancouver, is scheduled to speak to council at Tuesday's hearing. He said he will support staff's recommendation, saying "it's marginally better than the status quo."
That lukewarm support is based on concerns Oleksiuk has with the direction of the policy, which calls for rental housing on busy, traffic-polluting streets instead of deep in established single-family neighbourhoods.
"To be clear, the problem isn't that we're allowing apartments on arterials — I'm going to support that — the problem is you're not allowed to have an apartment, say, three blocks off an arterial, still close to transit and maybe on a nice neighbourhood park — or if not that, just on a quieter street where you can sleep a little bit better," he said.
"The principle that I'm going to stand up for is that we should build the most housing for the most people in the nicest spots. This [proposal] is actually building the most housing in the least desirable spots. If nothing else, that raises a big question about why would they propose that?"
Oleksiuk, a former member of the city's renters' advisory committee, recently wrote an analysis for The Tyee on the city's proposal, which included studies showing the effects living on a busy road has on a person's health and well-being.
"The peer-reviewed research on living near traffic confirms what you might already suspect: living near traffic is bad for your health, and possibly much worse than you would think," he wrote.
"To cite one of dozens of examples, an Ontario-based study on the effects of air pollution found that living within 50 metres of a major road or within 100 metres of a highway reduces life expectancy by 2.5 years."
The city's move to create more purpose-built rental housing has been on the books for several years, dating back to 2009 when incentives for builders were introduced to add more rental housing stock.
In 2019, council approved the "secure rental policy" with the goal to improve and consolidate rental policies. What goes before council Tuesday is the end result of the technical work and public engagement process to recommend and streamline zoning related to rental housing.
From May to July of this year, the city received 1,700 responses to a survey that asked questions about the proposals. A total of 72 per cent strongly agreed or agreed that the city should encourage the construction of secure market rental housing in more neighbourhoods.
The same percentage also strongly agreed or agreed the city should encourage the construction of below-market and social housing targeted to low and moderate income households in more neighbourhoods.
Those in favour were largely renters.
'Initial layer of change'
Dan Garrison, the city's assistant director of planning, urban design and sustainability, is aware of the concerns raised by Stewart and Oleksiuk. Their concerns are not unlike what many citizens have expressed in the years of public feedback exercises related to rental housing policy, Garrison said.
"We've done enough work in these areas over the years that we understand how difficult change, and the kind of change we're proposing, is," said Garrison, emphasizing that rezonings and public hearings would still need to occur in neighbourhoods such as Stewart's on West 12th Avenue.
"I think we would just say that the challenge we're facing is that these areas that are zoned single-family just don't create the opportunities for the housing that we need for the growing community."
Garrison described the proposals as "an initial layer of change" for low-density areas, but said more conversations will happen about opening up single-family neighbourhoods for more types of housing via the Vancouver and Broadway plans.
Added Garrison: "As a result of both our housing strategy and climate emergency action plan, there's really a need to look at enabling more people to live in those kinds of locations at housing costs they can afford. And that means to a large degree right now — when looking at the cost of housing in Vancouver — that means rental housing."
As of Monday morning, 41 people had registered to speak at Tuesday's hearing. The city also received 49 letters in support of the proposed additions to the secure rental policy and 17 opposed.
The hearing begins at 6 p.m. and can be viewed via the city's website.
@Howellings