The pandemic may be having a positive impact on the significant drop in car break-ins in the city but downtown has seen a huge spike in garbage on the streets, discarded needles and buildings being tagged with graffiti.
New data from the Downtown Vancouver Business Improvement Association shared with Glacier Media shows the organization's "clean team" collected 1,425 bags of garbage between Jan. 1 and Aug. 7, 2020.
That's a 17 per cent increase over the same period last year.
The biggest spikes in the three categories tracked by the association were in needles collected, with 3,237 (an 82 per cent hike over last year) and 3,772 graffiti tags removed (a 578 per cent increase over last year).
Charles Gauthier, president and CEO of the business association, said the increases appear to be connected to the pandemic, but cautioned he still doesn't fully understand what is driving the behaviour, particularly the uptick in graffiti.
"People aren't working, and they're collecting [the Canada Emergency Response Benefit] and they think it's cool to come downtown and go to other areas of the city to do graffiti tags?" he said.
"I'm actually bewildered by that."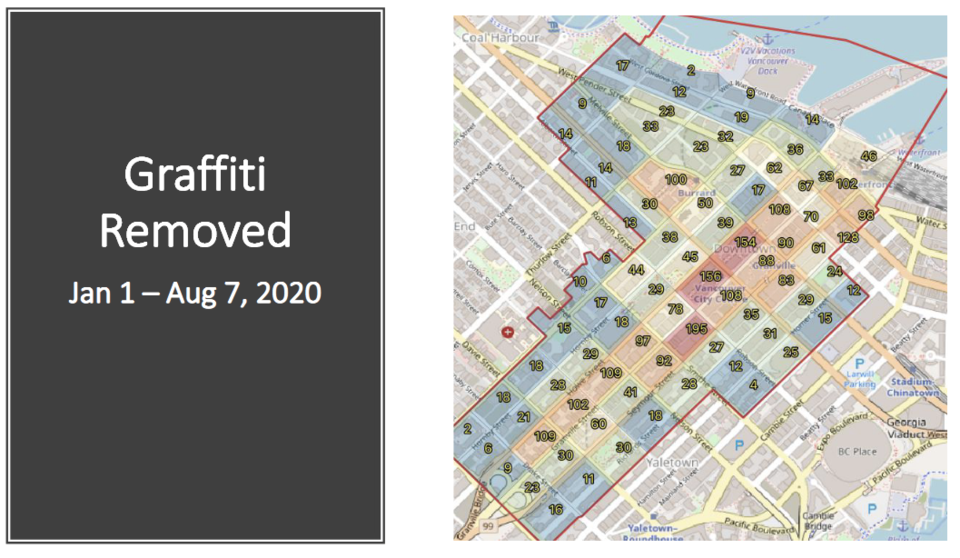 Gauthier said the association has paid a company to remove the tags, but emphasized the work is only based on what the clean team has found on the days it recorded the graffiti.
Same goes for picking up garbage and needles.
"We're probably just capturing a tip of the iceberg because our clean team and our downtown ambassadors are not out there all the time," he said, noting the clean team was not deployed in April because of concerns related to COVID-19.
"There's probably lots of issues that we're not addressing."
Maps the association made of the data for needles collected and graffiti removed shows the highest concentration of needles were found along the Granville Street strip, between Drake Street and Nelson Street.
Graffiti was most evident along the same strip, but running north up to Melville Street. The neighbourhood around the Orpheum at Smithe and Seymour streets was also a hotspot for needles and graffiti.
The increase in needles, graffiti and garbage comes as downtown's number-one nuisance crime for vehicle owners — break-ins — has plummeted, as reported by Glacier Media Aug. 4.
A review of the Vancouver Police Department's crime statistics showed that reported thefts from vehicles reached 1,270 cases in January before falling to 463 in June, the lowest it has been in several years.
In fact, when compared to the same six-month period in 2019, police handled 1,676 fewer reports of break-ins to vehicles this year, according to calculations done by Glacier Media.
Downtown has always been the city's hotspot for car break-ins.
Gauthier earlier told Glacier Media that he was "pleasantly surprised" by the drop but suggested it wasn't unexpected when considering the dearth of visitors downtown, particularly in April and May.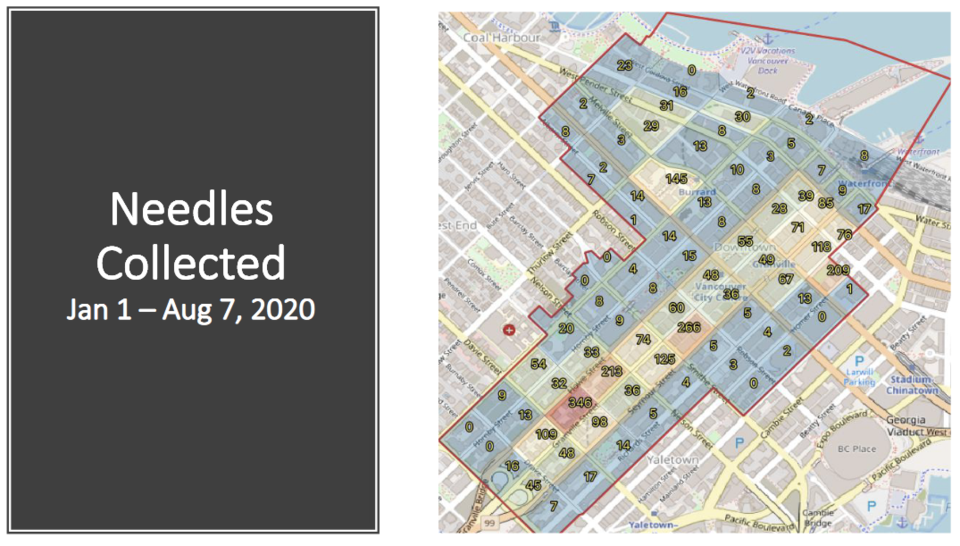 Discarded needles are a well-documented problem in Vancouver, with statistics from Vancouver Coastal Health showing 235,778 needles were recovered in the city in 2017.
That statistic does not include the many thousands collected by housing providers, social service agencies, pharmacies, residents and safe disposal sites, or those picked up by the business association's clean team.
In recent months, dozens of people who lived at the Oppenheimer Park tent city, many of whom with a drug addiction or mental illness, or both, moved into two downtown hotels.
Whether that influx of residents has had an effect on the number of needles in the streets is unclear, but police announced in July they were working with management companies operating new temporary housing downtown to address concerns raised by residents related to public safety.
Albert Shamess, director of the city's Zero Waste and Recovery group, said many factors can be attributed to a city's uncleanliness but that an increase in homelessness often leads to more garbage and needles in the streets.
"It's a constant battle for us to try and stay ahead of it," said Shamess, who encouraged citizens to call the city's 3-1-1 phone line for reports of garbage and needles.
The city's most recent homeless count in March found 2,095 people without a home, when volunteers conducted a 24-hour count. Paramedics have also been answering a record number of overdose calls across the province and deaths have reached all-time monthly highs.
The city currently has a request for proposals listed on its bid page for a company to conduct a "litter audit" this fall. The city has commissioned an audit every two years since 2015 to track the amount of litter at 110 locations.
The audit doesn't track large items such as mattresses left in alleys and picked up by city crews, but focuses on smaller items littering sidewalks such as napkins, chewing gum, coffee cups, needles and cigarette butts — by far the most frequent piece of litter found on city streets, with an estimated one million butts discarded every day.
Shamess said the data is used to help city staff focus on the type of litter discarded and locations where it was found.
That leads to anti-littering messaging at bus stops and on billboards, social media campaigns and — in the case of plastic straws, utensils, cups and polystyrene restaurant take-out containers — bylaw changes to ban those items.
Asked whether he believes the audit will show an uptick in garbage across the city because of the pandemic — as it has in downtown — Shamess said it was difficult to predict, although he speculated fewer cigarette butts might be found.
"Fewer people are out there smoking," he said.
"On the take-out container side of things, it's hard to say. There's a lot more people that are doing takeout now because you really haven't been able to go into the restaurants. So it's going to be interesting to see."
The city has more than 4,000 garbage cans on city streets and in parks. The city is responsible for emptying the cans and cleaning up the area around the cans.
City grants are given to social services groups to do what Shamess described as "micro-cleaning," which focuses on removing chewing gum and cigarette butts from sidewalks and at the curbs.
Needle pick-up is also done by the PHS Community Services Society.
The city has installed ashtrays in some parts of downtown and has an outreach team that distributes disposable "pocket ashtrays" to smokers in the summer along the Granville Street strip.
Despite the efforts of the city, business associations and residents involved in neighbourhood clean-ups, Shamess said it remains a challenge to change some people's behaviour about littering.
"If you're proud of the city, take some action to keep it clean," he said.
"Don't just throw [garbage] on the ground. There's probably a litter can nearby. You might have to walk a little ways to find it, but it should be close enough so you can put the stuff in there."
@Howellings