TEAM for a Livable Vancouver mayoral candidate Colleen Hardwick announced Wednesday that she wants to scrap plans for SkyTrain technology to be used in a proposed extension of the Broadway subway line from Arbutus to the University of B.C.
Instead, Hardwick said a light-rail line to UBC and three other routes totalling 58 kilometres could be built across the city for the same price as a 7.1-kilometre tunneled SkyTrain extension to the university.
"Frankly, it's just a better investment for our tax dollars and ties the whole city together rather than just one neighbourhood," said Hardwick from an alley near the intersection of Broadway and Arbutus, where the subway is under construction.
A report prepared by McElhanney engineering consultants for TransLink in 2019 estimated the cost of a SkyTrain extension from Arbutus to UBC at $3.3 billion to $3.8 billion. The estimated cost for a light-rail line along the same 7.1-kilometre route was $1.7 billion to $2 billion.
The McElhanney report said SkyTrain technology would increase transit trips and mode share to and from UBC the most, arguing it would provide a transfer-free service with the fastest and most reliable operating speed.
"Furthermore, SkyTrain is the only technology that has the capacity to meet projected travel demand in the corridor and provides a system that is future-proof for over 50 years," the report said. "All other alternatives fall short of these requirements."
'One-sixth the price'
Hardwick pointed to subway projects in Toronto and Montreal that range from $700 million to $1.1 billion per kilometre to support her argument for an expansive light-rail network. A light-rail system, she said, would avoid the need for tunnels and take more cars off the road than a single extension to UBC.
"Based on those excessive costs, it makes much more sense to stop a subway line to UBC and build 58 kilometres of light rail for less than one-sixth the price per kilometre," she said.
Hardwick sought input from planning academics, including Stephan Nieweler, a transportation instructor and researcher at Simon Fraser University, who spoke at the news conference in support of a light-rail network.
"I'm really concerned about where this region is going in terms of rapid transit planning and everybody calling for SkyTrains to Newton, SkyTrains to UBC, the SkyTrain loop, SkyTrain down Hastings…yet, nobody's talking about the cost," Nieweler said.
"You start doing the math on this for all these proposals by the mayors around the region and we're not going to be able to afford it. This is why light rail is cost effective."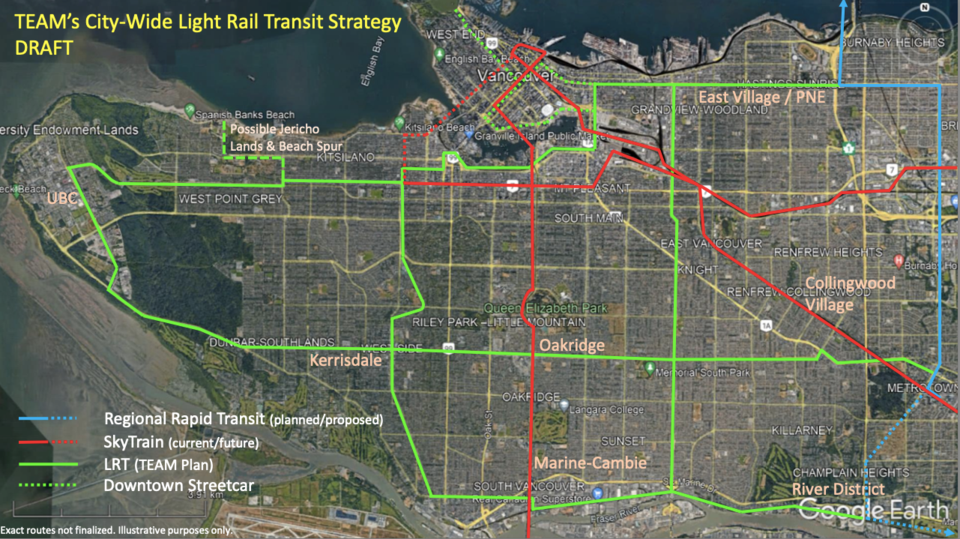 The four corridors identified for a proposed light-rail network are:
• Crosstown Line — UBC to the PNE via Granville Island and the new St. Paul's Hospital (17 kilometres).
• Arbutus-Marine Line — From Crosstown Line to Marine Stations and River District (15 kilometres).
• 41st Avenue Line — From UBC to Metrotown (18 kilometres)
• Commercial-Victoria Line — From Crosstown Line to Arbutus-Marine Line (eight kilometres).
Hardwick's push to scrap SkyTrain technology from Arbutus to UBC will be difficult on several fronts — she first has to get elected with a majority and then attempt to overturn previous decisions of Vancouver council and the Mayors' Council on Regional Transportation, which both supported a SkyTrain extension.
Hardwick, a current city councillor who voted against the technology in council's 2019 vote, was not deterred Wednesday by the battle.
"I'm reminded of what happened out in Surrey after the last election [in 2018], where there was a plan in place for surface light rail," she said. "Doug McCallum came in and said 'uh-uh,' and all of a sudden we're going SkyTrain. So there certainly is precedent for changing direction over large scale transportation plans."
Past studies, including the UBC Line Rapid Transit Study from 2010 and the Rail to UBC Rapid Transit Study in 2019 confirmed SkyTrain as the preferred technology to provide capacity to meet demand in 2045 and meet the long-term transportation needs of the region.
Four stations were also identified in the initial concept of the SkyTrain extension: Macdonald, Alma, Jericho and the UBC Trolley Bus Loop.
The Broadway subway is currently being built from the VCC-Clark Station to Arbutus and is set to open in 2025. A business case agreed upon by the city, the province, the federal government, UBC and local First Nations is being prepared for the SkyTrain extension from Arbutus to UBC.
'Create bottlenecks'
Mayor Kennedy Stewart pointed to the agreement in an emailed statement Wednesday, emphasizing the next phase of planning for the extension was already approved by the mayors' council.
Stewart noted the daytime population of UBC exceeds 80,000 people and is the third largest employment centre in all of BC.
Of the 55,000 UBC students, faculty, and staff who live off campus, about half of them pass through Vancouver on their way to work or school from other municipalities, he said.
"That's why commuters have told us loud and clear that they want to take SkyTrain all the way to UBC," Stewart said. "Forcing commuters to switch from SkyTrain to light rail at Arbutus Station would increase commute times, create bottlenecks and reduce the efficiency of this new line."
'Sparkle ponies and pixie dust'
ABC Vancouver mayoral candidate Ken Sim said in an emailed statement Wednesday that he supports a SkyTrain extension from Arbutus to UBC, saying that any time riders have to change modalities, ridership drops.
"That's one of the reasons why a combination SkyTrain/light-rail was rejected by TransLink in Richmond," Sim said. "Introducing a second rail technology also eliminates maintenance efficiencies by having one system."
Added Sim: "The idea that Colleen Hardwick can get regional support for her plan at the expense of the already approved Translink 2050 plan is just all 'sparkle ponies and pixie dust.'"
Sim announced Tuesday — along with mayors from Coquitlam and the District of North Vancouver — that the region's next transit priority should be to connect the North Shore to Vancouver, with a SkyTrain station at the PNE.
Hardwick, meanwhile, said she also wants to keep the Georgia and Dunsmuir viaducts from being demolished; the previous Vision Vancouver administration at city hall voted to tear down the structures to open up the area for housing, parks and a new road network.
The savings, she said, in demolition costs could be used to fund a long-planned downtown streetcar system.
The election is Oct. 15.
@Howellings