Looking for a new place to live in Vancouver this April?
According to a recent report, locals won't find many sweet deals in the city this month. Rental prices have continued on an upward trajectory for several months and show no signs of slowing down.
Liv.rent, a rental platform based in Vancouver, finds that the average price of an unfurnished, one-bedroom unit in the City of Vancouver is up 2.5 per cent this month to $2,090.
Outside of the city, however, North Vancouver had the Metro Vancouver region's highest rental rates for unfurnished, one-bedroom units, at an average of $2,344. West Vancouver is the second most costly, with unfurnished apartments going for $2,196.
If you are looking to rent in the city, Renfrew offers the best bang for your buck, with average rent for an unfurnished one-bedroom costing $1,974. Kitsilano cost slightly more, with average listings sitting at $1,984 in April.
At the other end of the spectrum, the downtown area has the city's highest rent at $2,348 for an unfurnished one-bedroom apartment. The Mount Pleasant area had the second-highest prices, with listings averaging $2,213 in April.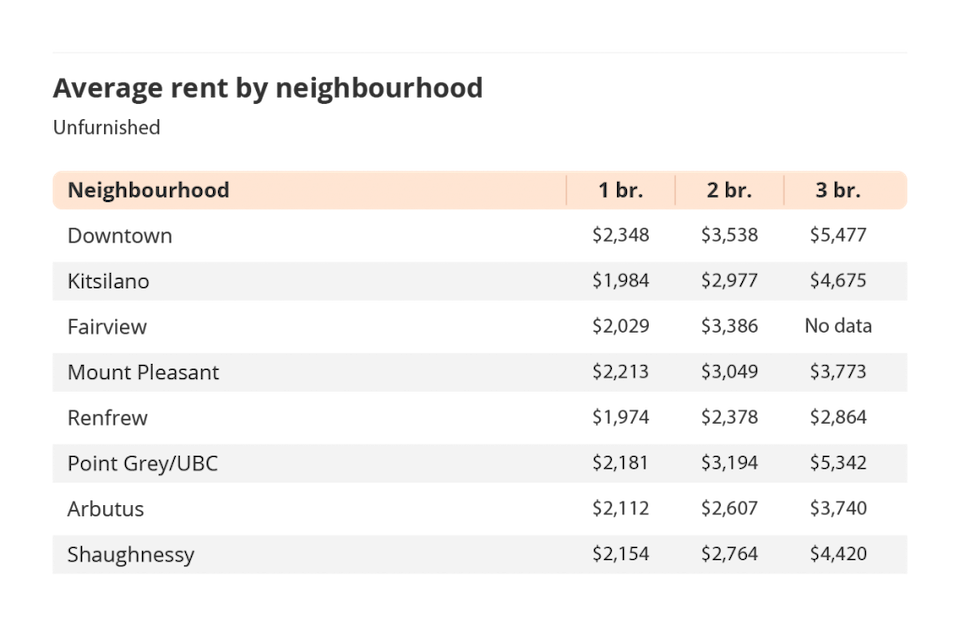 Vancouver remains the most expensive city in Canada to rent in terms of unfurnished one-bedroom units, with listings averaging $2,090. Average rent in Toronto is the third-highest in the country at $1,776 this April, while Victoria maintains its number two spot with an average rental cost of $1,853.