An advocacy group for tenants of single-room-occupancy hotels wants Vancouver city council to provide $110,000 for a year-long experiment aimed at improving fire safety in 18 hotels in the Downtown Eastside and Chinatown.
The DTES SRO Collaborative's request — which goes before council Tuesday — comes as fires and alarm calls to buildings have increased substantially in recent years, with the Winters Hotel fire in Gastown killing two people in April 2022.
"I haven't talked to council, but I feel like I don't need to lobby too hard because it's a no-brainer," said Wendy Pedersen, executive director of the Collaborative.
Statistics from Vancouver Fire and Rescue Services shows there were 679 fires at SROs between 2020 and 2022, including an explosion at the Empress Hotel on East Hastings Street caused by a lithium-ion electric bike battery that killed a tenant.
The previous three-year period saw 381 fires.
In 2022 alone, 417 tenants were displaced after fires at the Winters Hotel, Gastown Hotel, Princess Rooms, Hampton Rooms, Sereenas Housing, Hazelwood Hotel and Keefer Rooms.
'Really scared tenants'
Fire investigators say 70 per cent of fires in 2022 were caused by smoking materials and the mishandling of lighters, candles and matches — a statistic that Pedersen hopes to decrease over the next year, if council accepts the Collaborative's proposal.
Unattended candles caused the fire at the Winters Hotel.
"The missing link in all of this is the tenants," she said. "The Winters Hotel fire really scared tenants, so a lot of them are very interested in this project. This [proposal] is about helping them set up a fire and safety training program that they can employ and be involved in and implement in their buildings."
The $110,000 would be used to hire an SRO fire safety coordinator for the Collaborative, develop workshops in partnership with the fire department and train 18 tenant representatives from each of the buildings on fire safety.
That training would then extend to weekly checks to flag any fire safety issues.
Multilingual fire safety pamphlets would be distributed to 2,000 rooms and surveys conducted with tenants to collect baseline data on fire preparedness and specific supports needed, if a fire broke out.
Floor maps for each building would be created so tenants can find exits. An annual fire drill would also occur. Tenants with pets and disabilities would be identified to ensure they are supported in the event of a fire.
The initiative would be in addition to a fire department-led fire prevention education program for SRO building owners and operators that launched last summer. As of December 2022, 175 building operator staff in 28 SROs attended the training.
"This is about tenant-to-tenant education, and it's not really about the landlords," said Pedersen, noting the 18 hotels chosen to participate in the year-long experiment were based on contacts with tenants previously established by the Collaborative.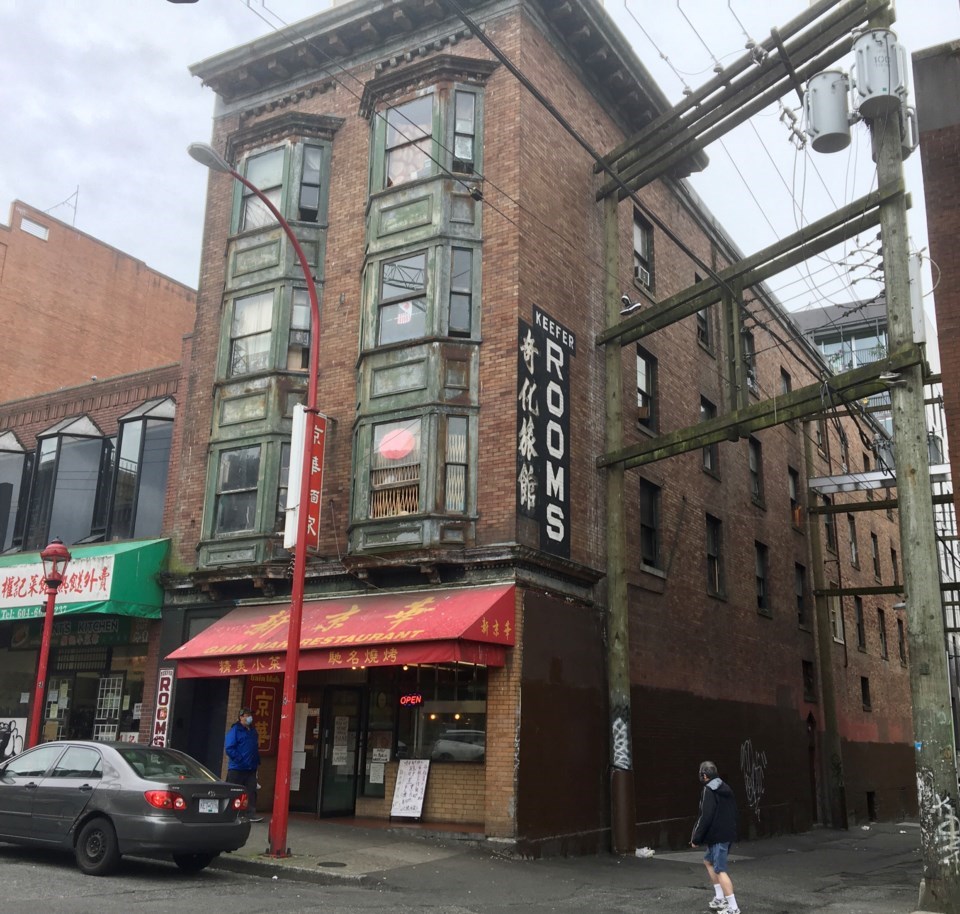 Keefer Rooms in Chinatown
The 18 hotels are:
• The Arlington, 575 East Pender St.
• The Cobalt, 917 Main St.
• Ferrera Court, 618 East Hastings St.
• Hing Mee Society, 553 Prior St.
• Hildon/Bourbon, 50 West Cordova St.
• Keefer Rooms, 218 Keefer St.
• King Rooms, 322 Powell St.
• Lew Mao Way Tong, 349 East Pender St.
• Lion Hotel, 316 Powell St.
• Mt. Everest Rooms, 242 East Hastings St.
• Shakespeare Rooms, 224 East Georgia St.
• Summer/Sunwest, 341 East Hastings St.
• Toi Shan Phoenix, 237 East Hastings St.
• West Hotel, 488 Carrall St.
• Wu Chuk On Tong, 359 East Pender St.
• Vancouver Tsung Tsin (Hakka) Association, 542 Keefer St.
• Ying Ping Benevolent, 414 Columbia St.
• 255, 255 East Georgia St.
Combined, the number of rooms total 739.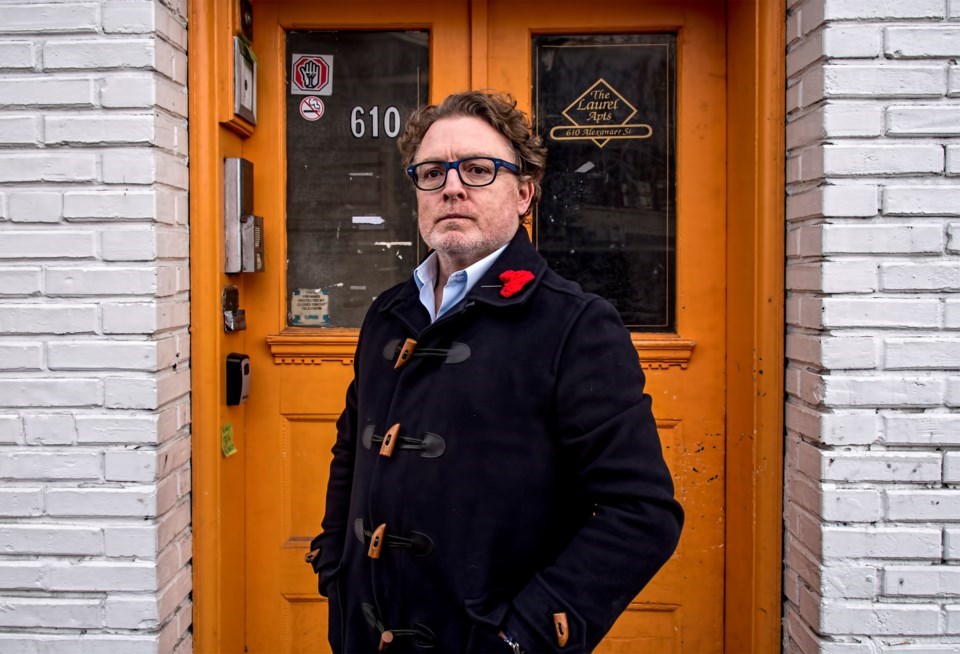 'They need to be guided'
Christopher Wall owns three of the 18 hotels selected for the project — the West Hotel, the Arlington and the Keefer Rooms, which is currently vacant after a fire in September 2022 in the ground-floor restaurant.
Wall said all tenants from Keefer Rooms were relocated to some of his other buildings, with the Collaborative and City of Vancouver staff involved in the move. Rehabilitation work continues on the 48-room building, with it possibly re-opening in the summer, he said.
Wall said he fully supports the Collaborative's fire safety initiative, noting he already has a relationship with the group for their work in overdose prevention with tenants and the support they provided to people during the early days of the pandemic.
"Anything that supports fire safety on the Downtown Eastside and within SROs is positive," he said, hoping it would be successful and expand to all SROs, including those owned by the B.C. government.
He agreed the onus is on an owner to ensure a building is safe and free of fire safety hazards, but said not all tenants can be reached by staff, noting the Collaborative has personal relationships with tenants that owners don't.
"Many of these tenants are at-risk and many have suffered from mental illness and addiction, and they need to be guided," Wall said. "We're doing our best in every other way, but if the Collaborative has other ideas that we can implement, we'll definitely listen and move forward with those."
Wall said all eight of his buildings have a no-smoking policy, but he acknowledged it is difficult to enforce. A city staff report that goes before council Tuesday noted fire alarms are increasingly being triggered by the detection of smoking material, often in common areas such as hallways.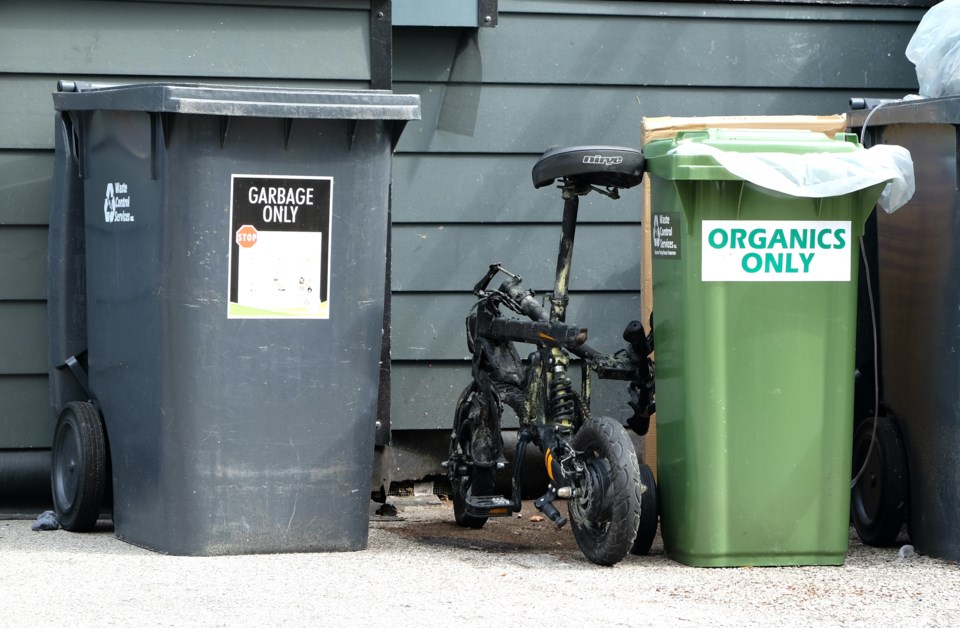 Lithium-ion battery fires
Fire alarms in SROs made up 22 per cent of all alarms in Vancouver in 2022, averaging nearly eight per day, compared to two per day in 2016; Glacier Media attended two in one day at the same hotel while on a ride-along with firefighters in November 2022.
Firefighters responded to 504 emergency calls to Hotel Canada at 518 Richards St. in 2022, with the majority related to a smoke alarm being triggered by tenants smoking cigarettes and narcotics.
Wall also owns the Empress Hotel, which was where the tenant died after a lithium-ion battery exploded in a room. Wall said the tenant was told two weeks before the explosion that electric bikes were not allowed in the building; he doesn't allow electric bikes in any of his buildings.
Five fire deaths in Vancouver last year were linked to lithium-ion bike batteries. Four buildings in the Downtown Eastside were damaged in battery fires over a three-week period last summer.
"The City [of Vancouver] ultimately has to have a plan for lithium-ion batteries, and I think it should be part of this pilot project personally," Wall said.
Added Wall: "Fire safety issues in the Downtown Eastside are a metaphor for what's going on down there. So as everything begins to improve, and people start to collect themselves, all of this will start to improve. And this is just another way that it can do so."
A city staff report that outlines the Collaborative's proposal says the initiative is supported by the fire department and city manager. Council's meeting Tuesday is scheduled to begin at 9:30 a.m.