A Downtown Eastside artist and drug policy reform activist has raised $10,000 in 24 hours to donate to a drug users' group that had its $7,500 art grant scrapped this week by the ABC Vancouver-majority city council.
Karen Ward said she set up a GoFundMe campaign after learning the Vancouver Area Network of Drug Users (VANDU) will not receive the $7,500 recommended by city staff to fund an art program, which has operated successfully for a few years.
"I set up the GoFundMe, and it just took off and I'm glad it did because they get to sustain their program and that's wonderful," said Ward, who described council's move as "childish" and punching down on the organization and its people.
"It's arbitrary vindictiveness and there was no opportunity for anybody to know that was coming to actually state their case."
At Tuesday's council meeting, the ABC Vancouver majority supported an amendment from Coun. Brian Montague to scrap the $7,500 and redirect the money "to an alternate and appropriate organization for Indigenous-led and/or Indigenous-based programming."
Montague said he was concerned about the guidelines used to recommend the grant to VANDU.
In his comments, he pointed out a separate $320,000 "block stewardship" city contract given to VANDU last year that involved street cleaning along East Hastings Street and was later cancelled because the organization didn't use the money for its intended purpose.
"I just personally don't have confidence that they would deliver the program and services and I disagree with the funding for the organization," Montague said.
"And I just think that the process in which some organizations are granted money and others are not, is just flawed. And that's the basis for the amendment."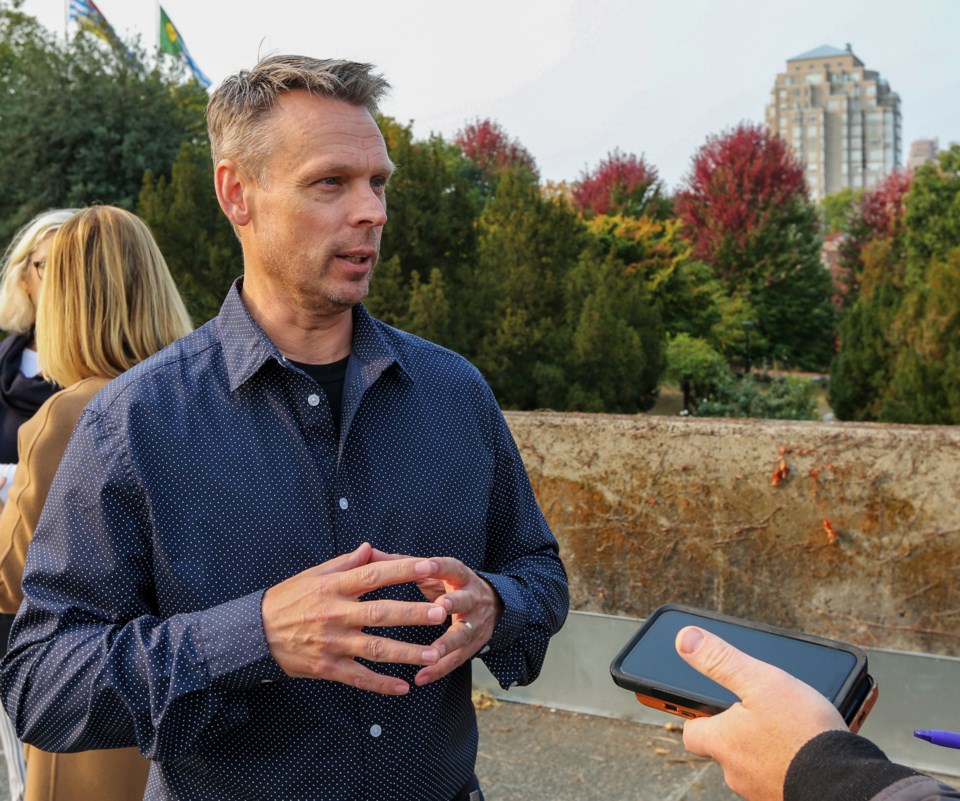 'It's a privilege, not a right'
Mayor Ken Sim said his support for scrapping the grant had "nothing to do with VANDU per se," but everything to do with the organization's track record and not hitting "accountabilities" that the City of Vancouver requires.
"It's a privilege, not a right to be able to do business with the City of Vancouver, and that's the type of culture that we want to lead here while I'm in office," said Sim, who was elected in October 2022.
Prior to the vote to nix the $7,500 grant, council heard from city staff that VANDU had successfully run the art program for a couple years and met all the obligations of the contract.
The program sees VANDU members meet weekly around a table with artists peers and facilitators, with materials provided to create various types of mixed media.
The city grant is spent on fees for artist facilitators, as well as modest stipends for VANDU members who assist with staffing the table and supporting the artists.
Sandra Singh, the city's general manager of arts, culture and community services, said the $320,000 contract was a new way of trying to build community but that the "balance of work just wasn't meeting our service delivery requirements."
"So yes, we did terminate that [contract]," Singh said. "But based on their past performance in relation to this specific art project, I believe they're in good standing."
Montague to Singh: "So an organization that previously failed in another area doesn't make them ineligible [for another grant], and they have an equal chance of receiving a grant as an organization in good standing?"
Singh: "We knew we were trying something new [with the block stewardship contract], and it didn't work out. In this situation, this is a program that they have run before and it was successful. And so we do have confidence in this particular program."
Singh didn't elaborate on what specifically VANDU failed to do under the $320,000 contract. The city's communications department said in an email Thursday that the contract with VANDU was to run between July 2022 and January 2023.
Emergency response to homelessness
The contract called for VANDU to support the development and implementation of a "block stewardship pilot program" for the 000-300 blocks of East Hastings Street. The initiative was part of an emergency response to homelessness, and to support sidewalk cleanliness.
"After an interim assessment of the program, it was evident that VANDU placed emphasis on community development and individual empowerment rather than street cleaning," the city said in the email.
"While this has value, the city requires a focus on cleaning. VANDU was given 30 days notice for transition on Nov. 10."
Dave Hamm, a longtime member of VANDU's board of directors, said his reading of the contract was the funds were never supposed to be solely used to clean the streets.
"We did have shifts for people so they could make some money, and clean up around their own areas and keep it tidy," he said, referring to people living in tents and shelters on the sidewalks.
"We did fire safety training and had fire extinguishers all over the place. Some of them needed shelter, so we got them tents and sleeping bags."
Added Hamm: "We were supposed to just help empower the people. That's more or less what the contract stated. We feel we lived up to the contract."
Hamm said in previous years the art grant was used to teach and do such activities as cedar weaving and to buy art supplies that led to paintings of VANDU members who have died.
"It's very sad that they decided to deprive the people of some well-needed funds, and they would have been well used, too," he said, describing council's decision as "mean-spirited" but was happy to hear of Ward's generous move to raise money for the art program. "I find that very cool that she did that."
Hamm believes the move by Montague, a retired Vancouver police officer, and his ABC Vancouver colleagues was purely political and likely connected to protests over the past year against the party, which included members of VANDU.
Hamm participated in a protest outside ABC Vancouver's campaign office on Broadway Oct. 13 to denounce the Vancouver Police Union's endorsement of the party.
Hamm was also present at another protest outside city hall Nov. 7 on the day Sim and the 10 councillors were inaugurated; police escorted Sim and most of the councillors into city hall that afternoon.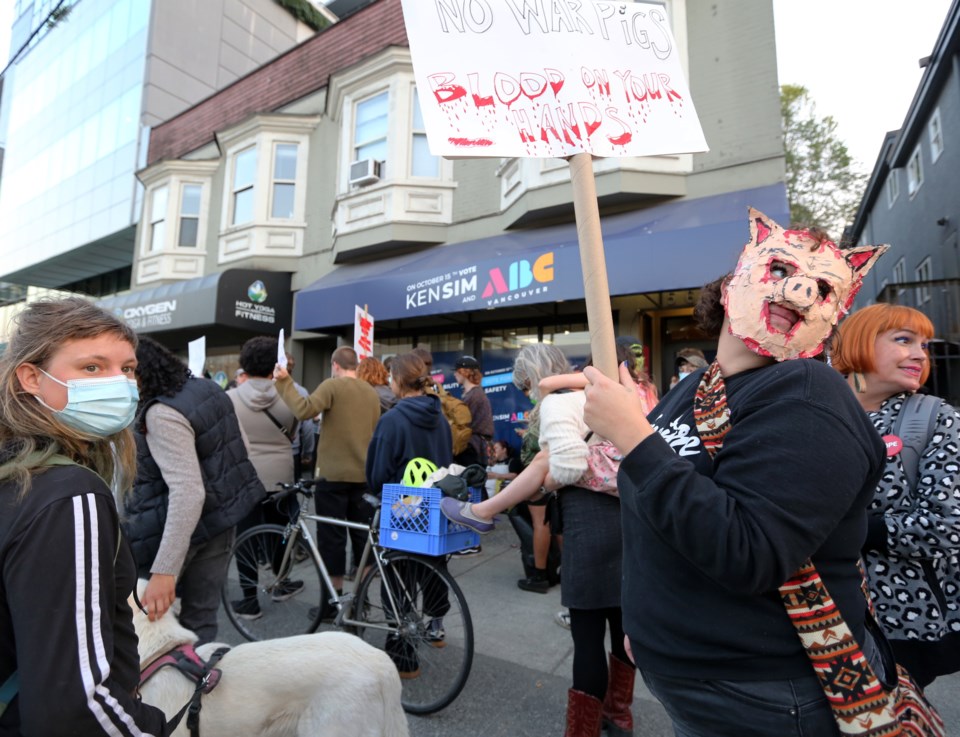 'Big political mistake'
Green Party councillors Pete Fry and Adriane Carr, along with OneCity Coun. Christine Boyle opposed ABC Vancouver's move to scrap VANDU's art grant, with the trio arguing the importance of art and the therapy it provides for a community living through an overdose crisis.
Fry pointed out VANDU has been on the front lines in pushing for harm reduction and decriminalization, which has helped inform city policy. The organization also campaigned to reduce speed limits on East Hastings Street, where pedestrians have been killed.
"But this is about art," Fry said. "This is about expression. This is about a vulnerable population in the middle of crisis expressing themselves. This is unfortunately a big political mistake to make, to single this group out of these grants and deny them $7,500."
Carr: "What we're dealing with here is a decision that is not about a previous grant, but about the current grant. And I am interested in measures that will increase people's sense of self-confidence of self-love and building their capacity to work positively within society at large."
Boyle: "This is a small grant for a project that they have delivered successfully in the past and that has had a meaningful impact in the in the past. I am concerned about the politicization of us eliminating small grants for very vulnerable residents."
As of late Thursday afternoon, Ward's GoFundMe campaign had raised $10,730.