Mayor Kennedy Stewart unveiled an ambitious housing plan Tuesday that calls for 220,000 new homes over the next decade, which is a tripling of the city's current housing target to build 72,000 homes over a 10-year period.
Stewart's plan envisions 140,000 market rental, below-market rental, social housing and co-op homes in addition to 40,000 "ground-oriented homes for purchase by the middle class" and 40,000 market condos and townhomes.
"Simply put, this is the most ambitious housing plan in the city's history," he said from a suite inside a 114-unit rental building under construction at 1649 E Broadway that includes 23 below-market homes.
The mayor, who is seeking re-election Oct. 15 with Forward Together, said he based some of his projection of 220,000 homes on what he heard from First Nations leaders behind large-scale developments planned for the Jericho Lands and Squamish Nation property (Senakw) at the south end of the Burrard Bridge.
He also mentioned Concord Pacific's plans for redevelopment of the former Molson brewery site, also near the Burrard Bridge, and anticipated development around the new St. Paul's Hospital planned for the False Creek Flats.
Areas in north and south False Creek, a swath of land in Champlain Heights and undeveloped property around SkyTrain stations are also factored in his projection.
"When you start adding those all up, that quickly gets you to 220,000 units," said Stewart, who was joined at the news conference by two of Forward Together's six council candidates, Dulcy Anderson and Russil Wvong.
Renter protections
Other points in the plan call for extending renter protections across the city, continuing to add vacancy control to rental units and "modernizing the public hearing and permitting process to be more efficient and inclusive."
Creating specialized project approval teams for "large-impact projects" and maintaining the empty homes tax at least five per cent rounded out the party's housing plan, which Stewart said he hopes to implement by winning a majority in the election.
"That doesn't mean we won't work with other parties on council," he said. "When it comes to housing, we're in such deep need that we needed to put forward a bold, ambitious plan. I'm hoping the public will like this, and then they'll elect all of us and we'll be able to put it through."
Data provided to reporters from Forward Together showed the City of Vancouver —either through council or the development permit board — approved the construction of 8,834 homes last year, the majority of which are market and below-market units.
'Incredibly destructive'
Asked how many of the units have been built, the mayor didn't provide a number but acknowledged an increase in interest rates, labour costs and supply chain issues are having an effect on the development industry.
"A bunch are under construction right now, or they're finishing [getting approval for] their [development permits]," said Stewart, who blamed some councillors — he didn't name any —for delays in more housing not being built.
Added Stewart: "When you look at city council, and you're watching on YouTube or whatever, and you're seeing the points of order and the amendments and the endless questions, maybe you find it entertaining, but it's incredibly destructive. The banks watch that, too — the lenders who are building this — and they've told me, and they're telling the builders, it's too unpredictable for us to risk hundreds of millions of dollars on the whim that one councillor might overturn this and set us back for years. So that is why a lot of these large projects haven't begun."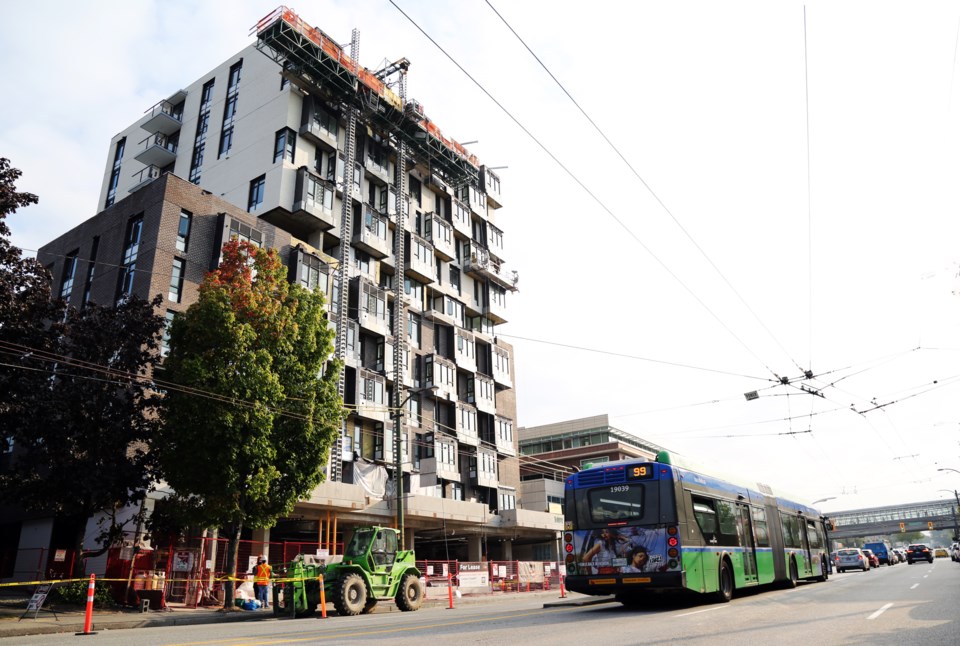 Sim, Hardwick, Marissen pan mayor's plan
Criticism of the mayor's housing plan was swift and pointed by three of his challengers — Ken Sim of ABC Vancouver, Colleen Hardwick of TEAM for a Livable Vancouver and Mark Marissen of Progress Vancouver.
In an emailed statement, Sim said housing prices during Stewart's term have gone up by 18 per cent on the west side of Vancouver and by 28 per cent on the east side.
"In the last two years alone, average rents city-wide have increased by 30 per cent," said Sim, whose party plans to release its 40-point housing plan "shortly." "Things have gotten so bad that David Eby is considering legislation to force the mayor's hand on increasing supply."
Sim pointed to permitting backlogs as a reason for delays in housing starts.
"In the City of Vancouver, it takes longer for a highrise apartment building to get built than it did to fight and win in World War II," he said. "In the midst of a housing crisis, that's absolutely unacceptable.
'Dream come true for corporate developers'
Hardwick said Stewart's plan is "simply unbelievable" and "a dream come true" for major corporate developers.
"The vast majority of housing would be market condos and rentals — at already sky-high prices — and 22,000 a year is both unachievable and unneeded with 100,000 units in the pipeline already," Hardwick said in an email.
"Vancouver needs more affordable housing, not highrise concrete towers bought by outside investors that will only increase the affordability crisis."
Added Hardwick: "And the so-called 'renters' protection plan' will not work — moving people for years in a one per cent vacancy market, then returning them to new apartments at the same or lower rent is just not going to happen — developers won't do it."
Marissen accused Stewart of recycling his plan from his 2018 campaign and tripling targets he hasn't met.
"Once again, Kennedy Stewart is promising to deliver hundreds of thousands of new homes without making the necessary changes to land-use policies," Marissen said. "The whole plan is a paper tiger, with a flashy number at the top to catch attention."
Added Marissen: "Progress Vancouver understands that we urgently need multi-family housing built near schools and transit, and we need seniors' housing in every neighbourhood. Passing the necessary reforms to achieve this will be my first priority, should I be elected on October 15th."
'Broken' public hearing process
OneCity council candidate Matthew Norris said in an email that he welcomed Stewart's commitment to new rental homes and improving the "broken" public hearing process.
"That said, we also hope to see the mayor commit to ending the ban on apartments in many Vancouver neighbourhoods, which causes displacement, has created a rental crisis and has put our city on a path towards being a gated community for the rich," Norris said.
"OneCity's housing plan includes six floors and corner stores and rental and social housing everywhere. We hope the mayor will support that, too."
Meanwhile, the new 500-sq. foot one-bedroom suite the mayor used for his news conference Tuesday is expected to rent for $1,200 a month, which is almost half the current market rent for the area.
@Howellings