Wanting to have a spooktactular time in Vancouver on All Hallows' Eve?
While you might not have to contend with a torrential downpour, cold Arctic air might make Halloween 2022 a bone-chilling affair for more than just then scares.
Metro Vancouverites rejoiced at the sight of rainfall on Oct. 21, following weeks of bone-dry conditions. But now parts of the region are expected to receive significant rainfall, prompting the national weather forecaster to issue a rainfall warning.
Environment Canada also issued a special weather statement for Metro Vancouver as a "vigorous" frontal system brought powerful winds into the region. Many locals were left without power Thursday (Oct. 27) morning as winds gusted 60 to 80 km/h across the Lower Mainland.
While the heavy rain and high winds are expected to subside, the cooler, wetter pattern is expected to continue through the weekend. In fact, The Weather Network says some parts of Canada have an "increasing potential for a blast of Arctic air" on Halloween (Oct. 31).
In a report issued Wednesday (Oct. 26), the weather forecaster calls for a "polarizing weather pattern" in Canada on the big day, which will create milder conditions in some parts of the country and decidedly frigid ones in others.
Metro Vancouver weather forecast for Halloween
The Weather Network expects "very cold air" to infiltrate Western Canada on Halloween, with an emphasis on Alberta. Following this, a decidedly "chilly and wintry pattern is expected to continue into the first week of November."
While precipitation is more difficult to gauge ahead of the big day, there may be some lingering rain following the atmospheric river that continues to impact the Lower Mainland and Vancouver Island.
For now, the Metro Vancouver forecast calls for showers throughout the day on Halloween but heavy rainfall is not expected. While the daytime high might climb to a double-digit high of 10 C, overnight lows in the region start to drop signifcantly starting Sunday night. On Halloween, trick-or-treaters can expect temperatures to drop down to 4 C or so.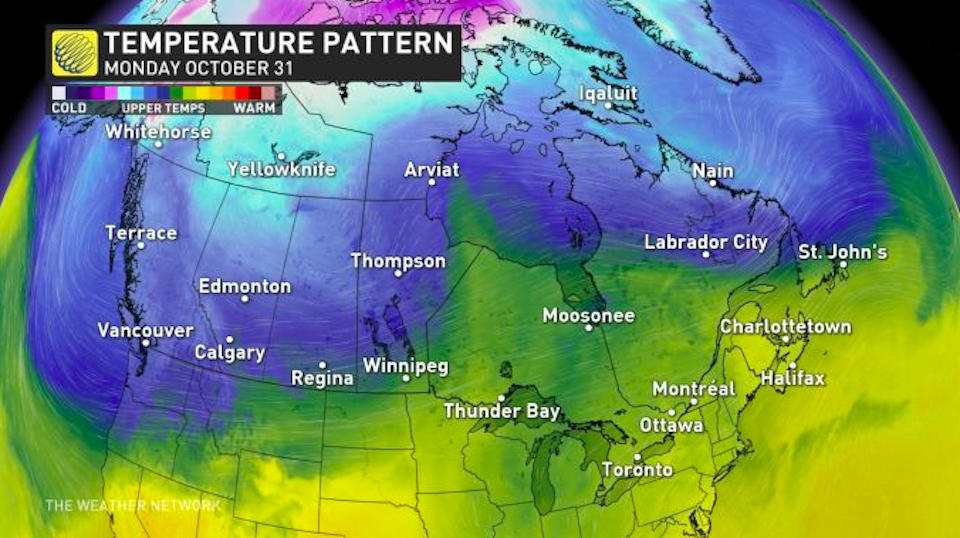 Looking ahead in the Metro Vancouver weather forecast
Heading into the first week of November, the cold front is expected to produce even chiller overnight lows in the region, with a low of 3 C expected Tuesday.
In a recent update, the National Oceanic and Atmospheric Administration (NOAA) called for a 75 per cent chance that La Niña will be present this winter and won't change to a "neutral" weather pattern until about February.
La Niña's impact on southern B.C. doesn't start to show until the late fall or early winter. But it does tend to produce cooler than normal conditions and snowier conditions over the mountains.
Find out what kind of impact the third consecutive La Niña system could have on Metro Vancouver.