A lifesaver and a game-changer.
That is how Ndidi Cascade described what finding an affordable place to live in Vancouver with a separate space to create art has done for her.
"It couldn't have come at a better time," said Cascade at a news conference Thursday, where the City of Vancouver officially opened 30 homes and a large production space for Cascade and other artists in a new building in Mount Pleasant.
She told a story of being "renovicted," facing racial discrimination in a co-op in Burnaby and being raised by an activist mother, who pushed for years for equity and affordable housing until she died last August.
"I feel like I have not felt this kind of stability in my life ever," Cascade said. "Growing up in a single-parent family and being pushed from home to home and renovictions — it's been chaos, and living in Vancouver is not easy."
Ethos Lab
Cascade, a hip hop artist and teacher, moved into her studio apartment in December and pays no more than 30 per cent of her income on rent — a calculation that also applies to other artists who live in the building at 187 East Third Ave.
The 4,000 sq. foot production space is on the ground floor of the building, which is also home to Ethos Lab, a Black-led non-profit youth academy where Cascade is a cultural curator.
The building is unique in that the 30 homes were incorporated into a 12-storey development, which has 226 strata units.
The city owns the portion containing the 30 homes and art space as a result of a community amenity contribution from developers Create Properties and Northland Developments.
The estimated value of the artists' housing and space is $14.3 million.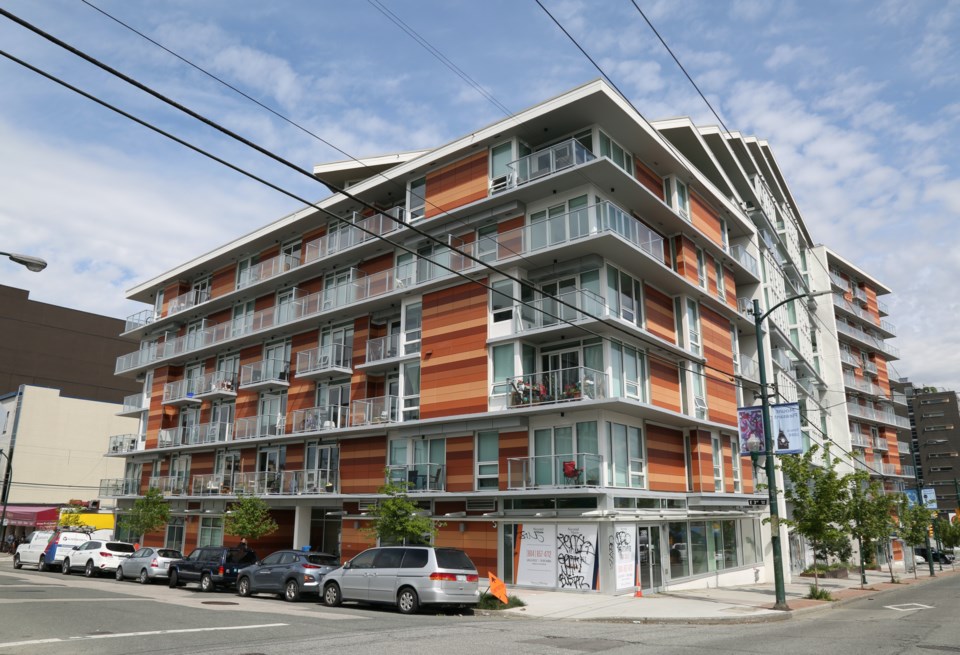 400 homes
The arrangement is rare in Vancouver, but the city has a 10-year goal to create 400 affordable homes for artists, although not all are expected to have direct access to production space in a building in which tenants live.
The need for affordable housing for artists was emphasized by Coun. Sarah Kirby-Yung at the news conference, where she pointed out B.C. has the highest number of working artists in Canada, and Vancouver has the highest percentage of artists per major city.
"But we have to recognize that that community has thrived despite the challenges of the fact that many artists are living under the poverty line," said Kirby-Yung, noting 63 per cent report an income of less than $40,000 per year, and the median income for artists is $22,000.
So why aren't there more buildings like the one in Mount Pleasant?
Alix Sales, a senior city planner for cultural infrastructure, said that is a question the planning department has asked itself as it moves to meet the 400-unit target over 10 years.
"We're working on it certainly in the Broadway Plan — you'll see a lot of projects that we're looking forward to there," Sales said. "And we also have 10 other units of housing that we have on Cambie Street that we've now negotiated during development."
Community amenity contributions from developers typically help provide affordable housing, childcare, parks and cultural facilities.
The homes and art space in the Mount Pleasant building was secured through a rezoning process in 2015, where the developer was given increased density in return for transferring the air space parcel on the property to the city.
'Soul of the city'
Another unique feature of the building is that it is managed by a non-profit arts society in collaboration with the Community Land Trust.
The 221A Artist Housing Society already manages 140,000 sq. feet of space for artists in Vancouver, but the society's foray into managing housing is a first, according to Am Johal, the society's president, who spoke to Vancouver Is Awesome prior to the news conference.
"There are things that we can do to create new types of models by working in partnership with all levels of government to ensure that artists can imagine a future in the city," Johal said.
"In a lot of ways, it's investing in the soul of the city to have artists who are able to stay here, have affordable rent into the long term and contribute to the city."
Cascade, meanwhile, is still coming to terms with her good fortune, describing the thrill of knowing her neighbours are "like-minded, like-hearted artists" who want to create some magic.
"We're just like, 'Wow, you live here [too]?," she said. "I feel really honoured, really grateful to be able to take part in such an incredible endeavour. I am so grateful for everyone who stepped up to make this happen."
@Howellings