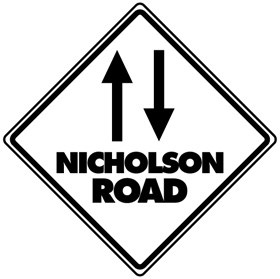 Nicholson Road is an ongoing photo project aimed at sharing and celebrating the different communities in Metro Vancouver. Each week Vancouver Is Awesome will be featuring an image from the previous week, shot in one of the many 'hoods around town in order to draw your attention a little bit outside of the hyper-focus that we usually have on the City of Vancouver.
Metro Vancouver Is Awesome, and you should get out and explore it!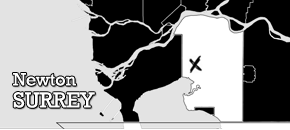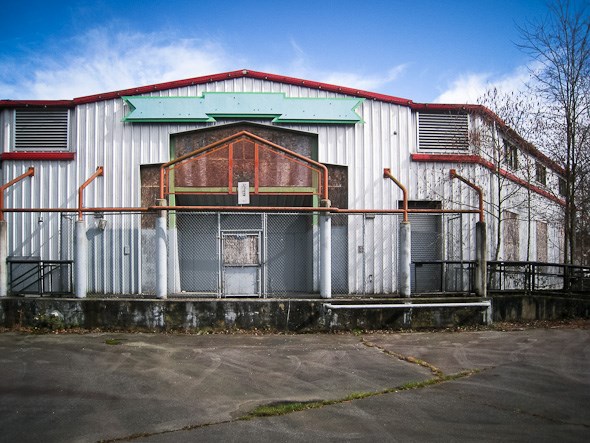 Designed by Chandler/Kennedy Architecture in 1990, the Surrey Public Market, located at 64th and King George Blvd (then, Hwy), was envisioned to be the ultimate local market destination for residents of Surrey and surrounding communities. A much older and more small-town 'country' style Surrey Public Market existed on the corner of this site from as far back as I can remember, providing space for 30 different vendors selling fresh fruits and vegetables, meats, crafts, and all the other goodies you might expect to find in a public market.
Built on a rather sensitive site, the south building of the Surrey Public Market - where the food vendors were located - is hugged by a small ravine carrying a fork of Hyland Creek as it emerges from beneath King George Blvd and continues under the bridge market - where the speciality retail and demonstration vendors were - before meeting up with the creek as it winds down towards the Serpentine River. The buildings themselves evoke that sort of Granville Island industrial character, complete with painted pipe-work, exposed metal beams, and cold, steel walls.
In case you haven't gathered from the photo and my reference to where the vendors were rather than where they are, the new Surrey Public Market closed its doors after some leasehold disagreements in 1998 and has sat vacant ever since. Possible deals came and went, but each one fell apart at the last minute.
Fast forward to today and Surrey is a different place than it used to be. Newton Town Centre, just up the street, has plans for a re-integration with rapid transit (the interurban made Newton possible!) and a new 'main street' allowing for weekend markets or festivals, along with the residential density to support it, and the Surrey Public Market site has a new owner and is up for redevelopment with the possibility for new mixed-use buildings on the north end of the property.
Also, the local population has blossomed since the 90s with hundreds of families moving into new urbanist-style subdivisions throughout Panorama and Sullivan, desiring greater connection with their neighbours, their community, and an emphasis on living locally. Enter Jude Hannah and Revitalize Newton, or ReNewton (@ReNewtonNation), a group whose vision is to unite South East Newton and revitalize the old market into a bustling community gathering place.
Supported by a strong online presence, Hannah and co-chair Jen Robbins (@NtQtSouthSurrey) have decided it's high time Newton gets its market back, and they're forming a new community association in order to make it happen. In the process, connections are being made and a new neighbourhood identity is beginning to emerge.
It's an exciting time, and I can't wait to see what the future holds :)
Archives of the Nicholson Road project can be found HERE.