The founders of the SIDEWALK supper project share their stories as they connect with people living on the streets.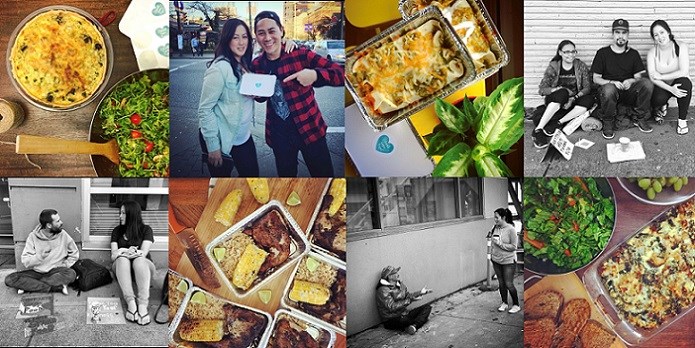 It was an ordinary night. Andrea and I were at our favourite neighbourhood bistro enjoying some good food when she said, "I have this idea that I've been thinking about. Food is one of our biggest passions in life, right? We love to cook for our friends and family. We host dinner parties all the time. Wouldn't it be great to share that with people who don't usually get to enjoy a home-cooked meal like we do?"
As we walked towards home, we passed one of those people—a man living on the streets who could use a warm meal. Andrea remembered that she had some leftover mushroom risotto from a cooking class she had taken earlier that day, so we asked the man if he were hungry. He was. We ran up to her apartment, fetched the food, and gave it to the man who beamed with gratitude.
That was the beginning of the SIDEWALK supper project. It has been one year since our official launch when we served a festive Easter meal with the hungry people living on the streets of the West End. Since then, we've served hundreds of meals that we whipped up in our own kitchens—everything from gourmet mac & cheese to Greek chicken souvlaki—with the help of dozens of passionate supporters who have volunteered their time to help cook and serve meals, donated money to help cover food costs, and given us gifts like gloves, socks, cards, and toiletries to hand out.
Even more astonishing than the immense support are the often illuminating and sometimes challenging interactions that we have with the people we meet on the streets. Every time we hit the streets, bags of packaged meals in hand, we know that the experience will be different from the others before it. To celebrate one full year of sidewalk suppers, we'd like to share some of the things that we've learned along the way.
• People react differently to the help that we offer. Most of the time we are met with smiles of gratitude. Oftentimes they want to chat and share a story with us. Sometimes they take the food without a word. Other times they are suspicious and refuse the food entirely. During one memorable encounter, a man told us that he simply doesn't trust people. It has been humbling and enlightening to understand how we would be perceived by someone on the streets and how these perceptions are shaped by their own experiences.
• People want to know what it is we're serving before accepting it. When we approach someone to hand them a meal, we will often be asked the same question: "What is it?" It's always asked in a genuinely curious way, but I found it surprising at first that people living on the streets wouldn't just accept whatever food was being offered to them. How arrogant of me! If a stranger offered me a mysterious package of food, my reaction would be exactly the same. Naturally, I would ask what it is. Why would it be any different for someone living on the streets? They're people, just like us, with their own tastes, preferences, likes, and dislikes.
• Some people just aren't given a fair chance at life. It's a tired cliché, but everyone truly does have a different story. Sadly, some stories are filled with tragedy and hopelessness. Conrad had lived in 33 different foster homes by the age of 16 before running away from a system that failed him. Ricard lost everything, including his entire family, and wound up alone and homeless. Every person has different circumstances, different demons, different limitations, and different influences in their lives—the same goes for those who end up on the streets.
• Some people have no one to turn to. I consider there to be one major factor that differentiates people on the streets from people who aren't, and that is the presence or absence of a support network. If my life were to take a turn for the worse, I have people who would catch me as I fall. If the same applies to you, be grateful. It's not a luxury that everyone has.
• It's not all about numbers. Our goal isn't to end hunger in Vancouver. There are a lot of hungry people on the streets, but we learned that there are numerous ways for them to find food, either through their own resourcefulness or through the several amazing organizations in the city dedicated to feeding them. Our mission is to connect with people through our cooking and try to inspire others to do the same. We often hear from the people we meet that they feel invisible and alienated from society. We hope to make them feel connected to the community through the home-cooked meals that we serve.
• A life on the streets is still a life. Although we've come across many tragic stories and disillusioned people, we've also learned that not everyone living on the streets has given up on life. They have dreams, they have passions, they have friends, they have talents. Adam told us about his vision of running poverty tours to educate people about homelessness and finding sponsors for shelters and other services. Tony loves the blues and plays the harmonica, the piano, and the guitar. William carves things out of soap stone and sells them at English Bay. We even met a man from Labrador who has hitchhiked across the continent; his next destination was the Yukon. He recounted his adventures with such joie de vivre that I couldn't help but feel a little envious of his freewheeling spirit.
We are often asked what inspired us to start the SIDEWALK supper project. I think it comes down to this. We decided to take some things we do well—cooking tasty meals and sharing stories—and found a way to use them towards doing something positive in our community. And that's our message. Perhaps feeding the homeless isn't your cause and cooking isn't your thing. That's perfectly fine. I am certain that there's something you can offer to help a cause that's important to you. Every little act of positive change makes a difference. Ripples become waves.
It has been an eventful and eye-opening year. More than ever, we believe in the power of a good meal to bring people together. We hope you follow along as we share many more to come.
About SIDEWALK supper project: We're a group of young West Enders bringing the warmth of our kitchen to the streets, feeding the homeless with home-cooked meals and sharing their stories along the way. 100% non-profit. 100% love.