The average rent in privately owned single-room-occupancy buildings in Vancouver could increase by 37 per cent by 2029 if city council does not implement measures to prevent the further escalation of rents in the historically cheap form of housing.
That is a projection in a staff report that goes before council Wednesday and warns that such an increase would likely see more tenants end up on the street. The buildings — commonly known as SROs — are considered housing of last resort for the city's most marginalized residents.
The 37 per cent hike is based on the current trajectory of increases, with staff estimating the average rent recorded at $561 per month in 2019 will reach $769 in 2029; the current shelter rate for tenants on social assistance is $375 per month.
Many rents in private SROs, which are predominantly located in the Downtown Eastside and require tenants to share bathrooms and a kitchen, are already unaffordable for low-income people, with some paying $1,000 or more per month.
"In 2019, we found only 77 private SRO rooms are still rented at the shelter rate of income assistance, and over 700 rooms are now renting at over $700 a month," said Allison Dunnet, a city senior planner, at a media briefing last week.
'Not a unique scenario'
Dunnet provided a case study as an example of the worsening trend, pointing to a 17-room SRO that rented to low-income tenants for $380 to $400 a month between 2011 to 2014.
The building sold in 2014, with the new owner conducting minor repairs that Dunnet described as cosmetic in nature. By 2015, many tenants moved out after the average rent increased to $562 per month. By 2019, that average jumped to $750 a month.
"This case is not a unique scenario," said Dunnet, noting 39 private SROs sold on the private market between 2010 and 2019.
What Dunnett and staff are proposing to reduce increases in SROs and stop speculation on the buildings is to allow marginal rent hikes to a room once a tenant leaves. Calling it "vacancy control," the policy would look like this:
• SRO rooms that rent at or above $500 a month would be permitted a rent increase following a change in tenancy by an amount equal to the inflation rate.
• SRO rooms that rent below $500 a month would be permitted a rent increase following a change in tenancy by an amount equal to five per cent, plus the inflation rate.
Limitations attached to the policy would only allow a rent increase once per year, regardless of the number of tenancy changes during that period. The allowable increases would also include the Residential Tenancy Act-approved rent hikes applied to the room in the same year.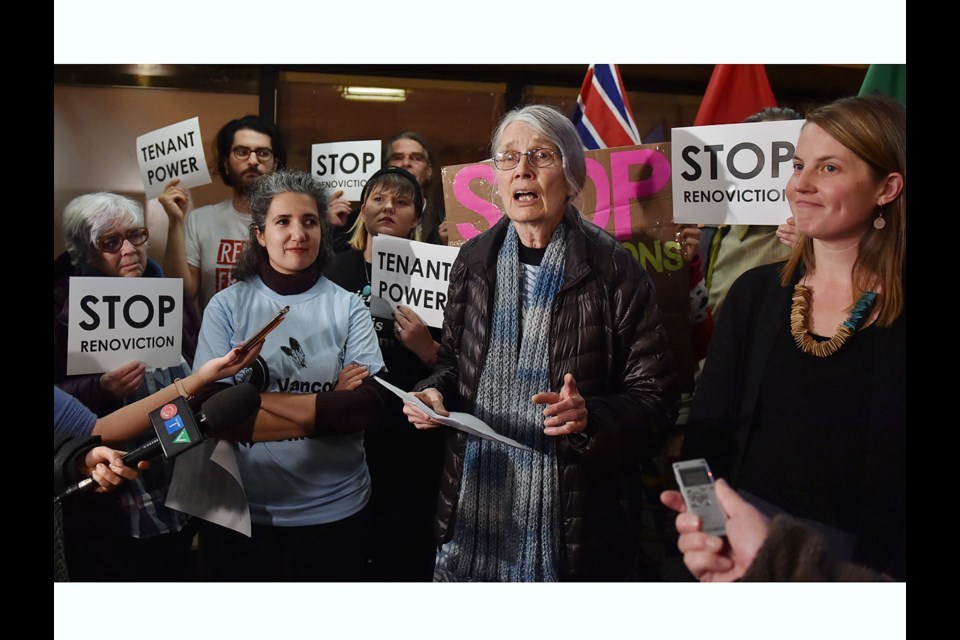 Coun. Jean Swanson fought for years prior to being elected in 2018 for such a policy. Swanson said she will support staff's recommendation, adding that it was overdue in a city with an estimated 750 people living on the street.
"I'd like it if there was no increase on tenant turnover, but I'm not going to quibble about five per cent," she said. "It will be really important to stop the flow into homelessness."
Longtime housing activist Wendy Pedersen, who is the executive director of the Downtown Eastside SRO Collaborative, said vacancy controls will bolster previous policy implemented by council in 2005 to slow the conversion of SROs to condominiums, offices and hotels for tourists.
"This is what we've been asking for since 2005," said Pedersen, noting that she and Swanson produced their own reports for several years on rent price escalation in private SROs in an attempt to get the attention of city hall. "It took them so many years to finally get on side that this was happening."
SRO rents up 73 per cent since 2003
Pedersen's group issued a news release last week to announce support for the policy and included comments from SRO tenant Richard Schwab, who currently pays the $375 shelter rate at a private SRO.
"But if I lose my housing, the landlord can raise the rent as much as he wants," Schwab said. "New people moving into my building are already paying $575 per month. Once the landlord gets a bunch of rooms to rent at $600 per month, he could sell the hotel to the next guy who will try to get rents to $1,000. I've seen this happen in other buildings."
The city staff report noted that average rents in private SROs have increased 73 per cent since 2003, while the shelter component for tenants on social assistance has gone up by 15 per cent.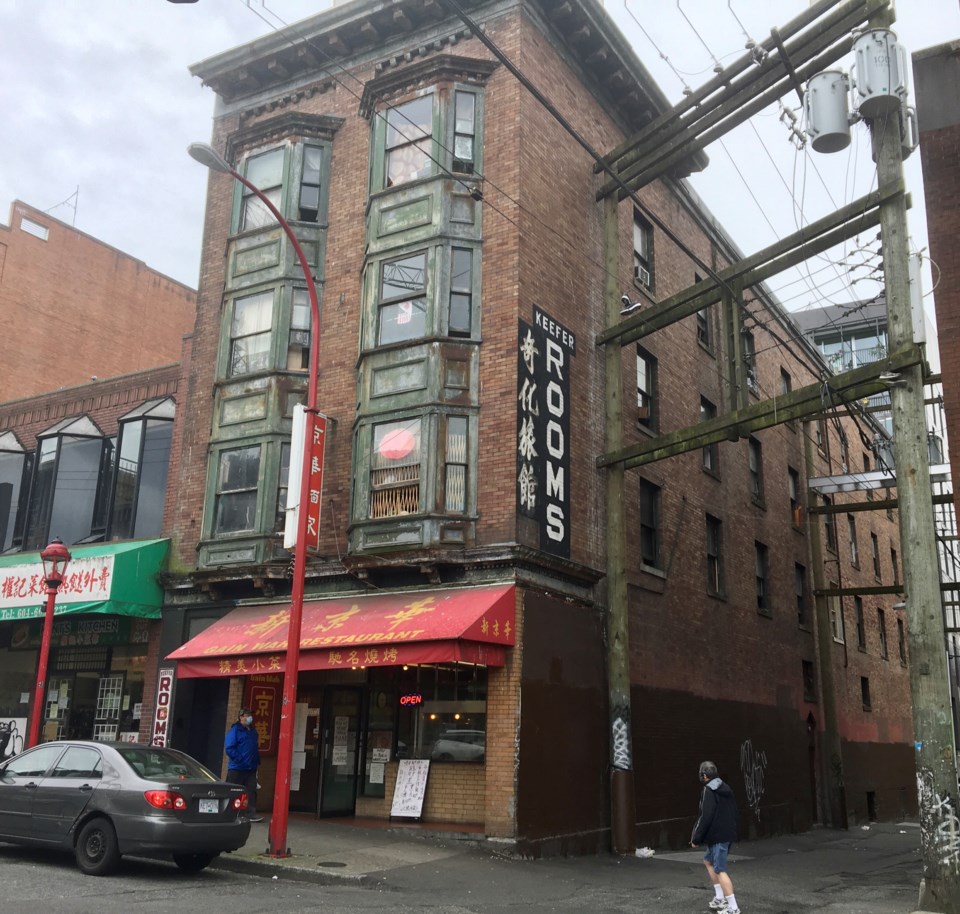 Christopher Wall owns eight SRO buildings in Vancouver, including the 98-room West Hotel, the 76-room Hotel Empress and 88-room Avalon Hotel. The Keefer Rooms, United Rooms, the Arlington, Laurel Apartments and the former York Rooms are his other buildings.
Wall said the average rent across his properties, which total about 500 rooms, is $595 per month. But some of his tenants, he added, have paid the $375 shelter rate for 15 years.
He called vacancy controls "a terrible idea."
"They're terrible because what they do is remove incentive for private owners to improve their buildings," he said. "So in the end, the tenant loses. If you remove the incentive, which vacancy controls will do, you're going to end up with a terrible room that's going to remain terrible."
'Great managers'
He said all his costs continue to rise, whether it be insurance, property taxes, security, building materials, fire prevention and pest control services. Controlling rent hikes could lead to cutting services in his buildings, he said, presenting a scenario where a longtime tenant paying $375 either moves out or dies.
"I wouldn't be able to raise the rent in that $375 room any more than five per cent," Wall said. "If it's got a dirty toilet and a dirty sink and a disgusting floor, those three things will stay in place because I'm not going to be able to afford to go in and do the things that we've done in all my buildings, which are things like a new toilet and a new sink and a new floor."
Added Wall: "I could rent to anybody I want, but we've tried to keep our rents reasonable for people [on low incomes]. In retrospect, maybe we should have charged $800 a month."
Wall's solution is to have the provincial government buy the private SROs, which is something BC Housing and the city — to a lesser extent — have been doing over the past two decades and are on record of wanting to expand that inventory of rental housing.
"We consider ourselves to be great managers down there [in the Downtown Eastside]," Wall said. "It's upsetting to me that a policy like this would erode a lot of the good work we've done. I'm not in support of vacancy controls. If the city wants to reduce rents in SROs, I believe the solution is for government to actually purchase the buildings."
Wednesday's council meeting begins at 9:30 a.m.