Access to the Pacific Highway border crossing in Surrey remains limited Monday following a volatile weekend of protests that resulted in four arrests.
The border itself is open, confirm the Surrey RCMP in a media release, however the authorities indicate "protest activity in the area has made it necessary to divert vehicle traffic to alternate border crossings."
"Currently, there is no access to 176 Street south of 8th Avenue. In addition, 0 Avenue is blocked at 184 Street to westbound traffic. Police continue to work with area residents to keep the neighborhood near the border to local traffic only."
Those seeking to cross by foot are urged to try another route. Peace Arch crossing remains open.
"Road closures remain the same as yesterday," a media representative for Surrey RCMP told V.I.A. by email early Monday morning.
At that time, Washington State Department of Traffic cameras showed police vehicles are also blocking access to the SR 543 Blaine crossing into B.C. on the U.S. side.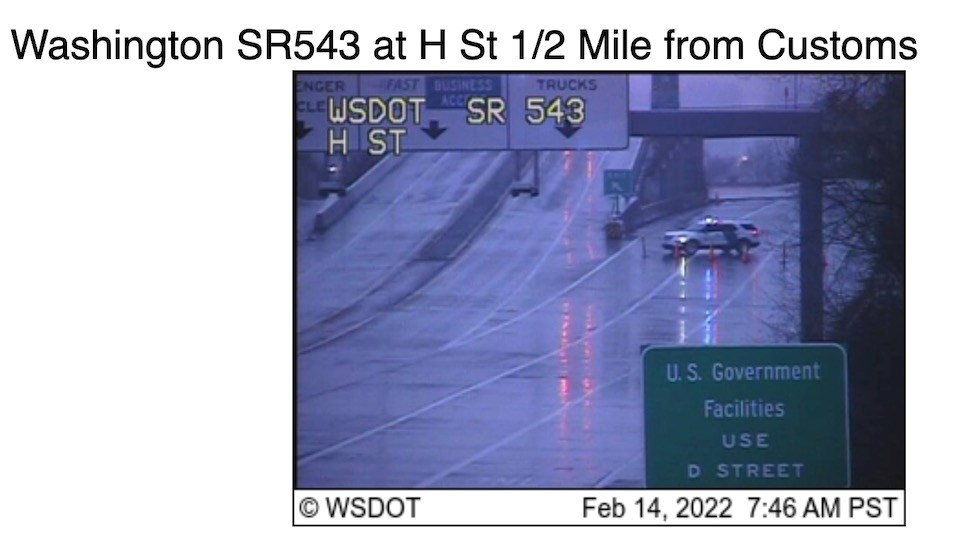 On Sunday, anti-vaccine mandate protesters formed a blockade at the border crossing, which connects Surrey to Blaine, Washington.
The crossing is a popular alternative to Peace Arch and is the crossing for commercial truck traffic.
At about noon Sunday, police took action at the site of one of the border blockades created by the protesters. Mounties arrested four people for "mischief," according to a press release from police.
Monday afternoon, Surrey RCMP noted it is working with other provincial and federal RCMP units as well as the Canada Border Services Agency in response to the ongoing situation at the border. "Enforcement action is continuing today and officers are engaged with protesters in the area," the RCMP said.
"The RCMP respects the right to peaceful protest but unlawful activity will not be tolerated. Investigations into unlawful activity, including dangerous driving that occurred over the weekend are ongoing," add surrey RCMP.
Over the weekend I was on scene to support policing operations and to assess the situation on Highway 15 firsthand. I understand the frustration of the public who wish to see this situation end, said Brian Edwards, Officer in Charge of Surrey RCMP. I want to assure our community that I am committed to seeing this situation resolved safely, peacefully and as soon as possible.
With a file from Brendan Kergin