Mayor Kennedy Stewart has promised to create non-police service teams to respond to situations in the city where homelessness, mental illness, addiction — or all three social issues combined — are causing concerns for residents and business operators.
Stewart announced the proposed Health and Addictions Response Team, or HART, at a news conference Tuesday (Sept. 20) from the rooftop of a building on East Hastings Street, which provided a view of the human tragedy below in the corridor.
"HART will enable residents and businesses to call 311 to dispatch specialized teams to compassionately assist those in difficulty," the mayor said.
"Right now, people don't know who to call when they encounter someone in the doorway of their business, sleeping in the park or in an obvious state of distress. They all want to help and many feel the only option is to call 911 and ask for the police."
Stewart, who is seeking re-election and running with six council candidates under the Forward Together banner, said being homeless or living with a mental illness is not a crime.
"Most of these situations are not emergencies," he said. "What is most often needed is de-escalation, immediate food, water and clothing and connecting those in need to existing provincial services such as emergency housing, health care and income assistance programs. HART fills this gap."
Program's initial cost will be $5 million
Stewart said an initial allocation of $5 million would be included in the city's 2023 budget and drawn from the existing overdose crisis contingency reserve fund established by the previous council in 2017.
The mayor's proposal calls for 25 staff to be deployed.
"HART team members will not carry weapons," he said. "Instead, they will de-escalate situations and provide care using a cultural, gender and trauma informed approach. These teams will also work with existing community peer programs to build trust and connect those in need."
Stewart said the team would take pressure off Vancouver police officers, who respond to approximately 700 calls per day, many of them not related to Criminal Code offences. The team would also alleviate the workload of firefighters, he said.
Similar programs exist in other cities in the United States, including a mobile crisis intervention service in Eugene, Ore. called Crisis Assistance Helping Out On The Streets, or CAHOOTS. The mayor said that program has shown to save lives and dramatically reduce costs.
The mayor's pitch for the program comes seven months after city council agreed to spend $665,000 over 21 months on an experiment aimed at responding to concerns in three Vancouver neighbourhoods related to street disorder, public safety and homelessness.
The initiative, which council passed unanimously March 2, is called "Better Together: Neighbourhood Collective Action Project" and focuses on Mount Pleasant, the Olympic Village and the south end of downtown, which includes the Granville Street corridor and Yaletown.
The project's goal is to enhance and improve neighbourhood-based responses to matters such as poverty-related street disorder — often fuelled by people living with a mental illness, a drug addiction, or both — that typically are dealt with by police.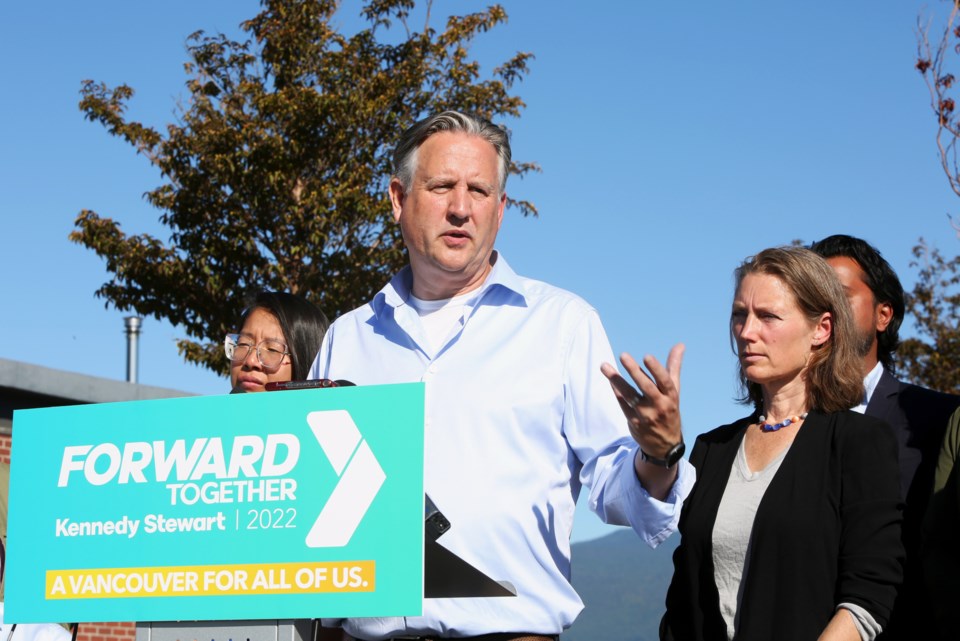 VPD trespass prevention program
The Vancouver Police Department is currently operating a "trespass prevention program" for business owners and apartment building managers. The program allows police at any hour of the day to access private properties if an unwanted person has for example set up a place to sleep in an entranceway or was participating in such activities as drug use.
A report to the Vancouver Police Board earlier this year said the program decreased issues at numerous businesses. It also assisted individuals with accessing shelter, dry and warm clothing, food, washrooms, housing and mental health care, the report said.
Asked if the two programs would conflict with each other, Stewart said "the whole idea here is to have a separate service" and complement other programs, including outreach work currently done by city workers.
He said he had a meeting scheduled with Police Chief Adam Palmer after the news conference to discuss his proposal, which would only be implemented if Stewart wins his re-election bid and gets the support of the majority of council.
'Someone to talk to the person'
Sarah Blyth, executive director of the Overdose Prevention Society, spoke at the news conference in support of the mayor's proposal, saying such a service is needed, particularly in the Downtown Eastside.
"A lot of times all we need is someone to talk to the person and calm them down," Blyth said. "If someone says they're going to commit suicide, you need someone to come and help de-escalate the situation. The last thing that you need is police officers attending because sometimes that can be really challenging."
Michael Tan, a Chinatown community advocate, said the mayor's proposal is similar to the Chinatown stewards program, which was set up in 2019 through EMBERS, a community economic development charity in the Downtown Eastside.
The stewards serve as liaisons between shopkeepers and people loitering or using drugs in front of stores. Helping tourists navigate the area is also another role played by the stewards, who are seen as diplomats in the community.
"Police have a role to play in the neighbourhood in terms of addressing safety," said Tan, who also spoke at the news conference.
"But we have to support the police by utilizing programs to let them focus on crime. This 311 expanded program — HART — I think has a lot of potential to help these businesses and make sure that they can continue to thrive in the neighbourhood."
The mayor's idea was quickly panned by Bill Tieleman, a council candidate for TEAM for a Livable Vancouver, who posted a video on Twitter with his comments.
"We have a shortage of mental health workers, we don't even have enough police," said Tieleman, whose party wants a commissioner hired in the Downtown Eastside to conduct an audit before more money is spent on new programs. "We're wasting a lot of money and not solving the problem. It just gets worse and worse."
Progress Vancouver mayoral candidate Mark Marissen has also called for an audit.
ABC Vancouver has promised to hire 100 police officers and 100 mental health nurses over four years, if the party led by Ken Sim elects a majority Oct. 15.
@Howellings