The question posed to Geoffrey Bordas, who stood on a sidewalk Tuesday (Aug. 2) in front of a tent he pitched near the corner of Columbia and East Hastings streets, was this: When was the last time he had a place to live?
His answer: "Six or seven years ago. That was in Vernon."
That's when the 37-year-old former chef was renting a house with his wife. At the time, he was employed at a local Best Western hotel before moving on to cook at a camp in Alberta.
He later operated his own food cart, selling sausages and perogies. He called it G.B. Express and set up outside nightclubs, at baseball games and at car shows to gain customers.
"Within six months, I put my competition out of business," he said proudly.
Then his life took a turn.
He said it involved a falling out with his wife over money, followed by a fire that destroyed the house he lived in. With little money and no job, he eventually found himself on the streets, where he developed an addiction to drugs.
Bordas ended up in Abbotsford before continuing on to the Downtown Eastside.
"I know it's a monster," he said of his addiction. "I know it's had an effect on my life and I want to be done with it. I never wanted this, but here I am."
What Bordas wants is a home, where he can get clean and back to work.
For now, he has settled for a tent and a part-time job with the Overdose Prevention Society, where he hands out supplies to drug users.
Fire chief's order to clear out Hastings Street sidewalks
He is one of the dozens, if not hundreds, of people who live in tents and makeshift structures up and down the East Hastings Street corridor, with the growing encampment triggering Fire Chief Karen Fry to recently order the sidewalks to be cleared.
The order is focused on "the unit block West Hastings to 200-block East Hastings and surrounding vicinity," which has long been an area home to visible poverty, with drugs, mental illness and trauma at the core of the human tragedy.
The chief announced the order July 25 via a City of Vancouver news release, citing "numerous urgent safety concerns" along the strip, which involve the accumulation of combustibles and unsafe storage of propane and other fuel sources.
860 fires to date this year in DTES
So far this year, firefighters stationed at three halls in the neighbourhood have answered more than 860 fires in the Downtown Eastside, including one last month at the Vancouver Street Church in the 100-block of East Hastings Street.
"Should a fire occur in the area in its current condition, it would be catastrophic, putting lives at risk and jeopardizing hundreds of units of much-needed housing," the city's news release said.
Initially, the order stated the sidewalks must be cleared by July 27.
The order was then amended to have city staff provide tenters with information from July 27 to Aug. 2 about plans to have tents removed.
From Aug. 3 to Aug. 8, city staff will be available "to support removal of the highest risk structures," according to an email Tuesday from Capt. Matthew Trudeau, a media liaison officer with Vancouver Fire Rescue Services.
Then from Aug. 9 onwards, city staff "will take a block-by-block approach to support removal of remaining structures," Trudeau said.
Bordas and his friends in the neighbourhood want to know where they're supposed to go, noting he used to sleep in doorways and alleys before pitching his tent.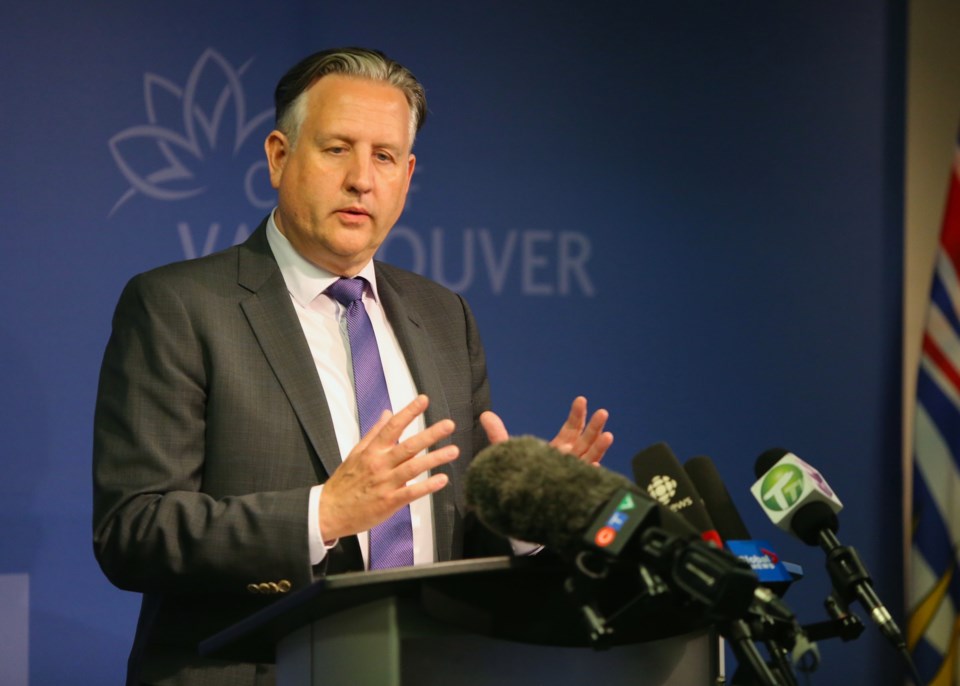 'As many people housed as possible'
It was a question reporters posed to Mayor Kennedy Stewart July 29 at a news conference at city hall.
"I had an extraordinary meeting with a large number of nonprofits the other day asking them, as well as BC Housing, to re-examine their housing stock to see if there are empty units that we can use," Stewart said. "We have found a number, but we're not confident at the moment we have enough space for everyone there."
The mayor continued to explain that many people on the strip live in single-room-occupancy hotels but choose to be outside because of the poor ventilation and conditions of the buildings, which the city wants to acquire and renovate with the help of the federal government.
For now, Stewart said, the fire chief's order is a priority.
"We have to protect people from very life-threatening circumstances while at the same time working with everybody involved — nonprofits, provincial and federal government — to get as many people housed as possible," the mayor said.
The order comes as crime and tragedy continues to occur at a steady rate in the Downtown Eastside, with a couple being slashed with a machete in June near Main and Hastings and a woman being lit on fire July 25 on Dunlevy Street.
Over the long weekend, police shot a man at Columbia and East Hastings.
Police said a man carrying a weapon struck an officer in the head through the window of cruiser. Police first fired a Taser at the man before stopping him with bullets. The man, who survived the shooting, has since been charged with aggravated assault.
'It eats at your humanity'
In the lead-up to the fire chief's order, tension had been building between people living on the sidewalks and police-escorted city crews, who Bordas and anti-poverty advocates say routinely disposed of people's personal belongings.
He told a story about having his table full of goods at the Downtown Eastside market taken and thrown in a garbage truck.
"I went in to help one of my friends in a wheelchair load up her stuff from the market and I come back out and my stuff is gone — the entire cart," said Bordas, noting he was earning about $150 per day for selling clothes and other items he recovered from dumpsters. "It eats at your humanity when it keeps happening."
Vancouver police stopped escorting city crews July 1, which led to a noticeable increase in tents and garbage in the corridor, with areas of the sidewalks now difficult to maneuver.
Twelve days later, the city issued a public statement to apologize for the loss of unhoused people's personal belongings.
"Our frontline street crews are trained to remove material that has been abandoned – not to remove items that are clearly personal belongings," the statement said.
"We sincerely regret and apologize for any harm and trauma that has been created as a result of this work and recognize important items have been discarded."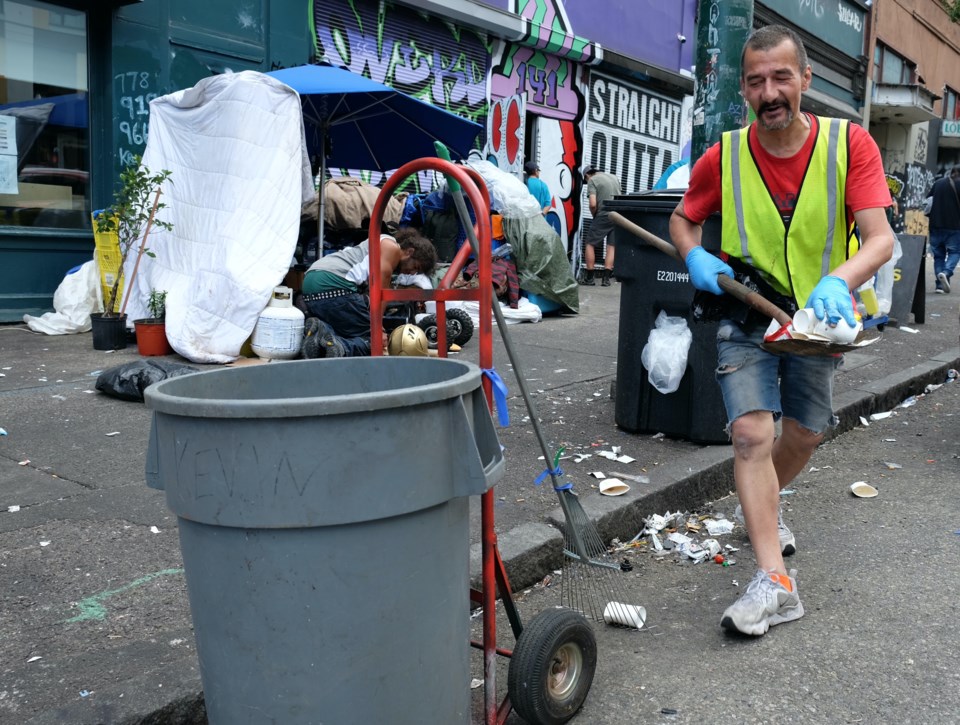 Community cleaning crews
The city has since made efforts to work with community groups to assist in keeping the strip clean, with the Overdose Prevention Society's Matthew Paris a paid benefactor of that relationship.
On Tuesday morning, Paris was busy with a rake, shovel and garbage can cleaning the sidewalk and gutter in front of the society's drug consumption site at 141 East Hastings St. The former construction worker and others have been piling up garbage on a nearby street for city crews to pick up later in the day.
"I'm spotting the big problem areas where there's lots of garbage," he said, noting his efforts have inspired others to assist in cleaning the sidewalks. "I'm letting people know where to take the garbage. They can take it [to the drop-off spot], or just leave it in a bag and I'll take it there myself."
Paris, too, has lost personal belongings to city crews.
"Down at the bank building at Pigeon Park, I took my jacket off and put it on a park bench while I was working and they took it," he said.
Listening nearby is Sarah Blyth, executive director of the Overdose Prevention Society, who is hoping some middle ground can be reached between city officials' concerns about fires and people living on the street.
"Honestly, if community gets itself in a situation where we get the right amount of resources to get people like Matthew helping out and get some big garbage containers here, I think we can get this situation to a point where we can have a balance where some people can be living here until they get housing," Blyth said.
"Everybody was caught off guard by this [order]. We weren't prepared. So while we get prepared, let's not do anything drastic."
'On short notice'
BC Housing, in a statement Tuesday, also questioned the urgency of the fire chief's order and how the agency made it clear to city officials and others that there isn't enough housing to accommodate the people on the street.
"Right now, space is tight in Vancouver, though we have a limited number of available shelter spaces that we are working with outreach partners to make available to people experiencing or at risk of homelessness, including those on Hastings Street," the statement said.
"We continue to very actively pursue all new opportunities to secure additional housing in Vancouver, but we were clear with the City of Vancouver and Vancouver Fire Rescue Services that, on short notice, we do not have access to large numbers of new spaces in Vancouver to accommodate the timing of the emergency order."
The statement came the same day that BC Housing's longtime CEO, Shayne Ramsay, announced that he was retiring in September. In announcing his retirement, Ramsay expressed his frustration with the current state of the city.
"I think the shooting on Hastings Street, surrounded by the encampment and during another heat wave finally did it for me," he said via Twitter. "I no longer have confidence I can solve the complex problems facing us at BC Housing."
'This tent is my home'
Bordas, meanwhile, said he's concerned the growing hostility on the street will ignite when city officials begin to attempt to remove tents.
"Everybody is on edge down here," he said.
When and if officials get to Bordas' tent, they will see a notice hanging on the front flap that was made by Pivot Legal Society.
It reads: "This tent is my home. It is a dwelling-house, a private residence where I live. I do not consent to anyone, including law enforcement, to open, enter or look in my tent without my express, written, permission. I have a reasonable expectation of privacy in my tent protected by section eight of the Charter."
Bordas took offence to the fire chief's concern about propane and other household items stored in some tents, which he said can be found in many people's homes.
He suggested there should be storage facilities for people's belongings and have communal areas set up for toilets, showering and cooking.
It's the least city officials could do to give unhoused people some dignity and until housing becomes available, he said.
Because right now, he added, it's pretty clear what's going to happen to people like him and others living on the sidewalks.
"No one's going to go anywhere," Bordas said. "You're just going take one step to the left and rebuild your stuff and start going at it again and be more pissed off. And the next time it happens, it will be even worse."
Update: The City of Vancouver contacted Vancouver Is Awesome via email late Wednesday afternoon to say:
"The City has heard from those sheltering outdoors that having a place to potentially store their belongings is important. The City is finalizing storage options to secure people's personal belongings before we begin structures removal. This essential storage is expected to be secured by the beginning of next week, meaning removal of structures will now begin next week and will include City staff support for the removal of structures."
@Howellings