The last time I talked to somebody from BC news website The Tyee was back in 2013. It was soon after they published a personal attack about me and how I was a "shill", unfairly likening me to someone who "masquerades as an ordinary customer in the marketplace and is compensated to sing the praises of a product or service". I've written about transparency and how we deal with sponsorships, and if you haven't read it you can catch up here.
The piece was unfair and unbalanced, and there was some major irony in the timing of it as we were right in the middle of supporting The Tyee's Master Classes, a series of workshops they do which help them raise money to stay in business and continue to publish articles like the one mentioned. With insight from Tyee contributors and colleagues the classes are meant to breed better journalists, and we came on board as a sponsor giving them a substantial amount of free advertising in support of them. I remember it being in the range of a couple thousand dollars worth but it could have been hundreds (the exact amount isn't relevant). Yet while the right hand was shaking ours thanking us, the left was hammering out a personal jab at me without bothering to pick up the phone and get my thoughts. Sure the writer, Shannon Rupp, cherry picked a few choice quotes from me that had previously been published elsewhere (mostly on our blog) but this unexpected left hook from them really hurt. She twisted the knife by tweeting me a link to the piece after it went live, when she could have (should have?) reached out while working on it. I wondered what they teach about this sort of practice in their Master Classes, and if she had attended.
Now I don't think that simply because we were helping them with a donation to their program that they shouldn't have written a piece critiquing me. We shouldn't have been shielded from an angry opinion piece, silencing the writer's journalistic freedom simply because we were greasing their wheels. But I was definitely upset and feeling like I wasn't given a fair shake.
So I called their Editor-In-Chief at the time, David Beers, and for the first time in my life I yelled at somebody over the phone. I let him know how unfair I thought the piece was, and that it would have been nice if they would have given me the opportunity to speak to some of the points before it was published. He offered his apology, doing his duty as EIC and accepting the fault as his own, and he told me that the article was just "Shannon being Shannon" which I took as "Shannon stirring the pot as we know her to do". He appeased me with some minor edits to make it feel a little less defamatory and offered me space on The Tyee to share my side of the story. I soon forgot about the whole thing but was reminded of it when I wrote this recent piece comparing The Tyee to Vancity Buzz, and planned to do a followup. I figured I should lay it out so you have the history of my relationship with the publication.
Now you've got the backstory, and hopefully you had a look through the original comparison piece which surprisingly got 7,500 reads. These inside baseball stories about publishing in Vancouver have turned out to be something you readers are actually interested in, so I'll continue writing them. However some folks at The Tyee were not interested in my categorizing them with the disruptive upstart.
Their parliamentary reporter tweeted me his thoughts...
Their managing editor also reached out...
Then their editor Robyn Smith sent me an email thanking me for the piece, but wanting to clarify a few things. First, that the traffic numbers I had were wrong and that they actually get an average of 850,000 page impressions per month. I certainly concede to that as the data I had (below) was taken from Similarweb, not either of the websites' official word on the issue but as accurate of a view as you can get from the outside. It does paint a fairly accurate picture of the ratio of one's traffic to the other as Vancity Buzz claims 6.3m page impressions per month.
She also wanted us to know that "[Vancity Buzz's] model is almost totally based on ad revenue, which depends on growing traffic any which way. Ours is increasingly based on reader contributions, and we are having great success. Tyee 'Builders' have gone from providing 10 per cent of our budget in 2012, to 25 per cent and growing today.".
25 per cent is an amazing number for reader-supported journalism, especially considering they raised a whopping $250,000 last year. That means that The Tyee's annual revenue is around a million dollars. This Canadaland article about Vancity Buzz has them quoted as saying they bring in "six figures" per month, so it stands to reason that at the very least they're bringing in just a little bit more annually. Here's a comparison of an estimate of each outlet's revenue versus page impressions.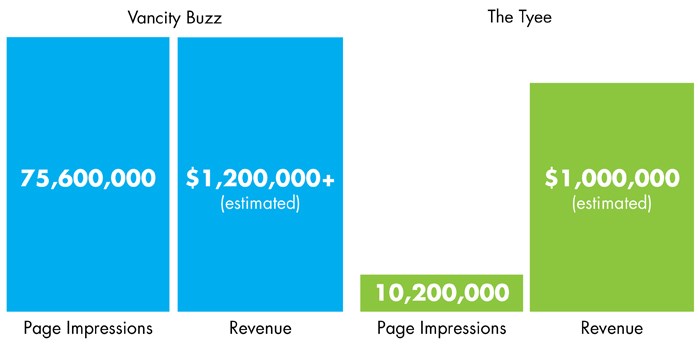 Where does that money go? Robyn tells me that in terms of employees they have "Eight full-time, a few part-time, several regulator contributors, and many occasional freelancers. We pay all our writers, with the usual exceptions of unsolicited opinion editorials.". As they're not turning a profit, that means that last year they put a million bucks into producing high quality news for readers all over BC. They may not have the traffic that VCB does but they're certainly running a quality-over-quantity model. And I have no idea if VCB is turning a profit at this point but intend to give them their say in an upcoming piece, if they'll speak with me about their business.
In my original piece I wrote that The Tyee's presence on Facebook was "paltry" in comparison to Vancity Buzz whose following is much larger. That's the truth; theirs is 4% of VCB's at 10,700 Likes compared to 267,000, however their long game may be 400% stronger. Right now Facebook is king when it comes to traffic generation but if you ask any good strategist these days they'll tell you that a strong email list is the most important part of the content marketing equation. From Robyn, "Email newsletters are [The Tyee's] largest single source. Otherwise a mix of direct, social, and search."
In terms of being a competitor to VCB, Robyn doesn't contest it. She says "We believe our business model is built to last because it is diversified, and bets on readers who discern quality and independence and are willing to pay for it.". Of their closest competitor she notes that "Vancity Buzz relies on volume for growth. It's part lifestyle blog, part current events listing, part news aggregator, and it produces a large number of short hits every day to feed that growth.". Where the two end up remains to be seen, but they both appear to be growing.
I wanted to write this followup piece for a number of reasons. First because I wanted to give The Tyee an opportunity to have their say as, like the article I mentioned that they published about me, I didn't reach out to them before publishing that first one (I suppose you could say that one was just "Bob being Bob"). Second because I wanted to stand behind my point that they are Vancity Buzz's only serious competition when it comes to independent, digital-first news properties in Vancouver. Third I wanted to offer hope that they aren't the only two sources of news out there, and that while there are layoffs happening at a number of major publications there is still hope.
Global BC is absolutely killing it online. Everybody reads Global stories that they see pop up on Facebook; they offer such a broad range of relevant news stories and have developed a massive following to get it out there. CBC has a renewed digital strategy and have built a solid base, getting many Vancouver-centric stories out to us online. The Huffington Post publishes a number of Vancouver and BC-centric stories from their office here. The Georgia Straight has a robust news offering beyond their entertainment stuff. CTV? Awesome, with a decent reach. All of the local radio stations are on Facebook and Twitter and are constantly pumping out stories. Last but not least, the legacy media companies like The Globe and Mail, and Postmedia who runs the Vancouver Sun and The Province; all of the newspapers have a massive readership online that should not be discounted regardless of the amount of cuts that they continue to make.
While there may not be too much competition between digital-first news organizations Vancouver isn't hurting for news outlets that keep us informed on the issues. There's certainly room for more but there are more than two players in the game.
This is part of an ongoing series where our founder is taking you behind the scenes of our organization as well as looking at other media companies in Vancouver. With 19 years experience in online publishing, he's lifting the veil to give you a better understanding of the business of it. Read more:
- Here's what the Sponsored Content on our site supports
- Vancity Buzz Has No Competition