The organizer of an annual cannabis protest in Vancouver says a similar event planned for Canada Day won't move forward due to a lack of interest.
Robert Moore founded World Cannabis in 2014 with a couple of other marijuana advocates in Vancouver but is now the sole proprietor of the organization. He organizes several pot "protests" throughout the year, including the massive gatherings on Sunset Beach on 4/20 and Canada Day.
While the events are unsanctioned, Moore typically charges participating vendors for the use of assigned spaces near the beach. He told V.I.A. in a previous interview that events like 4/20 are non-profit and all of the money taken from vendors is considered "donations" to support the protest.
Several of the vendors at this year's 4/20 event felt Moore deceived them by promising specific locations for their booths and charging different prices based on their proximity to the stage. Vendor spaces were priced based on location, starting at $200 with "preferred" vendor booths selling for $500 if they were purchased early. After the initial tickets were sold, vendor prices changed from $400 to $600 based on location.
Due to significant rainfall this year, on April 20 vendors could not access the "preferred" space that they had paid for. Many of them told V.I.A. that Moore initially refused to give them refunds, suggesting that they move to another area. Vendors did not get a contract when they purchased space.
Vancouver Lawyer Kyla Lee told V.I.A. that collecting money for space at these events without a permit is illegal.
World Cannabis planned to sell more space at unsanctioned event on Canada Day
Despite the backlash over the 4/20 event, World Cannabis planned on having another event on Sunset Beach on July 1 called "Canada Daze."
On its website, World Cannabis shows pink and purple spaces vendors could purchase for the now-cancelled event, with prices ranging between $100 and $200.
The listing states that the money is considered "donations" but notes that there are "no refunds."
While the spaces on the beach say the words "free zone" over them in a large black rectangle, all of the spaces are technically free since the event is unsanctioned
The Vancouver Board of Parks and Recreation told V.I.A. that it was aware that cannabis events are planned for July 1 but underscored that they are "unpermitted, unsanctioned events."
Park Rangers will monitor busy areas around the city on the holiday to "support public safety," the Park Board added.
Vancouver Police Department (VPD) Const. Tania Visintin tells V.I.A. that police are aware of the events planned around the city on July 1.
"We can't get into operational plans, as we never disclose those. We will have officers in the area monitoring should anything arise," she said.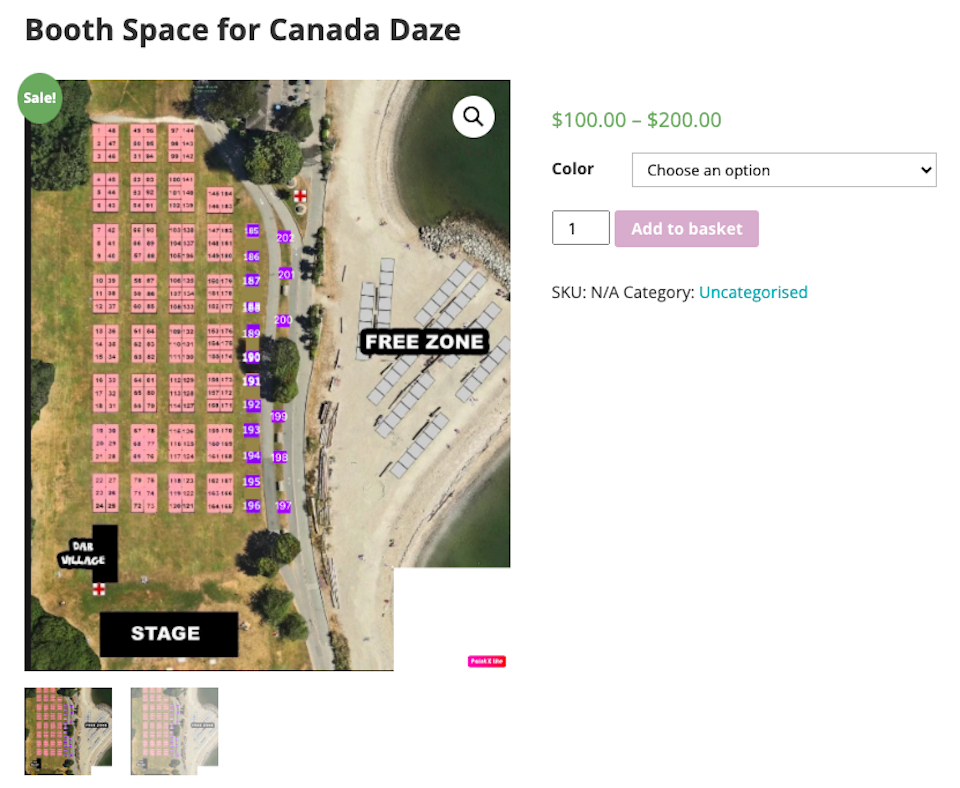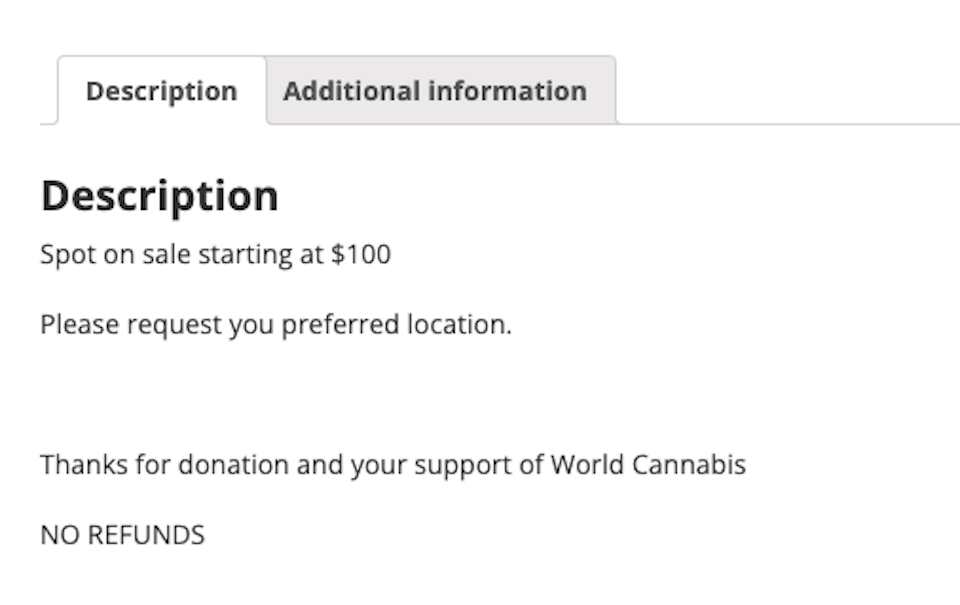 World Cannabis cancels Canada Daze event in Vancouver
World Cannabis eventually called off its Canada Daze event, citing low interest and threats of higher fines from police, Moore told V.I.A.
The Cannabis Substitution Project, a group that helps people who use opioids and other street drugs transition to marijuana edibles, will host an event on the same day called Cannabis Day. The event is also unsanctioned.
Co-organizer Rosie Rurka said the group's approach to its event is centred around helping people with serious substance abuse disorders and removing low-income barriers to accessing cannabis products. Rurka explained she used heroin for 15 years and got clean by substituting the opiate with marijuana edibles.
Cannabis Day vendors will sell a variety of goods at the event and not all of them will include cannabis products. Some of the other popular items for sale include tie-dye clothing, jewellery, music bowls, and food, explained Rurka.
"I don't want anyone selling alcohol or hard drugs. If I catch wind of it, they're out," she added.
Rurka said about 12 people have sponsored the event this year. One man paid for a big banner that cost around $200, while another man paid $350 for t-shirts to be printed. Someone else sponsored the speakers while her friend Lisa paid for the staging.
When The Cannabis Substitution Project tried to put up a Facebook page for the event, Meta removed it from the platform. However, the group has a flyer on its regular Facebook account that notes the event will kick off in Thorton Park at noon and run until 6 p.m., featuring dozens of musical performances.
Rurka said that she wasn't surprised that the World Cannabis event was cancelled, underscoring that she has she does not charge vendors to sell their products at events. Once they have met the minimum funds needed to host one, the group does not request money from sponsors.
"I'm not trying to have an event where I make money."