Vancouver Mayor Ken Sim announced Sunday that a staff report will go before city council Feb. 14 that recommends spending $2.8 million this year to hire 58 mental health workers — a rare if not unprecedented move by a municipality in a province where the B.C. government is responsible for health care.
The money would come from the $8 million council unlocked in a November 2022 decision to hire up to 100 mental health nurses and workers to address the needs of people living with a mental illness.
"We have an opportunity to set a new standard in North America for a modern and compassionate approach towards addressing the complex and often interlinked challenges regarding public safety and mental health," Sim told reporters from Helena Gutteridge Plaza on the city hall campus.
The proposal requires a two-thirds majority — which Sim's ABC Vancouver has on council — to approve the $2.8 million. The money would then be transferred to Vancouver Coastal Health to begin hiring workers for the 58 positions.
The financial commitment would lead to an expansion of Vancouver Police Department's Car 87/88 program, which pairs plainclothes officers with psychiatric nurses to respond to citizens experiencing mental health issues.
It would also expand VPD-led mental health-related outreach teams that include nurses, social workers, psychiatrists and counsellors.
Sim said some of the money will be used to create "non-police de-escalation services" and "strengthen Indigenous approaches across all VCH urgent mental health services in recognition of the need for more culturally appropriate crisis response services."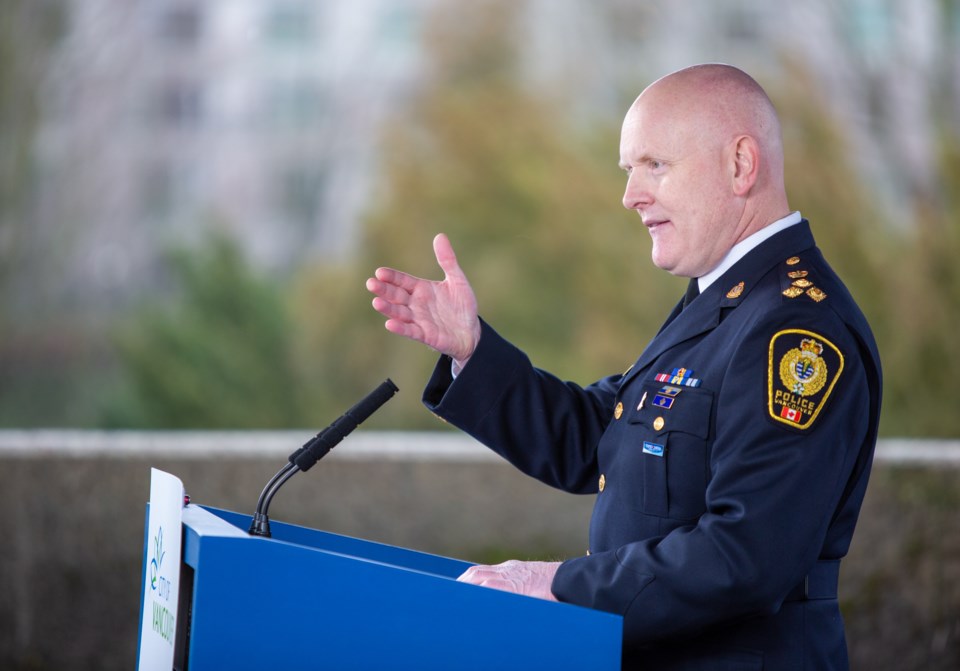 Police Chief Adam Palmer, who attended Sunday's news conference, said the commitment from Sim's council to grant the $2.8 million would help enhance public safety by supporting people who need it most.
"We already know that people in Vancouver with mental health issues are 15 times more likely to be the victims of crime, and 23 times more likely to be the victims of violent crime," Palmer said.
"We've heard many stories recently about violent and unprovoked attacks on our streets. Many of them, sadly, have been committed by people experiencing serious mental health issues in our community."
Non-police crisis intervention teams
Dr. Patricia Daly, VCH's vice-president of public health and chief medical health officer, noted the health authority has a long-standing relationship with the City of Vancouver to work together to improve the health and well-being of citizens.
"And this grant proposal is aligned with that ongoing work," Daly said.
She said the goal of the new de-escalation services — which is a program many people in Vancouver have asked for, including Coun. Christine Boyle and 20 speakers to council at a meeting in November — will be to prevent people from deteriorating into a crisis situation.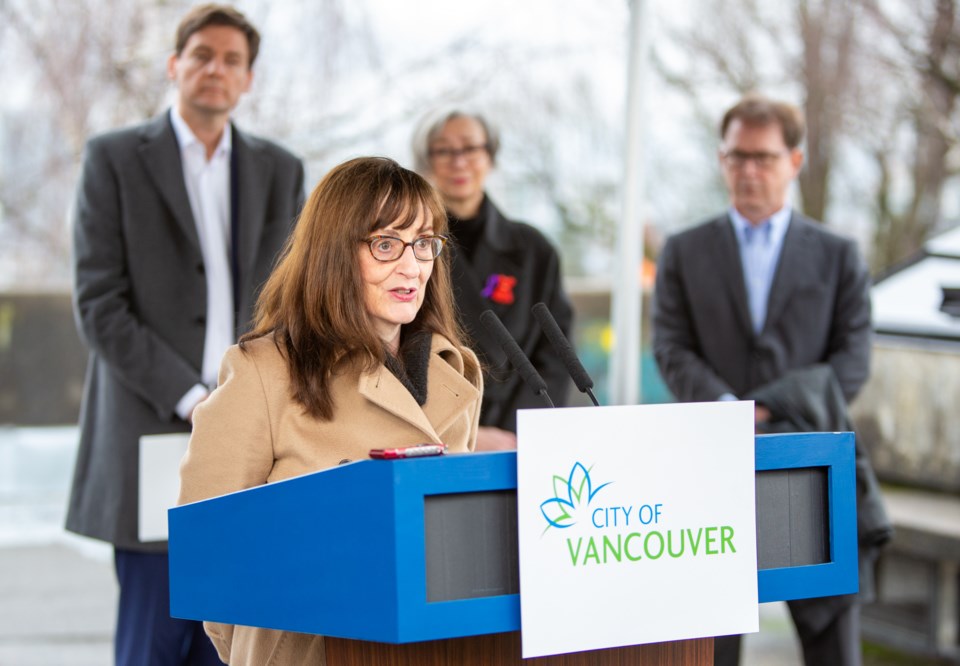 "Future investment will expand services across the care continuum to help integrate those recovering from a crisis into the community," she said, before talking about the importance of the current VPD-led mental health teams.
"A couple of days ago, I asked our psychiatrists who provide medical leadership to car 87/88 and the assertive outreach teams what message they wanted me to give today. They responded that these important programs would not be possible without the partnership of Vancouver Police."
Added Daly: "We could not deploy our healthcare staff or nurses…to high-risk situations without the partnership of highly-trained Vancouver police officers."
Coun. Christine Boyle took to Twitter in response to Sim's announcement, noting she was glad to see the city fund mental health supports that prevent crises from getting worse. At the same time, Boyle said the investment shouldn't come at the expense of other vital city services.
"I'm still worried about how ABC plans to pay for their many expensive campaign promises," she said. "I'll be fighting hard to make sure they aren't cutting other services residents rely on..."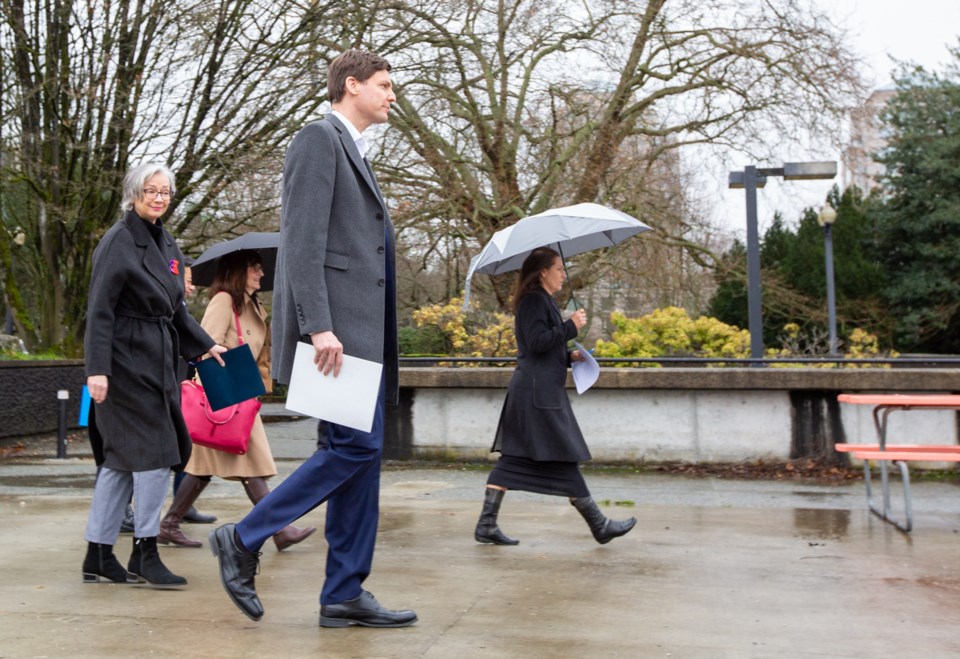 'Millions of dollars'
Premier David Eby, Mental Health and Addictions Minister Jennifer Whiteside and Health Minister Adrian Dix were also in attendance Sunday, with Eby taking a question from Glacier Media about health care being a provincial responsibility.
The premier said his government's community safety plan includes "millions of dollars" for the expansion of Car 87/88 program across the province and additional funds for non-police crisis intervention teams and "complex care" housing for vulnerable people.
Eby said a program is also being worked on with St. Paul's Hospital to treat people in an on-site detox facility who have overdosed and are living with a mental illness, the goal being to stop people from cycling in and out of emergency rooms.
"We're doing a lot of work, but I wanted to be here today to recognize when a city steps up and is willing to try things differently," the premier said. "For Vancouver, they've identified an opportunity where they can step up and support the efforts that the province is rolling out province-wide and across the Vancouver region."
Added Eby: "And I want to recognize that the mayor has done that — he's made that commitment, found that opportunity and is delivering for Vancouverites. It's not an either or, it's all of us working together."
When council voted in November 2022 to approve $8 million for the mental health component of ABC Vancouver's campaign promise, the majority also unlocked $8 million to hire 100 police officers.
Palmer told Glacier Media in a Jan. 26 interview that his department is "recruiting heavily right now" and will see the 100 officers begin to be hired this year, with a full complement expected to be on duty by next year.
The City of Vancouver said in a news release Sunday that the staff report recommending the $2.8 million and the "urgent mental health and substance use service enhancements framework" will be available on its website early next week.
@Howellings