The City of Vancouver and the federal government announced a joint investment Thursday of more than $36.2 million to improve the city's water quality, increase resilience to climate change and enhance ecosystems.
Mayor Ken Sim was joined at the city hall plaza by Vancouver-Granville MP Taleeb Noormohamed, who was acting on behalf of Dominic LeBlanc, the federal Minister of Intergovernmental Affairs, Infrastructure and Communities.
The federal government's contribution is $18.9 million, and the city has approved $17.3 million. The money will be funnelled into the city's so-called "rain city strategy," a 30-year plan to better manage rainwater.
"It's important that we embrace innovative climate solutions that reduce pressure on our city's infrastructure," Sim said. "At the core of the rain city strategy is the use of green rainwater infrastructure, which uses plants, trees and soil to capture and clean rainwater where it falls."
Like many cities, the mayor said, Vancouver contends with polluted rainwater runoff, which goes directly into the city's sewer and drainage systems, and ends up in waterways such as the Fraser River, False Creek, Burrard Inlet and Still Creek.
Polluted rainwater affects water quality, negatively impacts Indigenous food sources, and sometimes leads to no-swimming advisories and beach closures in Vancouver. He added that extreme rainfall can cause flooding, create a safety risk for residents, and damage to infrastructure.
St. George Rainway Project
Part of the money, he said, will be used for an ongoing community-driven initiative in Mount Pleasant known as the St. George Rainway Project. The goal is to re-imagine St. George Street and its corridor and design it to mimic natural water cycles and ecosystem functions.
That means adding infrastructure such as rain gardens, planting more native plants and trees and using boulders and corten steel to create dams that slow the flow of rainwater. Road space will be reallocated to benefit pedestrians and cyclists, and seating areas are also planned for the neighbourhood.
Eighth Avenue and Sixth Avenue traffic circles will be replaced with planted curb bulges.
"This project alone will help filter 10,500 square meters of polluted rainwater runoff per year," the mayor said. "Now, to put that in perspective, that is the equivalent of four Olympic-sized swimming pools."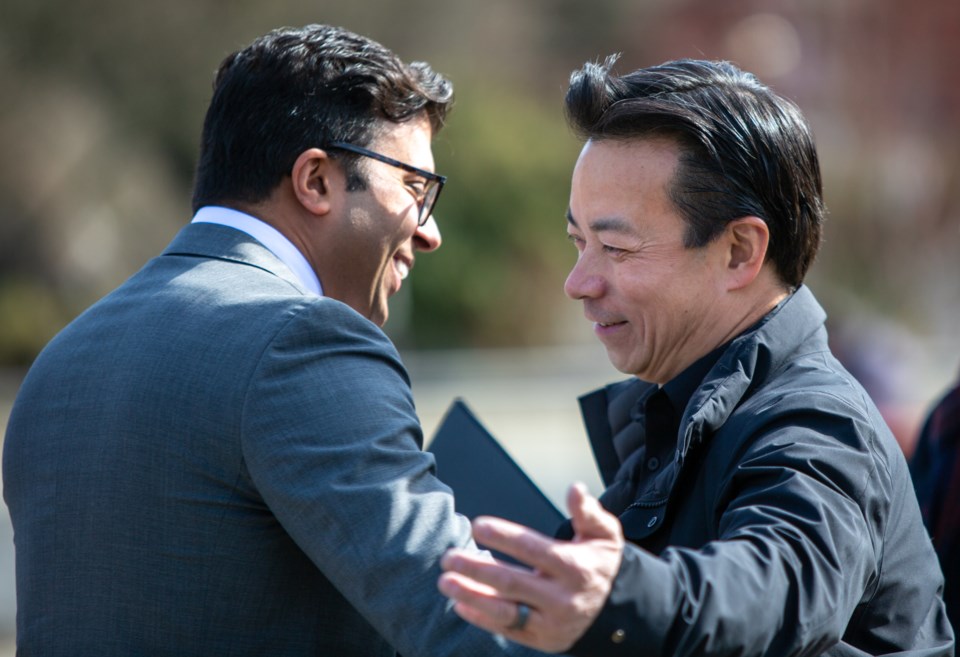 'Rain city'
Noormohamed, who described Vancouver as "the rain city," said the $36.2 million investment will ensure that the city reaches its long-term goal of capturing 90 per cent of Vancouver's annual rainfall.
"We'll see an improvement in our water and air quality and reduce urban heat, ensuring we're not losing vast amounts of water to runoff and ensuring we're using best-in-class absorbent landscaping to replenish and fortify our groundwater," he said.
Scott Jensen, the chairperson of the Vancouver park board, also spoke at the news conference, noting how it wasn't very often that "we have an opportunity to celebrate how much it rains in Vancouver — but we do today."
"Thanks to this funding, we can confidently say that we can make good use of this rainwater and channel it into some very innovative green infrastructure projects across the city," said Jensen, pointing to the park board's recent approval of rainwater collection and other green-related improvements to Gibby's Field, near East 18th Avenue and Knight Street.
Carbon neutral by 2050
The federal-municipal investment comes as Vancouver continues to fight climate change but is not on track to meet its goal to further reduce greenhouse gas emissions to 50 per cent by 2030 and be carbon neutral by 2050.
Vancouver council heard in February from Matt Horne, the city's manager of climate mitigation, accountability and outreach, who identified several factors keeping Vancouver from reaching its targets.
They included the need for changes to policy and zoning, infrastructure upgrades, building code updates, people not shifting to transit, more electric vehicles and chargers, heat pump conversions and reallocating road space for pedestrians and cyclists.
Money to fund the city's $500-million climate emergency action plan is also crucial to reaching targets, with council learning there was a $230-million funding gap in the five-year strategy.