For all intents and purposes, the Greens are city council's opposition party.
But opposition — as in a political party that holds the party in power to account — should really be in quotes when considering the Greens' representation on Vancouver's 11-member council.
Adriane Carr and Pete Fry are but two voices and votes at city hall; the party lost Michael Wiebe in the Oct. 15 election and failed to elect any newcomers to council.
ABC Vancouver, whose mayoral candidate Ken Sim and seven running mates won a resounding victory, now has the power to implement its agenda over the next four years without political interference or pushback.
But Carr, Fry and OneCity's Christine Boyle — who is her party's lone voice — have made it clear that pushing back will be their role, while continuing to seek collaboration on the issues that matter most to them and their constituents.
Climate change is at the top of their list.
Earlier this year, Carr narrowly won a victory of sorts in a 6-5 vote to direct staff to include in the draft 2023 operating budget an amount of up to one dollar per Vancouver resident to support West Coast Environmental Law's class action suit against fossil fuel companies.
That's close to $700,000.
"That's a very small investment to make in a joint action lawsuit that could generate a lot of revenue that was paid out originally from taxpayers who had to take on work to mitigate climate change," Carr said this week in a joint interview with Fry at city hall.
Sim was clear throughout his campaign that such an investment would be a waste of money. He also vowed to stop all city staff work on researching a congestion or road tax on motorists entering the downtown core.
"It's something that could generate a lot of revenue that's needed for climate action and to get people out of their cars with a really good alternative like transit," said Carr, who remains disappointed that a city-wide parking permit fee didn't get approval this year from council.
"It doesn't have to be Vancouver going alone, but it could be regionally based. So hopefully, [ABC] can start to think that way."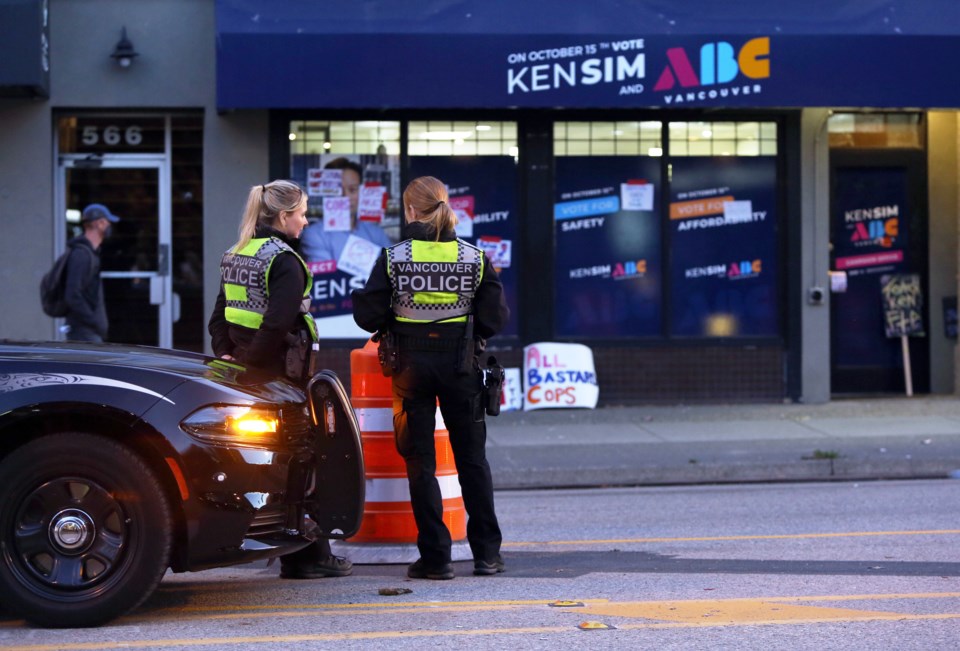 100 police, 100 nurses
ABC has also promised to hire 100 police officers and 100 mental health nurses over the next four years, with an estimated cost of $80 million. That request will be on council's Nov. 15 agenda and likely provide a taste of how budget deliberations will go this year.
Carr, Fry and Boyle wonder where the money will come from to pay for 200 new employees at a time of inflation and shortages in recruitment in policing and nursing. The trio is concerned services and programs will be cut to pay for new employees.
Council heard in July 2021 from finance staff that the city's expenses were growing faster than revenues and expected the trend to continue. Property taxes increased cumulatively by close to 30 per cent over the last term.
"A lot of great change was offered with ABC during the campaign, but now delivering on that change is going to require a lot of hard decisions that are yet to come, in particular around the budget," Fry said.
"Lots of big promises, but somebody's got to pay for it. And also the promise to reduce taxes. The two are going to be pretty tricky to reconcile and it's going to come with some accountability. We're here to call truth to power."
Fry acknowledged he had a great relationship in the past term with ABC incumbent councillors Rebecca Bligh, Sarah Kirby-Yung and Lisa Dominato. An example was the push by Fry and Kirby-Yung to have the federal government provide funds for Chinatown businesses hit hard by the pandemic.
The two councillors also requested an increase in cleaning programs, an examination of parking meter rates and activating the underutilized parkade at the Chinatown Plaza.
"We're going into this term obviously with good faith and hopefulness," Fry said. "But the truth of the matter is [ABC] have an absolute majority, and they don't need to collaborate with us."
Added Fry: "And what remains to be seen is what kind of party discipline ABC exercises over their councillors, and if they're allowed to be as flexible as they were in the last term, where they were able to kind of vote differently."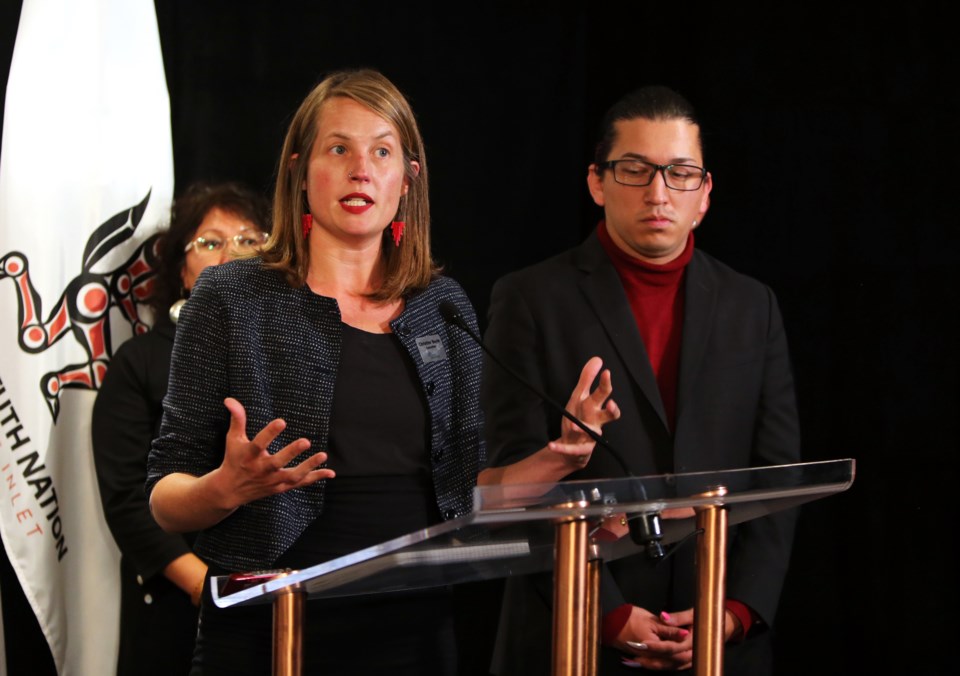 'Ready to fight hard'
For Boyle, who instigated council to declare a climate emergency in 2019, she said in a telephone interview this week that she is "optimistic" about working with Sim and ABC's seven councillors — as she is with the Greens, whom she's forged alliances with in the previous term over actions to reduce greenhouse gas emissions in Vancouver.
"I'm happy to work with anyone I can on priorities around housing, climate, reconciliation and the poison drug crisis," said Boyle, who co-chaired the city's UNDRIP task force.
"There are lots of places of overlap where I am optimistic I'll be able to find partners around the table from ABC and the Greens to get tangible action on those topics."
Added Boyle: "And where we disagree, I'll be ready to fight hard for the changes that I think are necessary."
That fight will certainly be with ABC's push to hire 100 police officers. Boyle was vocal over the last term that the city should explore non-police approaches to answering calls for someone experiencing a mental health crisis.
She pointed to the Canadian Mental Health Association-backed "peer assisted care team" program, which launched on the North Shore and pairs a mental health professional with a trained peer crisis responder.
"I continue to think that would be a much more effective solution for people and also a much more cost-effective solution for the public," she said. "So I would rather see us go that route."
'3x3x3x1' permit approval system
Boyle pointed to common ground with ABC in wanting to break the building permit logjam at city hall but is not convinced the party can keep its promise to set days, weeks and months for approvals.
ABC campaigned on a "3x3x3x1" permit approval system.
The party's goal is to get to a point where it will take three days to approve home renovations, three weeks to approve single-family homes and townhouses and three months to approve "professionally-designed multi-family and mid-rise projects, where zoning is already in place.
"I have said and will continue to say that our housing crisis isn't just about permitting, we actually need land use and zoning changes," Boyle said.
"OneCity ran a very strong platform on housing proposals, particularly around land use and zoning and building more rental and non-market housing. And I will keep pushing those issues hard."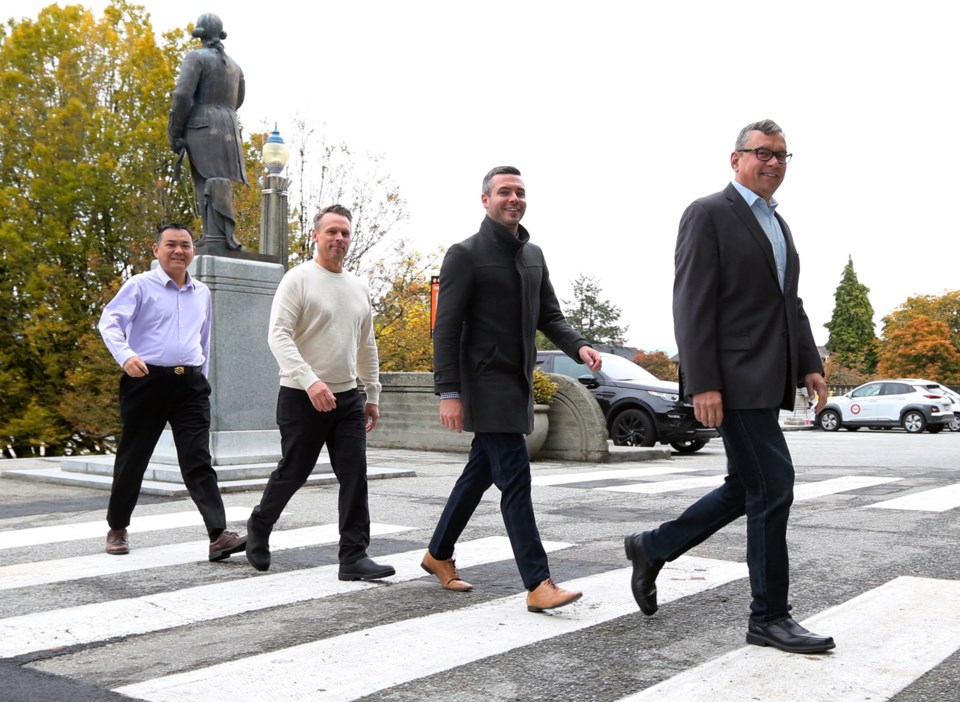 'Common goal and good'
In interviews last week with ABC's four council rookies — Lenny Zhou, Brian Montague, Peter Meiszner and Mike Klassen — they all said they want to see a more collaborative approach to the 2022-2026 version of council.
"We're committed to working with the other two parties that are on council," Meiszner said. "We're all working for a common goal and good, which is for the citizens of Vancouver and serving them."
Montague said he wants to work closely with Carr, Fry and Boyle.
"Ideally, we'll be making decisions that are unanimous across the board," said Montague, a retired Vancouver police officer. "Will there be times when there'll be 8-3 decisions? Probably. Will there be times when the vote is 9-2 or 10-1? Potentially. It's going to depend on what we're discussing and what the issue is."
Sim and the 10 councillor-elects will be sworn in Nov. 7 at The Orpheum Theatre. Council then will participate in its first formal meeting later that day at 5 p.m. at city hall.
@Howellings