The City of Vancouver has a backlog of 500 applications from people seeking permits to build single-family homes, duplexes and laneway houses.
The backlog comes despite a council-initiated task force created early last year to reduce the time builders have to wait to get the necessary permits to build a house.
A city staff memo circulated to council Dec. 15, 2021 pointed to an "unprecedented" increase in applications for low-density housing such as single-family homes, duplexes and laneway houses.
An accompanying chart shows applications averaged 200 in the last half of 2020, with almost all permits issued within that timeframe.
Applications then began to soar in the first quarter of 2021 and reached more than 800 in the second and third quarters of the year.
"Despite the actions that [development, buildings and licensing] staff and the task force have taken, this increase in volume has created a backlog of 500 applications," said the memo authored by Andrea Law, the city's general manager of the development, buildings and licensing department.
Law said staff are expediting a number of changes to address the backlog.
"The team is now at the full staff complement and [the department] hired additional entry-level positions to address the additional spike in applications," she said in the memo, which is now posted on the city's website.
"In addition, the team is currently implementing process changes to reduce the time spent by staff in reviewing individual plans and increase our throughput."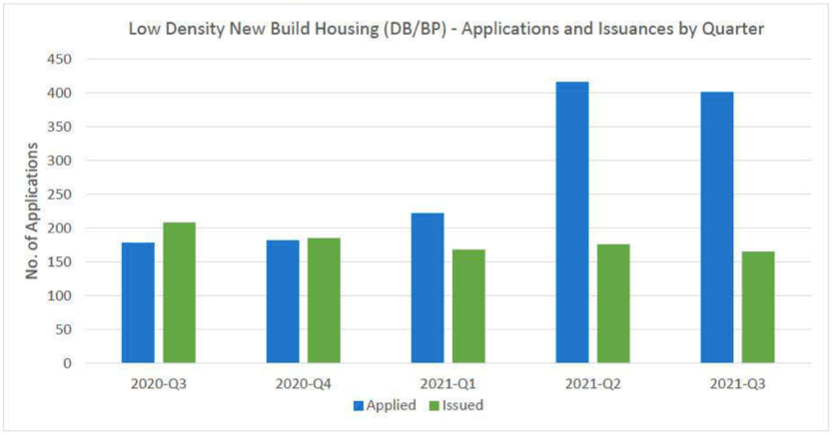 When council approved a motion in March 2021 to create a task force to reduce wait times, it also granted staff access to $1 million from contingency funds to kick-start the work.
So far, $380,000 has been committed to streamlining the permit and licensing application process, with $130,000 set aside to hire a temporary full-time employee for two years.
That person's job includes "additional file research, triage and assessment to identify permits that qualify for a faster process," Law said.
"An additional $250K has been committed to fund the 311 customer support team that helps to triage enquires, move off email enquiries, create cases, provide first line call response and resolution, and route enquiries to the appropriate team," Law said.
"A portion of the remaining funding will be allocated to fund development of an online application process for new business licences."
'Serious financial and other negative effects'
Coun. Lisa Dominato initiated the motion last year to seek ways of reducing permit times.
At the time, she noted "civic service satisfaction surveys" conducted in 2018 and 2019 showed 78 per cent of residents wanted more investment in development and permit service, with 85 per cent of businesses saying it was critical.
In her written motion, Dominato said the logjam in issuing permits was having "serious financial and other negative effects for applicants and city staff alike."
She referred to a study by LOCO BC in partnership with business associations that found the average wait time for permits and licensing in Vancouver was more than eight months.
"The average corresponding economic loss per business permit or licence is estimated to be in excess of $720,000," her motion said. "Delayed permits have contributed to an environment of instability and uncertainty for businesses in addition to escalating costs."
Reached by telephone Thursday, Dominato said she is still concerned about the backlog in applications but noted Law's update to council also showed progress was being made and will continue to be made in the next year.
For example, an improved intake system now has staff handling up to 100 cases per day, up from 60 to 80 prior to March 2020.
Wait times for enquiry centre staff to handle complex inquiries and application intake has been reduced from four weeks in March 2021 to 10 business days today.
Processing delays in the licensing department have been reduced from approximately 20 weeks to three to four weeks.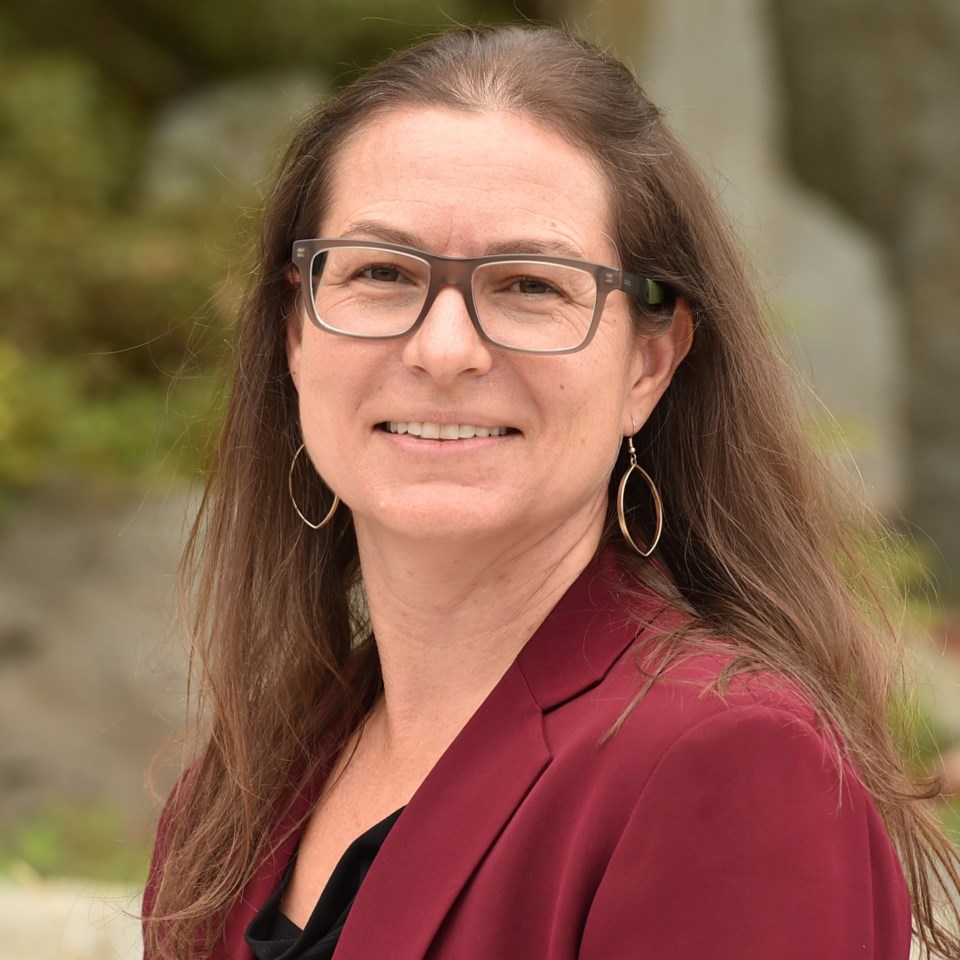 In June 2021, council approved an initial set of regulatory and policy changes that are expected to save up to 10,000 hours of permit review time on residential applications.
Also last year, council approved what was described as a "ground-breaking" improvement to help build social and rental housing faster by allowing eligible projects to receive their building permit to begin excavating and shoring earlier in the construction process.
At a public hearing in October 2021, council approved a number of changes aimed at improving permit processing and supporting the pandemic recovery in the commercial sector. Staff are currently implementing these changes, which became operational Jan. 1 and will run for two years in a pilot program
"Is there more work to be done?" Dominato said. "Absolutely yes because I still hear from residents, I still hear from small businesses that we need to clear that backlog and we need to support them in navigating our system."
Dominato suspected the increase in applications could be related to more people looking to improve or add housing to their properties during the pandemic. Families making room for aging parents or adult children could also be a factor, she said.
'Black hole'
Bryn Davidson, co-founder of Lanefab Design/Build, said in an email that his company, which builds custom homes and laneway houses, would usually expect about four months for an "outright approval" for a project. The company is currently waiting six months for approval of laneway projects.
"We've seen some improvements with the city accepting some digital submissions [vs paper] and we've seen some helpful instances of reviewers making small edits for us vs sending the whole package back for weeks," Davidson said.
"We've also seen some improvement with the increase in the size of permit trees from 8" to 12" which means a bit less time in the 'black hole' of landscape review."
Added Davidson: "In general though we still haven't seen any kind of memo asking staff to prioritize critical items like life safety while expediting aesthetic/zoning issues. We also haven't seen any movement on getting rid of the convoluted process for character home projects and infill dwellings."
@Howellings