A Vancouver non-profit housing operator paid out $63,760 in fines over the past six years for false fire alarm calls triggered largely by smokers living in and visiting a single B.C. government-owned hotel that it manages downtown.
Atira made the payments between 2017 and 2022 for false alarms generated from Hotel Canada at 518 Richards St., which is the former Marble Arch Hotel purchased by the B.C. government prior to the 2010 Winter Olympics.
The single-room-occupancy (SRO) hotel, which has been renovated by government, is in the news this week after Vancouver Fire Rescue Services posted a tweet Jan. 3 on its Twitter account that said a single SRO generated 504 emergency calls in 2022.
The fire department didn't disclose the name of the hotel but Atira's CEO, Janice Abbott, confirmed the tweet — which has since been deleted — was related to Hotel Canada, which has 150 rooms and 190 tenants.
"This isn't unique to the Hotel Canada," she said. "The number [504 calls] just looks big because it's a big building with a lot of rooms and a lot of tenants. We have false alarms in our other buildings, as well."
The fire department said 300 of the 504 calls were false alarms triggered by people in the building smoking cigarettes or narcotics. The other 200 calls were for people requiring medical attention.
Abbott said false alarms are common across the properties that Atira manages, with most generated in buildings with 100 or more rooms. Atira manages a portfolio of 1,805 rooms, many of which are in the Downtown Eastside.
$31,200 annually in fines
From Jan. 1, 2017 to Dec. 31, 2022, Atira paid out an average of $31,200 annually in fines related to false alarms across its buildings — an expense Abbott said she wants to decrease and is working with the fire department, the City of Vancouver and the non-profit's fire contractor on solutions.
The challenge in the Hotel Canada case, she said, is that 80 per cent of tenants smoke cigarettes, narcotics, or both. Also, up to 100 guests per day visit what is supposed to be a smoke-free building, which is equipped with a sprinkler system and each room outfitted with a smoke alarm.
The building also has a designated room for people to use drugs.
But unlike many residential buildings, for example, where a tenant or owner inside a unit can wave away cigarette or cooking smoke from a ringing fire alarm to shut it off, Hotel Canada's smoke alarms are connected directly to the building's fire panel.
The alarm triggers an automatic emergency response from firefighters, who are the only ones allowed to reset an alarm. Changing the fire alarm system to allow for a two-stage process or delay before an alarm triggers a response from firefighters is not something Abbott is sure can be done under the city's building and fire codes.
"A stage-two system would definitely reduce the number of fire alarms, but maybe there's other consequences that I haven't considered," she said.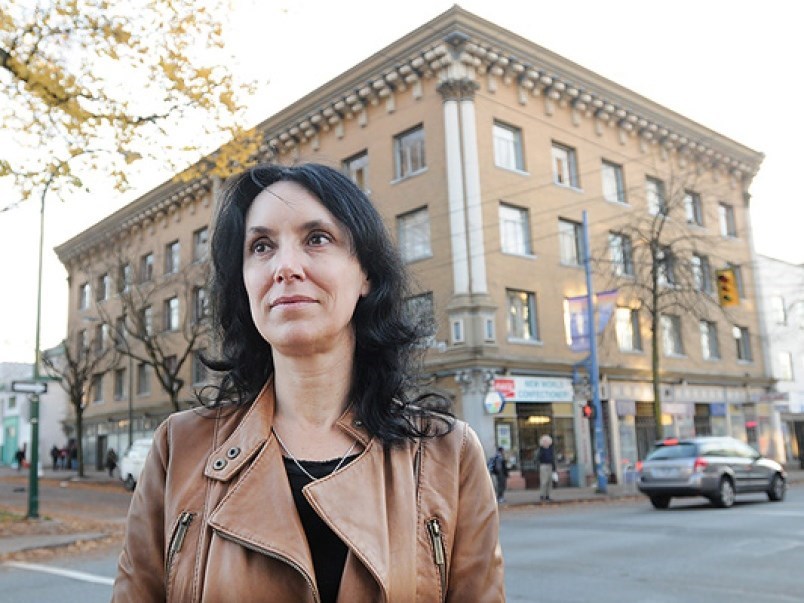 'Please don't smoke in your rooms'
Atira's current alarm protocol has one staff member read the fire panel monitor to see where the problem is and goes to investigate. That person then contacts staff in the office to let them know there is no fire and that someone was smoking.
Another staff member goes outside and waits for firefighters to arrive. Staff then accompanies firefighters to the unit or location of the alarm to confirm there is no trouble. Firefighters reset the fire alarm and give Atira a violation notice.
"It's not like our staff don't already say to people, 'Please don't smoke in your rooms, please don't smoke in the hallways,' a thousand times a day," Abbott said. "And it's not like the tenants don't know what happens because they're all there when [the] fire alarm goes off."
Asked whether a comprehensive education campaign for tenants would help reduce the number of false alarms, Abbott said, "I'm not saying we shouldn't do it, I just don't think it will have the kind of impact we need to dramatically reduce the number of calls."
Abbott said management doesn't want to have to evict tenants, who would likely end up on the street. She also pointed out the number of people smoking rather than injecting drugs has increased in recent years, which may be a contributing factor to the volume of false alarms.
"Eight years ago, you would have fewer false alarms because fewer people were smoking their drugs — and keep in mind that about 80 per cent of our tenants are using substances, and probably a similar number are smokers, as well," she said.
Glacier Media reported in February 2022 that data released by the BC Coroners Service showed the highest percentage of overdose deaths in the province from 2017 to 2020 was the result of smoking rather than injecting drugs.
Hotel Canada known previously as Marble Arch Hotel
In February 2013, the Vancouver Courier reported Hotel Canada — then, still named the Marble Arch — topped the list of 14 hotels for infractions listed on the city's rental property database.
Infractions totalled 141 and included problems related to fire alarms and extinguishers, wiring, plumbing and building code issues.
The bulk of the infractions — 120 — fell under the standards of maintenance bylaw. The city's database didn't itemize each of the 120 infractions, although the bylaw covers issues such as inadequate heat and hot water, pest infestations, tripping hazards on stairs and hallways and leaky faucets.
Statistics supplied to the Courier at the time from the fire department showed firefighters responded to the Marble Arch 150 times in 2012.
The majority of calls were related to smoke detectors going off because of cigarette smoke and steam/smoke from cooking. Other calls included assaults, overdoses and various emergencies for medical help. Two cases were recorded as falls/jumper.
BC Housing said in an emailed statement Wednesday that all questions regarding operations of Hotel Canada should be directed at Atira, which has managed the building since 2007.