Mayor Kennedy Stewart will make another attempt to get his "making home" housing initiative approved by council and says he is optimistic that enough councillors will support his plan that calls for up to six homes to be allowed on a single-family lot.
Stewart announced the re-launch of his initiative at city hall Wednesday, more than a year after he was unable to convince council in September 2020 to adopt all the points of his plan, including kickstarting a pilot project with 100 single-family homes.
The mayor, at the time, said he was "flabbergasted" by the decision.
Councillors cited concerns over limited details provided by the mayor on how the plan would work, the need for public feedback, more housing data and how it would fit into the ongoing city-wide Vancouver Plan discussions.
In the end, council voted 7-2 to refer a heavily amended and wider-scoped motion — which removed the immediacy and many specifics of Stewart's proposal — to city staff for further consideration. The mayor characterized it as a defeat.
A staff report has yet to come before council.
But the mayor said Wednesday that in discussions he's had with staff that their work regarding the wider-scoped motion is more focused on rental housing rather than home ownership, which is the main driver of his "making home" proposal.
"So this will give them a new track that they can also put into Vancouver Plan to make it something that the entire city can look at," Stewart told reporters.
The mayor's proposal calls for a pilot program on up to 2,000 single-family lots, where only detached housing is currently allowed. That number was based on "our own survey work that this idea is off the charts in terms of popularity," the mayor said.
Under the plan, owners of single-family homes could convert or redevelop a single detached house into multiple homes, keep one for themselves or other family members, and sell the remaining homes to middle-income earners.
The number of homes would depend on what an owner wants and what the city would allow. The original plan called for at least one or more of the homes to be sold to a household in the $80,000 to $120,000 income bracket.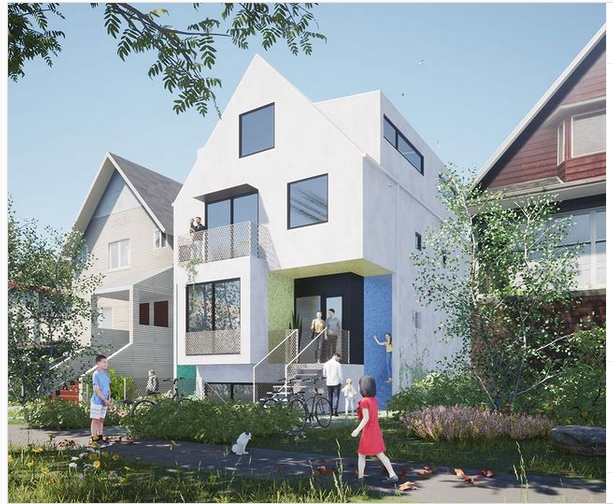 The mayor said his plan contains measures to limit speculation and will ensure any land value increases on properties will "guarantee affordability on-site or are used by the city to raise hundreds of millions of dollars to fight homelessness, build affordable rental, repair aging infrastructure, expand childcare and accelerate the climate emergency action plan."
Coun. Lisa Dominato told Glacier Media Wednesday that she didn't understand why the mayor's re-launch of his proposal was making news. Several motions from councillors, including some from her and Melissa De Genova, have directed staff to consider various options to build more housing, she said.
In fact, the mayor's attempt in September 2020 to get his original proposal approved and studied by staff was an amendment to a motion that Dominato introduced previously in the summer.
At the time, Dominato called for "creative and experimental" ground-oriented housing in single-family housing zones that would be suitable and affordable for a wider spectrum of Vancouver families.
"What I'm a little surprised by is we actually gave direction for staff to look at 'missing middle' housing as part of the Vancouver Plan and through the motion I brought to council," Dominato said.
De Genova sent Glacier Media a list of motions she has introduced to council over the past two terms that directed staff to look at affordable home ownership and new housing options for families, including one that the Vision Vancouver-dominated council approved in 2015.
Coun. Pete Fry, who was one of the councillors to refer the wider-scoped motion to staff in September 2020, said Wednesday that he hadn't read the details connected to Stewart's re-launch of the proposal, so couldn't say whether he would support it.
"My understanding is that [the mayor] has done a lot of work reaching out and working with industry, and getting details ironed out," Fry said. "Like anything, the devil will be in the details. I think the overriding concern that will inform how we approach this is how it rolls out, and how it impacts speculation and land assembly in particular neighbourhoods."
The mayor assembled architect Marianne Amodio, Jake Fry of Small Housing BC, Thomas Davidoff, the director of the UBC Centre for Urban Economics and Real Estate, and a couple who own a single-family home near Trout Lake at the news conference.
All voiced their support for the plan, with Davidoff calling it "a really excellent and important proposal" and that it "actually solves speculation."
"This gets homes built that are actually homes in which people live, instead of dragging out the process of redevelopment and making sure that West Side homes belong either to people who want luxury mansions and/or people who want to sit on land until council get serious about affordability," he said.
The mayor said he didn't plan to introduce his motion until January 2022 because council had agreed not to push any proposals this year that would add to the city's permit and licensing backlog.
"That gives us lots of time to go out and talk to folks, to advertise this idea widely and to get the buy-in we need to make it happen," Stewart said. "So I do hope after all that, councillors will see the value and the flexibility and power of this new idea."
Meanwhile, the city is expected to launch next week another phase of its public feedback campaign regarding the development of the Vancouver Plan, with a draft plan supposed to go before council prior to next October's civic election.
Note: This story has been updated since first posted.
@Howellings