Vancouver was recently ranked as being in the top five cities in the world for members of the Millennial and Gen-Z generations on the basis of its rent affordability and "Instagrammability."
The ranking comes from Confused.com, a financial services and insurance comparison company based in the UK. Confused.com compared 50 cities using 13 data points which were then ranked by giving a high score to those with favourable results to people under 20. Those rankings were then added together so the cities could be ranked in order.
Taking the first spot on the ranking is San Francisco with what the study found to be an exciting and inclusive nightlife. The cost of a "pint" though (did we mention this was a UK-based company?) is a tad steep at $9.11CAD. San Francisco was launched into first place by the city's average rent cost being 36 per cent of the average monthly salary of $10,252.48. Exactly what job 20-somethings could take to earn over $10,000 a month is not included in the research. Nor is the city's average monthly cost of groceries which was estimated at $423.75 in 2020.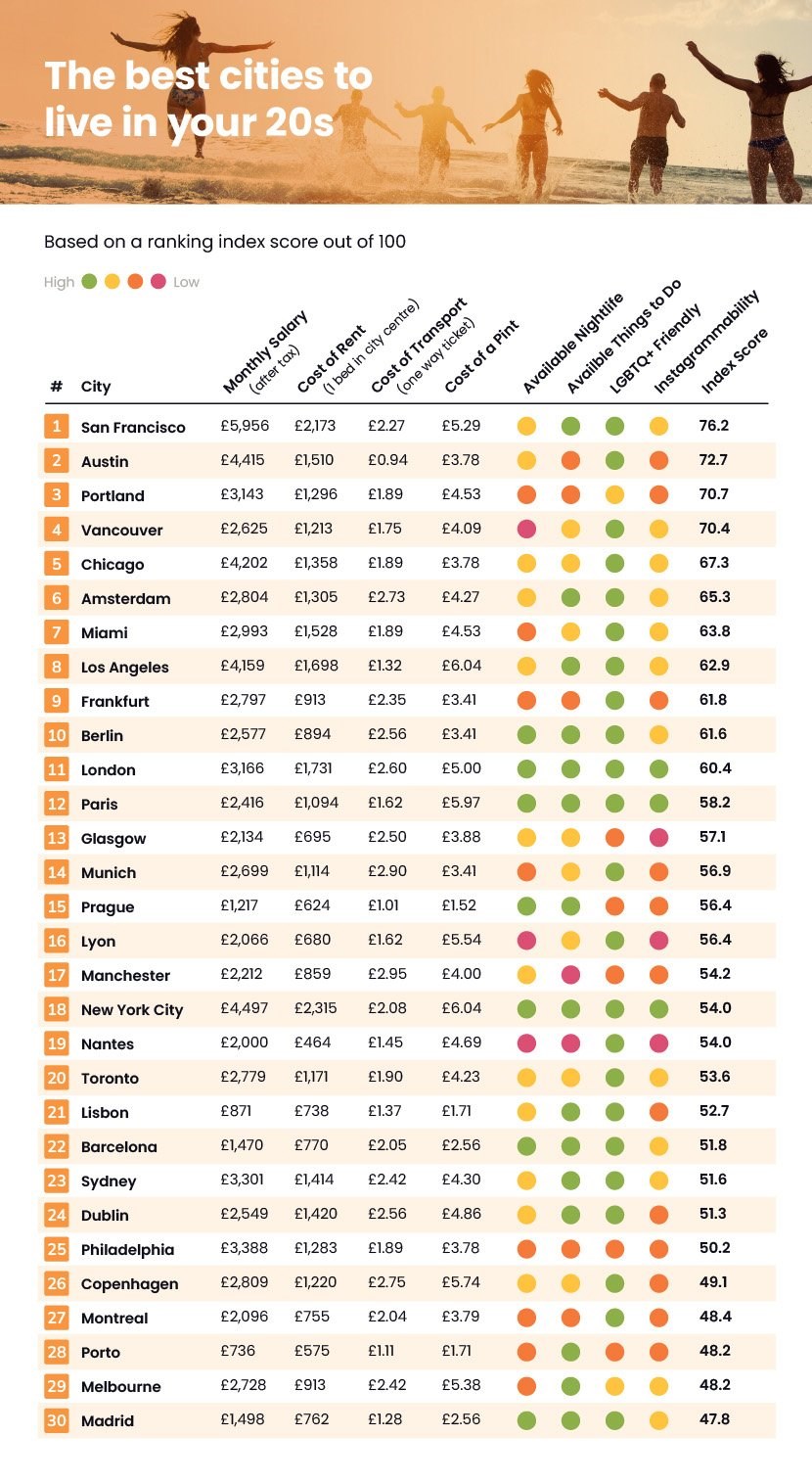 Vancouver, the only Canadian city to be mentioned in the ranking's top 10 followed Austin and Portland, which took second and third places respectively. As one of the country's most diverse and densely populated cities, Vancouver residents are able to experience incredible food and culture the release stated. This diversity also lends itself to great entertainment the research found, despite the city receiving a poor standing in the nightlife category.
All this does come with a cost though, the rankings acknowledged. The average price of living in Vancouver is $2,086.36, taking up 46 per cent of the average $4,517.18 monthly salary. Vancouver's average cost of a one-way transit trip came out to $3 and the cost of a pint at $7.04. Again not included in the research is the average monthly cost of groceries estimated at $317 in 2021.
Vancouver also got a middling score on the Instagrammability index which the ranking stated is a measure of good living space according to Millennials and Gen-Zs. In fact, the only factor Vancouver was ranked highly on was being LGBTQ+ friendly.