Ten community centres from Kensington-Cedar Cottage to Dunbar are in "very poor" or "poor" condition and need to be demolished and replaced, according to a new report that went before Vancouver park board commissioners Monday.
Kitsilano community centre is the only facility on a list of 11 centres that is considered in "fair" condition but it is also slated for renewal as part of a massive and expensive undertaking over the next 30 years.
Commissioners heard from park board general manager Donnie Rosa that no cost estimate has been finalized or what the source would be for the millions of dollars required to build each facility.
"None of the facilities on that list should have to wait that long — we don't want that," Rosa said of the three-decade time span. "What we do have to do is overlay a financial plan to support this."
Rosa said she is working with the city's real estate and facilities management department on a financial plan. In the meantime, she added, staff are continuing with maintenance and repairs on the 11 centres slated for renewal.
Seismic rating
The centres on the list were assessed by using criteria that included condition of the facility, its seismic rating, whether it was a designated hub for residents during a disaster, if it served residents during extreme heat or cold events, how much greenhouse gas it produces and water consumption.
Service gaps, whether the facility could accommodate future growth in the neighbourhood and how it rates on equity and inclusion of users were other considerations in putting together the list.
The centres, ranked in order of importance for renewal:
Kensington
Renfrew
Hastings
Strathcona
Thunderbird
Douglas Park
Kitsilano
Kerrisdale
Champlain Heights
West Point Grey
Dunbar
Disaster support hub
Kensington ranked number one for several reasons, but primarily because its condition is rated as "very poor/critical." It has a poor seismic rating and also rates poorly for greenhouse gas emissions emitted and water consumption.
Kensington is also designated as a disaster support hub for area residents.
The park board report says the Kensington centre, which includes a small indoor pool, an area for a childcare centre and dance studio, was built in 1980 and was expanded in 1981 and 2000.
An auditorium, or community hall, is also part of the centre and was likely built in the 1960s, according to Milan Kljajic, past president of the Kensington Community Centre Association.
In a tour of the centre Thursday, Kljacic said he wasn't surprised to learn Kensington was at the top of the list, noting he raised concerns with the park board in 2013 about the centre's condition.
"I'm actually still a little bit surprised that it's operational, and the building is not condemned," said Kljacic, who served as president from 2013 to 2018.
"In the event of an earthquake, that's probably the last place I'd want my family to be. It feels unsafe, and when you're in there, you can see cracks in the ceiling, cracks in the wall."
Community hall closed four years ago
About four years ago, he said, the community hall adjacent to the main centre was shut down because the floor sunk about a foot. At one time, the hall served as a facility for childcare, he said.
"And then on rainy days, the roof would leak into the hallways, and they would put buckets in the hallways to catch the water that was dropping down," he said, noting the condition of the pool was also in rough shape, with its boilers needing to be replaced.
"The cost to maintain the pool is more than the revenue they actually generate."
The pool was empty of water and had fencing around it when Vancouver Is Awesome visited Thursday. Kljacic also pointed out drywall work in ceilings from leaks and noticeable cracks in concrete beams in the architecture of the entranceway.
In 2018, when the association was discussing what it would cost to replace the centre, the rough estimate was $200 million, said Kljacic, who was pleased renewal of Kensington and other centres is now a priority for the park board.
"I'm hoping we don't need to wait another 20 years to have a new centre at Kensington, and I hope they can actually fast-track it and take an aggressive approach with all 11 centres on the list," he said.
"Kensington is not the only centre that's falling apart. Hastings community centre, Strathcona, Renfrew — they all need upgrades."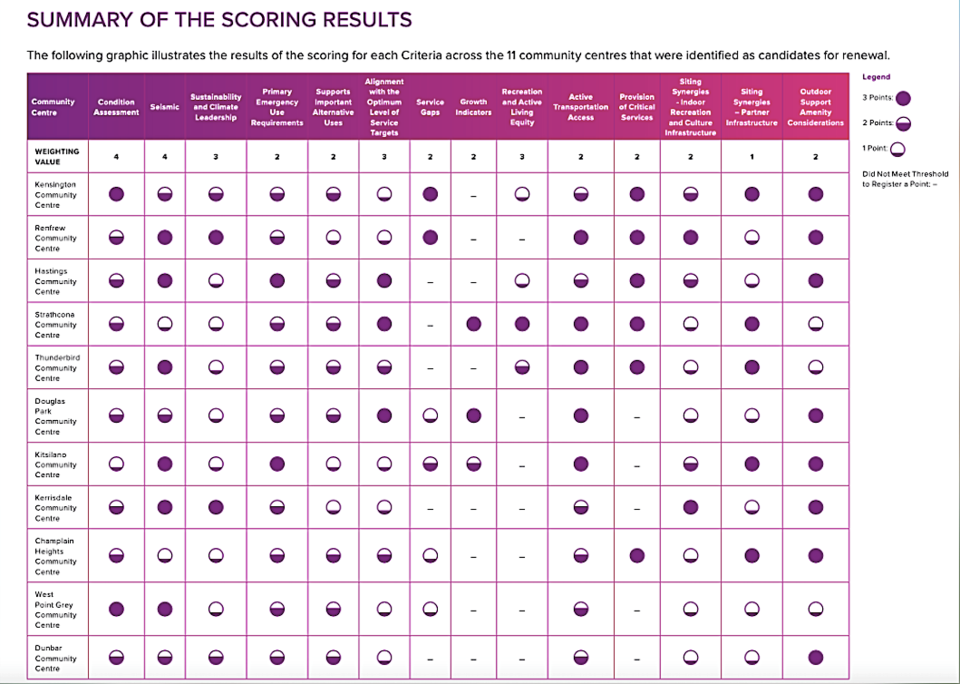 'Limited funding'
Park commissioner Gwen Giesbrecht questioned staff at Monday's meeting on how the centres had fallen in to such disrepair to the point they need to be replaced. The average age of the city's 27 community centres is 46.
Senior planner Leila Todd's response: "I can only guess based on recent experience that limited funding is one component. Capital maintenance is quite expensive. These buildings, as we mentioned earlier, are decades old and my understanding is that any minor work kind of snowballs into much larger work and ends up being very expensive."
Giesbrecht successfully added an amendment before the board passed the community centre renewal strategy: To have the City of Vancouver call on the provincial government for legislative changes that would allow funds raised through development cost levies and community amenity contributions to be used to build new centres.
"They simply need to be renewed, they need to keep pace with the increased density in those neighborhoods," she said. "Looking at different ways to raise some extra funding toward that process and hopefully accelerate it, is a good consideration at this time."
Park commissioner John Coupar questioned how Dunbar community centre ranked 11th on the list. He pointed out the centre was built in 1956.
Based on staff's estimation that it would take 30 years to replace all 11 centres, Coupar wondered whether the Dunbar centre would still be standing when it was its turn for replacement.
"That concerns me deeply," he said, noting Kerrisdale community centre was also built in the 1950s and ranked eighth on the list. "I feel like age should have been more heavily weighted in this criteria."