A monthly snapshot of crime trends recently posted to the Vancouver Police Department's website shows crimes in the city involving property and violence decreased when comparing January 2021 to January 2022.
Property crime such as break-ins to homes and cars dropped by 4.6 per cent and violent crime such as assaults by 1.7 per cent, when calculating an average based on data collected by police for the entire city.
The crime drop, however, is not consistent when analyzing the city's four policing districts.
For example, district three, which stretches from Mount Pleasant to Victoria-Fraserview, saw assaults increase by 13.5 per cent and robberies double from eight to 16.
Robberies increase
In fact, robberies were up across the city, increasing from 47 in January 2021 to 66 in January 2022. The data doesn't specify type of robberies, whether it be to a bank or someone ripped off in the street.
District one, which includes the West End and neighbourhoods west of Rogers Arena, saw robberies increase from 13 to 18, or 38.5 per cent.
The Downtown Eastside and neighbourhoods along the Hastings Street corridor to Boundary Road saw a 21.4 per cent increase.
The southwest part of the city saw a 25 per cent jump.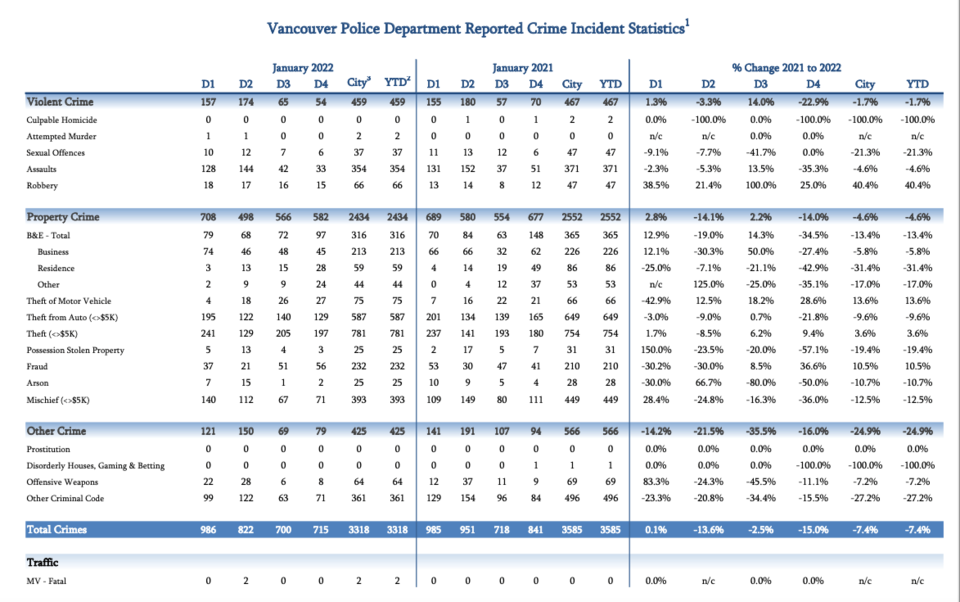 The data does not provide an explanation for the rise or decrease in crime, but police have previously reported that pandemic-triggered public health orders that have kept people home is a factor in the crime drop over the past two years.
At the same time, downtown, the business district and other parts of the city have seen an uptick in random stranger assaults and aggressive shoplifters. Broken windows to businesses, widespread graffiti and street disorder are other issues that have been raised by police and the public.
Public safety forum
Police Chief Adam Palmer has pointed out previously that not all crime or incidents involving broken windows or graffiti is reported to police.
It was a point Strathcona resident Mike Rhone made to city council this week in a meeting that ended with council agreeing to host a forum on public safety sometime this month.
"I want to say that people still aren't really reporting everything to the police, even if it's a personal safety issue — at least in my neighbourhood," said Rhone, noting he had "tons of stories" he could share related to public safety concerns in Strathcona.
Just this week, he said, a neighbourhood Facebook group alerted residents about a man seen following a woman on Hawks Avenue while another man was seen "creeping around" Strathcona elementary school.
Two months ago, a neighbour chased a thief into his family's yard.
"That was particularly scary because he had a weapon and our kids were out there," he said. "So it's a bit of gong show here some days."
Rhone said he was particularly worried about Chinese seniors in his neighbourhood.
"A couple that I talked to said they've never really felt totally safe here," he said. "But right now it's as bad as it ever was. I think the uptick in anti-Asian incidents have hurt that community particularly hard."
'Don't have 90 minutes to call'
Another citizen, Colin McGrath, told council about an incident where his children had to use a washroom this past weekend.
McGrath didn't say where he lives in Vancouver, or where the incident happened, but said it involved a person committing "sexually-oriented actions."
He said he called the police's non-emergency number at three different times but couldn't get through to report the incident.
"Someone might say, 'Well, this was not reportable,' but I don't agree — this should be reported," he said. "But I can't do it because I just simply don't have 90 minutes to call and I'm not going to call 911 for something like this."
Smashed windows, graffiti
Neil Wyles, executive director of the Mount Pleasant Business Improvement Association, told council that when he started his work day Monday that he received 12 reports of smashed windows at businesses.
He also received 100 graffiti reports.
"We've had so much graffiti that we've hired a second contractor," Wyles said. "People have suggested we get those roll-down shutters and bars on the windows. My security team is getting an increased number of calls, and shoplifting is probably the most common."
Wyles said he was worried that graffiti, break-ins and smashed windows are becoming normalized in Vancouver.
"We have to stop and say that this is not normal and this is not right and this is not part of being a civil society," he said.
Wyles shared that one Mount Pleasant business has had so many broken windows that the owner stopped reporting it to the insurance company "because they threatened to stop insuring him."
As Vancouver Is Awesome reported Thursday, city council decided this week that it will host a public safety forum sometime this month to hear from citizens and various agencies, including police, health officials and the BC Human Rights Commission.
A date for the forum has yet to be released by the city.
@Howellings