A Vancouver police-led experiment conducted for 18 months in select neighbourhoods that focused on ordering homeless people, drug users and others to stop occupying entrances to businesses and apartment buildings has now become permanent and is going citywide.
The Vancouver Police Board approved April 21 the extension and expansion of the "trespass prevention program," which operated from September 2020 to February 2022 in Chinatown, the downtown business district and the West End.
The program saw 581 business owners and apartment building managers sign a contract that authorized police at any hour of the day to access their properties if an unwanted person had for example set up a place to sleep in an entranceway or was participating in such activities as drug use.
'Hardest hit'
Sgt. Chris Burnham told the police board that officers responded 54 times to incidents across the neighbourhoods participating in the pilot program. Burnham said no arrests were made and no tickets issued under the BC Trespass Act.
"In fact, some of the individuals reported to the officers that they appreciated the police assisting with accessing housing and other services," Burnham told the board, adding that officers involved in the program "did on occasion assist people who were overdosing."
Burnham said the program, which is free to participants, helped improve the safety of residents and workers at more than a dozen private properties "hardest hit" by issues related to trespassers.
"It is important to note that during the pilot, there were 164 incidents of serious assaults on residents or workers when they confronted trespassers," Burnham said.
"This number did not include minor assaults, mischiefs, threatenings, harassing or other criminal incidences, illustrating the concern for public safety."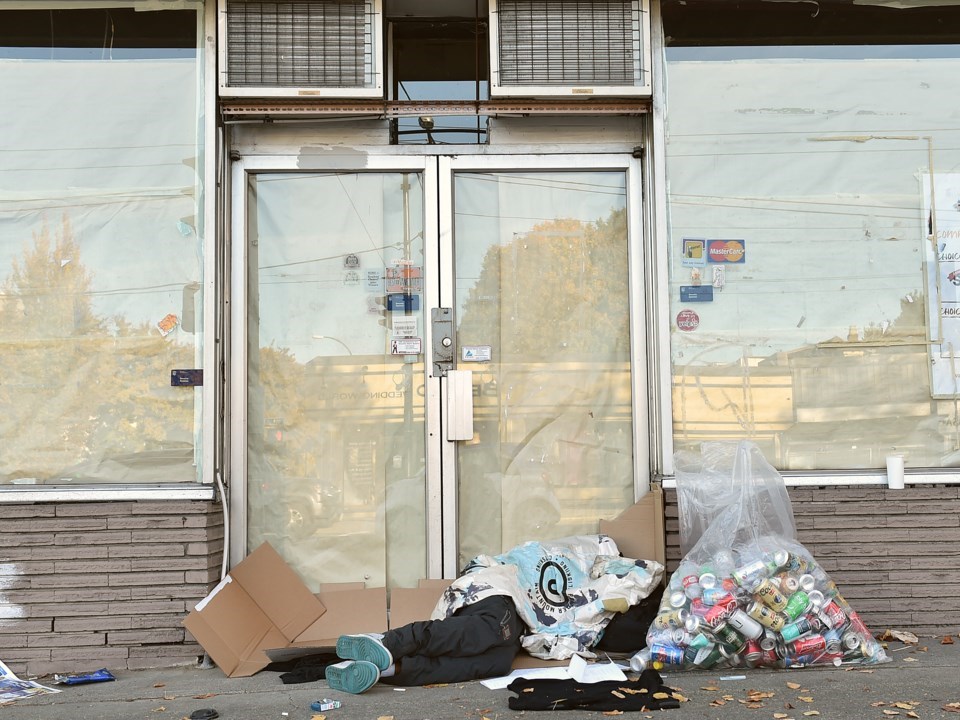 'Enjoyment of private property'
While the program decreased issues at numerous businesses, it also assisted individuals with accessing shelter, dry and warm clothing, food, washrooms, housing and mental health care, according to a report that accompanied Burnham's presentation to the police board.
Police said the program was launched in response to increased violence and safety concerns raised by residents and business operators regarding people loitering on private property in the downtown business district, West End and Chinatown.
Police received daily complaints of violent interactions when owners confronted people setting up shelters, using substances, urinating, defecating "or behaving in a manner that interfered with the use and enjoyment of private property," the report said.
"These incidents led many residents, business owners, their employees and private security personnel to fear for their safety and reluctant to engage or confront the trespassers, resulting in calls to 911, non-emergency [phone line] and 311," the report said.
'Hundreds of needles'
Victoria Jazic, who owns Honey Hair Lounge on Bute Street in the West End, signed on to the program for reasons outlined by Burnham and the police report. Her authorization is visible to the public via three triangular yellow no-trespassing stickers on the doors and windows to her business.
Jazic's salon is on the Jim Deva Plaza, which she said become a "mini tent city" in the early days of the COVID-19 pandemic, which saw many businesses forced to close to prevent the spread of the coronavirus.
"When I first came in to re-open my business [after public health restrictions were lifted], I got here and there was about six people camped out and hundreds of needles on the ground," she said Tuesday, standing near the front doors of her salon.
"They weren't really interested in moving on too quickly. So I eventually had to phone the police to try to get some assistance. They said they would send someone right away. But that took about four hours for someone to arrive. So we ended up having to kind of deal with it on our own."
Before signing on to the program, Jazic said she emailed city council and called the city's 311 service with her concerns. She also made several unsuccessful attempts to file reports with police via the non-emergency phone line.
She said she received no immediate response or solution to accessing her business.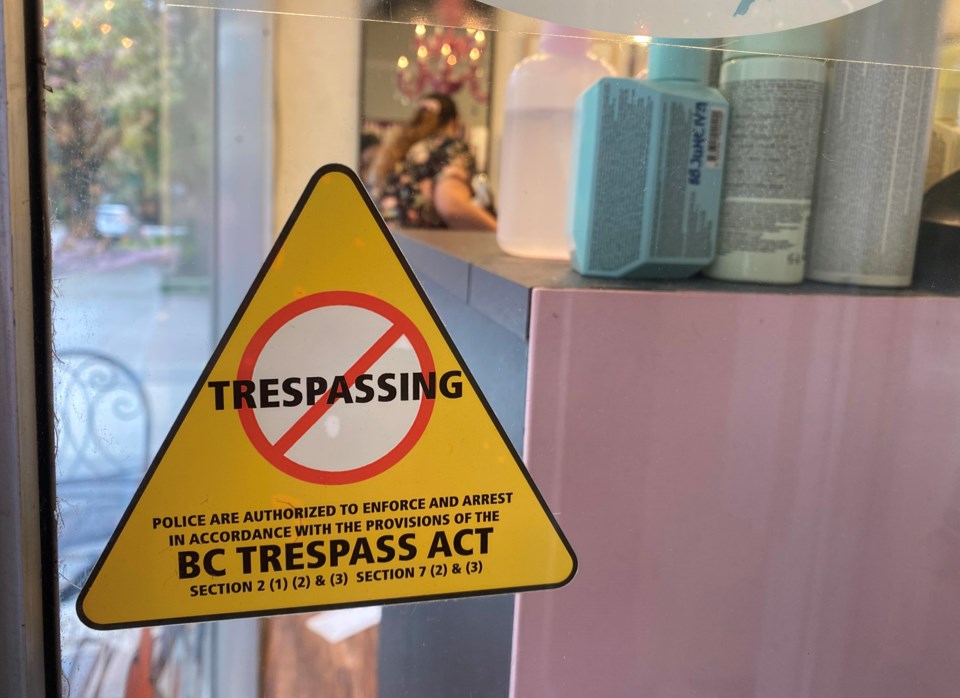 Now Jazic has the phone number and email address for community police officer Const. Jason Doucette, who she has watched interact with people outside her business and in the plaza, moving them along without an issue.
"I haven't seen anyone being arrested or anything like that," she said, noting other businesses in the plaza such as Mary's on Davie and Studio 16 Hair Design also joined the program.
"It's really just having someone other than us being able to communicate with people, and help us be able to access our business better."
Added Jazic: "The police officers have been able to provide people with information about resources and trying to help them access that. So I would say they're not trying to harm the people in any way, they're trying to help them."
'Over-policed'
Since its launch in September 2020, the program has been controversial, with the BC Civil Liberties Association, Pivot Legal Society, the Union of BC Indian Chiefs and other groups calling on police to scrap the initiative.
The coalition says the program is discriminatory and targets vulnerable people who have no place to go and are already over-policed. Furthermore, the groups say the program undermines efforts to promote unbiased policing and limit unjustifiable police stops.
The coalition has also pointed out the Trespass Act authorizes the extreme powers of questioning and arrest without a warrant, while removing the presumption of innocence for the person accused of trespass.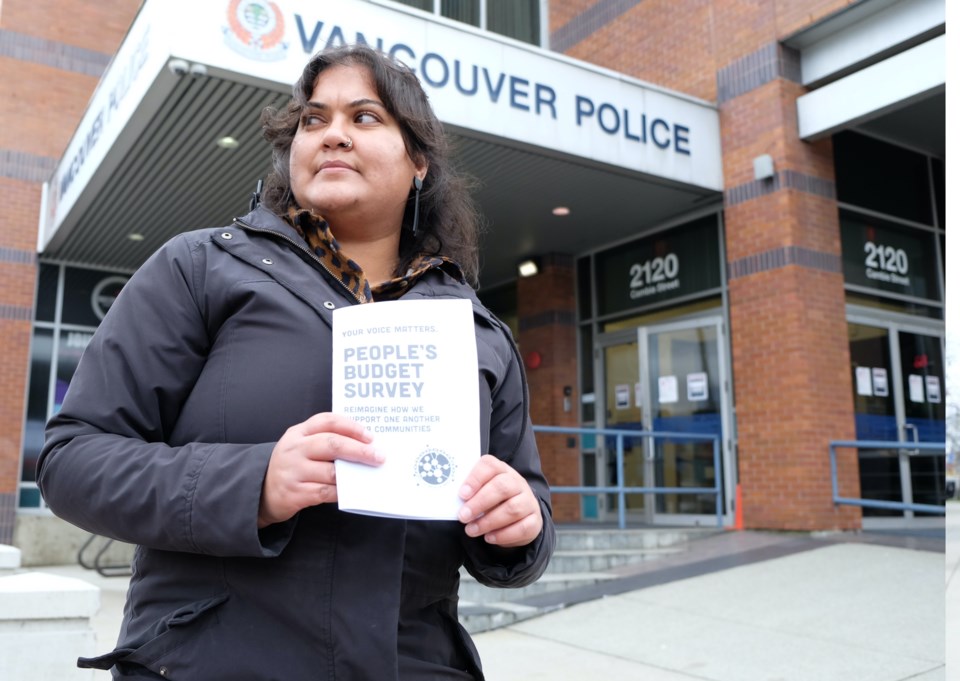 'Asymmetry of power'
Meenakshi Mannoe, criminalization and policing campaigner at Pivot Legal Society, said she was disappointed the police board agreed to continue the program.
But, Mannoe said, she was encouraged to know board members Rachel Roy and Merrilee Robson voted against expansion because of not enough consultation with community.
"The fact that businesses and property owners can actually just use this sticker to have police act as their agent and displace people from private space is really concerning," Mannoe said. "It highlights the asymmetry of power that exists in the city."
The program is also counter to unanimous support from city councillors this term on motions related to decriminalizing poverty and investing in community-led response to crises, she said, questioning the police report's characterization of interactions with vulnerable people.
"Understanding what may seem like a collaborative conversation between a police officer and someone who is 'trespassing' is often a matter of survival," Mannoe said. "People aren't going to stand up to the police when they have all of their worldly belongings with them and could risk everything getting thrown out."
Lawyer Meghan McDermott, policy director at the BC Civil Liberties Association, made the same point in a separate interview, saying "as soon as you have the police involved — especially with their weapons and their uniforms — a lot of people will be taking it as an investigative detention, and it's extremely intimidating for them."
McDermott questioned some of the conclusions in the police report and said an independent assessment of the program should have been done, particularly around the VPD's assertion that the program supports equitable policing because it targets behaviours and not demographics.
"I just find that ridiculous," she said. "I'm still a bit skeptical, really, that it went as well as they said it did. We have to take their word for it, but they're also the ones trying to sell it to the police board."
'Better together'
Both McDermott and Mannoe agree money should be diverted from the VPD's operating budget and be used for community-led initiatives and responses to concerns by business operators and others.
In March, city council approved spending $665,000 over the next 21 months on an experiment aimed at responding to concerns in three Vancouver neighbourhoods related to street disorder, public safety and homelessness.
The initiative is called "Better Together: Neighbourhood Collective Action Project" and focuses on Mount Pleasant, the Olympic Village and the south end of downtown, which includes the Granville Street corridor and Yaletown.
The project's goal is to enhance and improve neighbourhood-based responses to matters such as poverty-related street disorder — often fueled by people living with a mental illness, a drug addiction, or both — that typically are dealt with by police.
The city has a homeless outreach team connected to social service providers. But the program will be operated by the Eastside Movement for Business and Economic Renewal Society and the Homelessness Services Association of BC.
"That's really important, whether it's peer-led community engagement, or peer-led street cleaning, or peer-led support for people who are sheltering in doorways or under awnings, or on a stoop," Mannoe said.
"It would be nice to see a shifting conversation throughout the city, including in neighbourhoods like Chinatown, the Downtown Eastside and downtown Vancouver that really recognizes the level of desperation that people living in poverty are in."
Added Mannoe: "They're not doing it to be assholes, they literally have no other options."
'Band-Aid'
What McDermott, Mannoe, Jazic and police all agree on is that more housing and services for people living with a drug addiction, a mental illness, or both, is needed on a large scale in Vancouver.
Mannoe described the trespass prevention program as a Band-Aid solution.
"That's all it is," she said. "So there might be some short-term relief for businesses or private property owners who have a sticker that they can put up. But really, it's just displacing the problem."
In the meantime, police continue to receive calls from the public about unwanted people on their premises. With no other agency staffed with the personnel — or the budget — to immediately respond to such calls, the response has fallen on police.
Sgt. Steve Addison, a VPD media relations officer, said the program is not an enforcement tool.
"As much as some people want to say this is police picking on poor people, or police doing street sweeps, it's not that," Addison said.
"We're certainly not suggesting that anybody who's camping out in front of a business or in an alcove is a bad person. They have fallen on hard times and they're dealing with some pretty serious stuff, and they need some help."
Added Addison: "And just because we're showing up and asking them to tidy up or maybe slide over a bit, there's not an implication that they're a bad person or they're a criminal."
The police board heard that another 100 private property owners want to participate in the program, which only cost during the pilot program was $1,939 for the no-trespassing stickers.
@Howellings