The number of calls to the Vancouver Police Department's non-emergency phone line that went unanswered in the first three months of this year reached 18,680 out of 46,154 for a total of 40.5 per cent, according to a new report released by the VPD.
The percentage is a substantial increase from the 13,258, or 24.7 per cent, that went unanswered for the same period in 2021, said the report, which also noted the number of abandoned calls shot up by 40.9 per cent over the same comparative timeframe.
"Concern has recently come to light about the under-reporting of crime and one area to examine this is the number of times a person calls the non-emergency line managed by E-Comm and how often is that call answered versus the caller abandoning the call," said the report, which goes before the Vancouver Police Board Thursday.
City pays $24 million to E-Comm
Police Chief Adam Palmer and police board member Frank Chong raised concerns in January at a board meeting about E-Comm's service and the frustration citizens were having in reporting crime and suspicious activity.
Most citizens are not aware that when they contact 911 and the VPD's non-emergency line, they are actually reaching E-Comm. Calls that are medical in nature get transferred to BC Emergency Health Services.
The city is paying $19 million this year to E-Comm to handle police calls, and an additional $5 million to cover dispatch services for Vancouver Fire Rescue Services.
The $24-million investment was highlighted in a Vancouver Is Awesome story posted in February that examined whether the city was getting good value for the funds it provides E-Comm for services.
'Higher level of demand'
In an emailed statement Wednesday, E-Comm said it has become increasingly clear over the past few years that the agency's funding model "does not meet our current resourcing needs, leaving the organization both understaffed and underfunded."
"We are also seeing a higher level of demand and strain on emergency services unlike anything we've experienced before," the statement said.
"This includes increasing call volumes, longer call-handle times due to the complexity of requests for help, an increasing number of staff going on leave due to work-related stress, and like many organizations at the moment, challenges with recruiting to fill existing vacancies."
Added E-Comm: "These ongoing issues, especially when combined with unprecedented pressures from COVID-19 and an increasing number of natural disasters, are contributing to extended wait times on police non-emergency lines; sometimes in excess of 120 minutes for Lower Mainland agencies [including the Vancouver Police Department]."
'Unlikely wait times will decrease'
The agency said it is unlikely police non-emergency line wait times will decrease in the summer months, as 911 call volumes keep rising and E-Comm's limited pool of call takers is focused on answering urgent calls for help on the emergency lines. To date in 2022, E-Comm is reporting a 12 per cent increase in 911 calls compared to the previous year.
"We recognize that long wait times on non-emergency are resulting in people disconnecting from their call and opting not to file a crime report [i.e. abandoned calls]," the statement said.
"E-Comm leadership acknowledges the impact this has on our police partners in terms of crime reporting statistics and the negative feedback they receive from the public. We continue to work with our partners to find ways to leverage technology to help improve the caller experience. At the same time, we are looking at new call-handling models and innovative ways to recruit new staff and retain our existing staff, while addressing E-Comm's longer-term funding requirements."
The release of the data on unanswered and abandoned calls comes as public safety continues to be a hot topic among politicians, business owners and citizens across the city, with crime statistics being interpreted in different ways by citizens and police.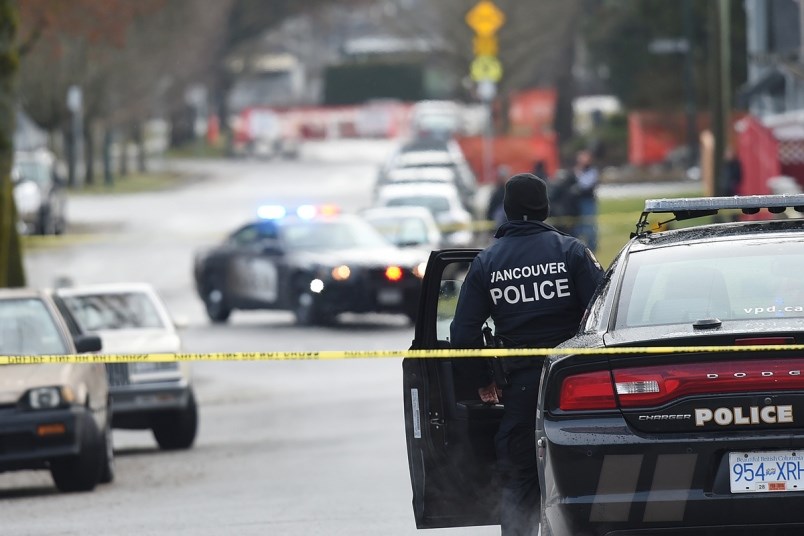 Crime not reported
Since the pandemic was declared in March 2020, break-ins to homes, businesses and vehicles have continued to plummet, whereas pockets of the city have seen upticks in violent crime, including stranger assaults and aggressive shoplifters.
Broken and smashed-out windows have been a problem downtown and Chinatown continues to be plagued by graffiti — some of it racist — and drug-fuelled street disorder, which has caused leaders in the historic community to call for action from police and politicians.
Palmer has acknowledged several times over the past two years that people aren't reporting all petty or minor crimes in their neighbourhoods, and therefore that data isn't being captured in statistical reports collected by police.
In October 2021, he told the police board that "when they do call us, and we do investigate a crime, they say this has happened four times before and I've never called you, but this time was serious enough that I did call you."
The reason given by some residents for not reporting or abandoning calls is they don't feel police will take any action, or they can't wait on the phone for a lengthy period of time to make a report.
'As bad as it ever was'
Strathcona resident Mike Rhone told city council in March "that people still aren't really reporting everything to the police, even if it's a personal safety issue — at least in my neighbourhood."
Rhone said a neighbourhood Facebook group alerted residents in March about a man seen following a woman on Hawks Avenue while another man was seen "creeping around" Strathcona Elementary School.
Three months ago, a neighbour chased a thief into his family's yard.
"That was particularly scary because he had a weapon and our kids were out there," he said. "So it's a bit of gong show here some days."
Rhone said he was particularly worried about Chinese seniors in his neighbourhood.
"A couple that I talked to said they've never really felt totally safe here," he said. "But right now, it's as bad as it ever was. I think the uptick in anti-Asian incidents have hurt that community particularly hard."
'This should be reported'
Another resident, Colin McGrath, told council about an incident where his children had to use a public washroom during a weekend in March.
McGrath didn't say where he lives in Vancouver, or where the incident happened, but said it involved a person committing "sexually-oriented actions."
He said he called the police's non-emergency number at three different times but couldn't get through to report the incident.
"Someone might say, 'Well, this was not reportable,' but I don't agree — this should be reported," he said. "But I can't do it because I just simply don't have 90 minutes to call and I'm not going to call 911 for something like this."
Vancouver police receive, on average, more than 600 calls for service every day.
E-Comm prioritizes the calls and assigns them to officers based on each call's risk to public safety.
Public safety forum April 28
Const. Tania Visintin, a VPD media relations officer, said in an email Wednesday that "a significant number of hang-ups are occurring on the non-emergency line at ECOMM due to unreasonable wait times."
"We have said for quite some time that we know a vast majority of crime is under-reported, for a variety of reasons," Visintin said. "We also know that many people choose not to report crimes for personal reasons."
In an interview in January, E-comm president Oliver Grüter-Andrew told Vancouver Is Awesome that long wait times is an issue that he and his staff highlighted with police chiefs and departments going back to 2019.
Since then, E-Comm has conducted a review of its services and commissioned PricewaterhouseCoopers to produce a report on the service.
"We're in the stages right now to work in detail about what came out of the reports, how do we take that forward, how do we make it affordable, how do we make it workable for the public, for police officers, for fire departments and, very importantly, for E-Comm's people," he said at the time, noting the strain on employees.
"Ultimately, the answer to me — unless calls stop coming in — is we need more people."
Asked what he would say to a citizen frustrated by long wait times, he said:
"I feel bad — it's not what it should be. We are well aware of the issue and the underlying causes. It's been a topic of discussion between us and our funders for a number of years now. We are working with our funders in partnership to resolve this because it affects everybody."
Meanwhile, Vancouver city council will host a public safety forum on April 28.